16 People Share How They Manage Chronic Pain When It Starts To Get Chilly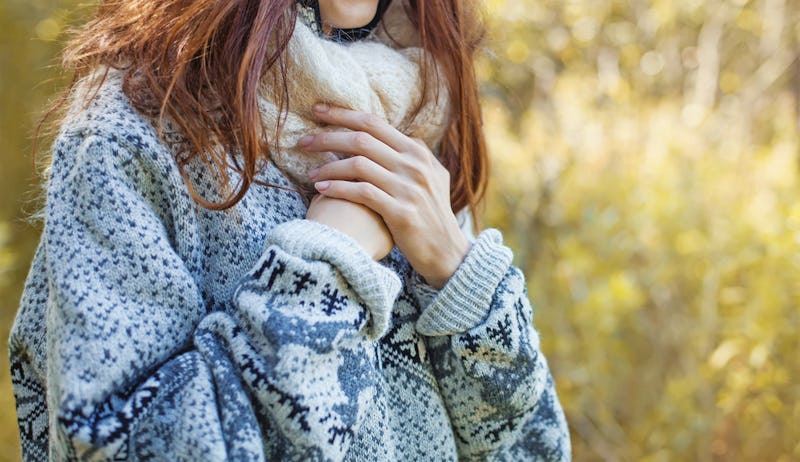 Mila Supinskaya Glashchenko/Shutterstock
Many people are fans of apple pie season, fall foliage, and Halloween, but not everyone is partial to the cold, crisp air and the sometimes unpredictable weather the season ushers in. For people living with chronic illnesses in particular, everything from yo-yoing temperatures and precipitation, to changes in atmospheric pressure, can trigger stiffness, aches, and all-around discomfort. Managing chronic pain as the weather changes can be more challenging than other times during the year, but certain techniques and products can help soothe your seasonal aches.
Dr. Anisha Dua, MD, MPH, a rheumatologist at the University of Chicago Medicine, explained in a 2018 article that one theory is that drops in barometric pressure can cause muscles, tendons, and bodily tissues to expand — which, in turn, can cause pain in the joints because of "confined" space in the body. In addition to joint pain, the American Migraine Foundation reported that seasonal triggers such as pressure changes and fluctuating temperatures can bring on an influx of migraine attacks or headaches. Interestingly, a 2018 study published in the International Journal of Environmental Research and Public Health also revealed that menstrual pain was more severe in lower temperatures.
It's important to note, though, that some of the research about how seasonal changes affect chronic pain is conflicting. One study conducted in 2017 found that weather had no significant impact on lower back pain or knee osteoarthritis.
Still, it's not uncommon for people with chronic illnesses to feel like the weather plays a role in experiencing an uptick of pain-related symptoms. "Extreme temperatures either way can really mess me up, but I find transitioning to the cold especially difficult," Kell, 32, tells Bustle. Here's what 16 people who live with chronic pain swear by during seasonal changes, so you can cope with whatever the weather throws your way.