9 Ways To Take Care Of Yourself At Work If You Have Anxiety, According To Experts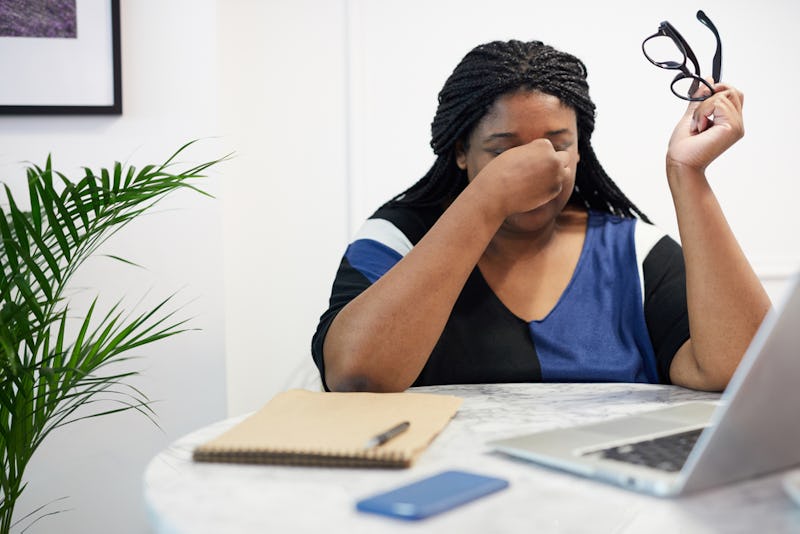 Pressmaster/Shutterstock
While it can be tough to cope with anywhere, figuring out how to manage anxiety at work can be particularly difficult. There are the added pressures of projects, deadlines, and stress that can make your symptoms worse. And, it can be tricky to find time to slow down and regroup, which can leave you feeling pretty depleted.
That's why, no matter how busy you get, "it is extremely important to take good care of yourself throughout the day to make sure you are being mindful of your thoughts," Valentina Verani, LMHC, a Boston-based mental health counselor, tells Bustle. If your anxiety is running high, that's your cue to step away, take a break, or practice other anxiety-relieving tricks, so that it doesn't start to feel out of control.
Of course, "if your anxiety is getting the best of you [...] definitely get help and visit a mental health professional," Vinay Saranga MD, psychiatrist and founder of Saranga Comprehensive Psychiatry, tells Bustle. This is one thing you can do after work, or even on your lunch break, to better manage how you feel.
It can also help to change up your daily routine while at work, so you can treat yourself well, and even alleviate a few symptoms. So, if you have anxiety, here are a few tips for taking good care of yourself throughout the day, with the goal of making being at work just a little bit easier.