9 Tips For Staying Positive During The Holidays When You're Single And Don't Want To Be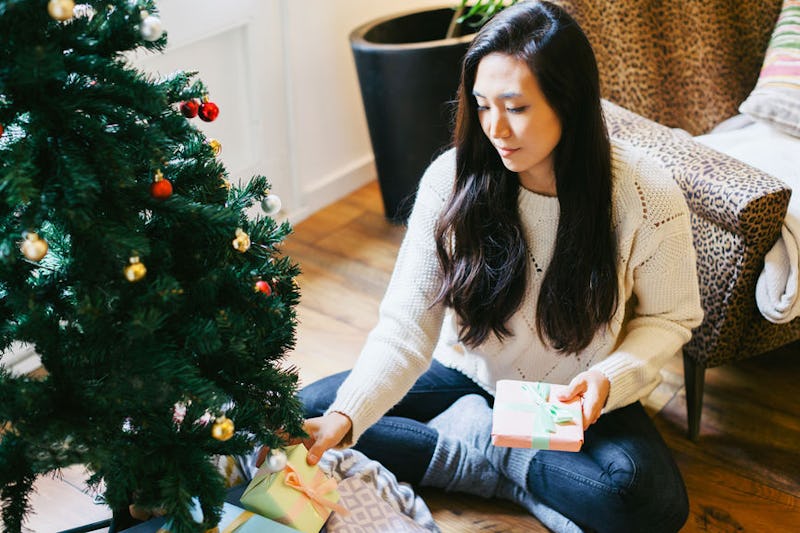 BONNINSTUDIO/Stocksy
"Easy" is not a word that most people would use to describe dating. Plus, if you're proactively looking for a relationship, it may sometimes feel like everyone is coupled up except for you. And, with holiday cheer and mistletoe around every corner, it may be harder than usual to stay positive about dating — you may grow to hate seeing mistletoe and wonder when you'll meet your match. So, if you're wondering how to stay positive when you're single, especially during the holidays, know that it is possible to not let it get to you when your friends and family are all paired up.
"While I never suggest denying your feelings (i.e., acknowledging if you're feeling lonely or frustrated), looking at your singleness in a more positive light will help you feel better and you'll see the holiday season in a much less depressing way," David Bennett, counselor and relationship expert with Double Trust Dating, tells Bustle. He says a great way to do this is by focusing on the good things in your life, including the positive aspects of being single. "That way, it'll help you avoid overfocusing on the negative side of being single," he says.
Below, Bennett and other relationship experts share tips on how to not let it get to you when you're single and all you want for the holidays is to be dating someone.