How To Let Greta Thunberg Know You Stand With Her Right Now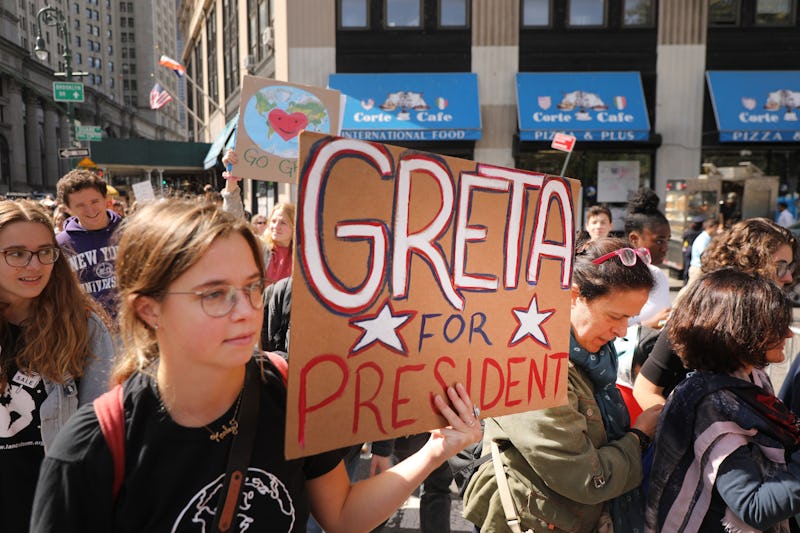 Spencer Platt/Getty Images News/Getty Images
A 16-year-old climate activist boldly promised on Monday that "change is coming" whether world leaders liked it or not. Following the United Nations Climate Action Summit, she and 15 other climate activists delivered on that promise by taking legal action. If you want to help support Greta Thunberg and teen climate activists as they take on the crisis and mobilize the rest of the world, there are lots of ways to show where you stand.
On Monday, the 16 child climate activists sent a petition to the UN Committee on the Rights of the Child, claiming that Germany, France, Brazil, Argentina, and Turkey were violating their rights by not doing enough to combat climate change. The complaint follows Thunberg's recent speech to the UN demanding that these countries and other world powers (like her own nation of Sweden) take responsibility for failing to prioritize the health of future generations. "We are in the beginning of a mass extinction and all you can talk about is money and fairy tales of eternal economic growth," Thunberg said. "How dare you?"
Following her visibly emotional speech, Trump posted a tweet that read, "She seems like a very happy young girl looking forward to a bright and wonderful future. So nice to see!" But Thunberg stood by her mission all the same, regardless of the haters. In fact, she changed her Twitter profile bio to mimic Trump's words.
If you want to support Thunberg and her fellow teen climate activists, stepping up to the plate and taking responsibility for how your actions affect the planet is one of the most impactful things you can do. Though providing moral support is important, children shouldn't have to bear the weight of the climate change crisis, or be the ones encouraging adults to do their part. Here are four ways to truly show Thunberg and her fellow teen climate activists that you actively stand with them.