If You Have These 9 Habits, You May Not Handle Stress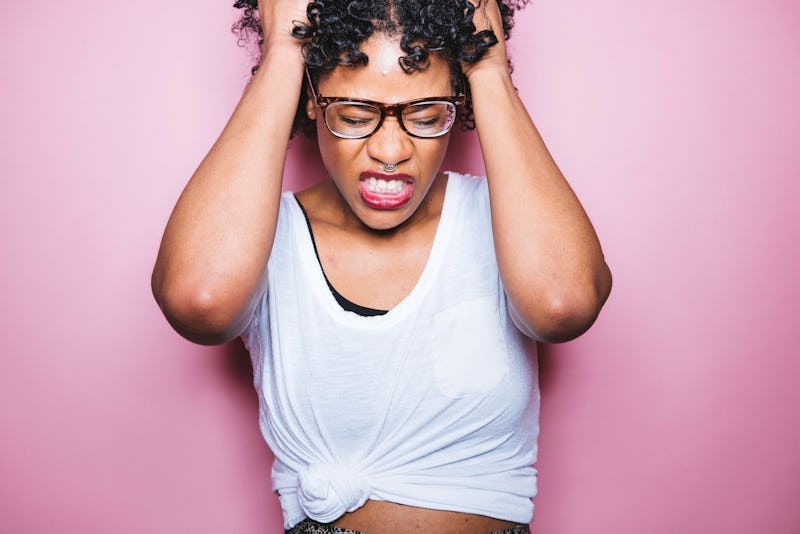 BDG Media, Inc.
You're going to encounter stress — whether it's at work, in your relationship, or in life in general — and that's OK. We all need a small amount of stress to motivate us, and propel us forward. But it is possible to have too much stress, especially if you don't know how to handle it well.
The good news, though, is that there's plenty of ways to reel it all back in. "One way to manage stress is to recognize first and foremost what are the triggers of your stress," Brittany Freeman Jean-Louis, MS, LPC, founder of A Freeman's Place Counseling, tells Bustle. "Once you are able to figure out triggers you are able to manage them better in the moment they arise."
To manage them, it's all about adopting coping skills, as well as healthy outlets for your stress. "Examples of coping skills include: going for a walk, journaling, reading, talking to a friend, deep breathing, etc.," Jean-Louis says. "Another helpful coping skill is the use of mindfulness. Mindfulness is simply learning how to stay in the present moment."
With these stress-reducing skills at your fingertips, you'll be better equipped to deal with your stress, so it'll be less likely to effect your wellbeing. Here are a few unhealthy habits and signs you may not be handling stress well — plus what to do about them.