7 Ways To Use Color Psychology In Your Relationship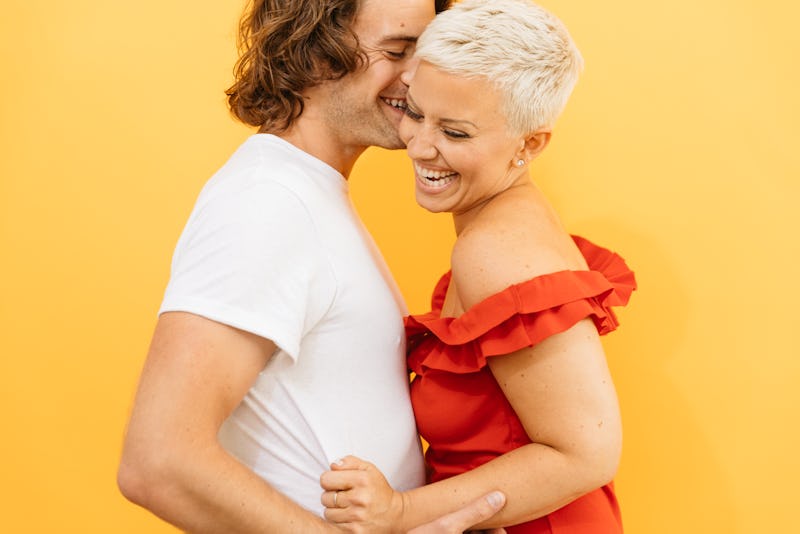 Ashley Batz/Bustle
You may not realize it, but color can have a way of influencing your mood and choices. In fact, many big brands use color psychology in their branding and marketing to influence consumers. For instance, the color red is commonly associated with passion, excitement, and urgency, so retailers tend to use the color to signal sales. According to experts, you can apply psychology to things that matter to you. If you're looking to attract someone or keep your relationship interesting, there are colors for that.
"Color psychology deals with the emotional and mental response that people have in the presence of color," Joseph Rosenfeld, fashion and personal style strategist, tells Bustle. "Color is an immediate form of non-verbal communication. As wearers of clothing and accessories, people use color to telegraph messages of love and attraction all the time."
Sometimes these decisions are based on instinct. Other times, we put more thought into our color selections. If you want to use color psychology to your advantage in your love life, certain colors can help to set the mood.
"Using specific colors in a room (perhaps a bedroom) through lighting, curtains, wall color, and other decor can heighten the colors' vibrational energy in the room," color analysis expert Carol Brailey, tells Bustle. "This dynamic can lead to a visual response." Basically, our eyes see the color and our brain converts what we see into a chemical reaction, which may produce the positive feelings associated with love, sex, and attraction.
Here are ways you can use color psychology in your relationship, according to experts.