Instagram's New Stories Feature Will Let You Ask Your Followers Anything You Want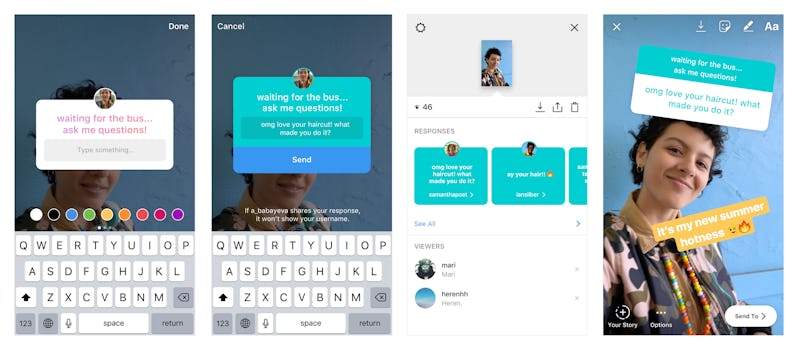 Instagram
Over the last few weeks, Instagram has been busy releasing a ton of new features that have improved the overall user experience so much while also making the app more interactive than ever before. And today, they are announcing yet another feature users are definitely going to have a lot of fun with. It's a question sticker for Instagram stories, and it's going to change the way you communicate with your followers and friends within the app. So what exactly is it, and how do you use Instagram Stories' question sticker? This is a super simple new feature that I think you'll get the hang of pretty quickly.
The question sticker is another add-on you can choose to make your Instagram story stand out, just like when you add a GIF, an emoji, or a filter. While it might sound similar to polls, it's actually really different. This sticker allows you to write out a prompt, place it wherever you like on your story, and then encourages friends to respond. So, for example, you could write something like, "I'm so bored. Ask me anything and I'll answer!" There will then be a space on the sticker for your friend's to type out a response, which, ideally, would be a question for you to answer. They can reply as many times as they want, which means they can ask any question they want — that could get interesting!
Once you see their question and decide you want to answer it, you can do so, which will create a new story for everyone to see. It's a really cool and unique way to add on to your story and communicate with the people following you. It's also a fun way for you and your friends and followers to get to know each other better.
Here are the exact steps on how to use it:
1. Select The Question Sticker And Add It To Your Story
You can add the question sticker by selecting it from the sticker tray, which you can access by swiping up after taking a photo or video. Once you select the question sticker, type out your prompt, and then place it wherever you'd like and share it to your story.
2. Wait For Replies To Come In
When your friends see the sticker, they can tap it to reply, which, again, they can do as many times as they want. You'll be able to see the responses in your story's viewers list, which you can find by tapping the little "seen by" icon in the lower lefthand corner of your story.
3. Answer The Question And Add It To Your Story
Once you see the question you want to answer, you can tap the question they've asked to create a new story where you can answer it. The question you're answering will appear in your story for context, but don't worry: the name of the person who asked it won't be revealed, only you can see that. So your response will be public, but the person's name won't be.
See? It couldn't be easier to use. It's a simple way to engage more with your followers, and could be a way to get people more interested in your story. As Instagram says, "This sticker is an easy way to start conversations and get closer with your friends on Instagram — it's great for those moments when you don't necessarily have something to share but want to connect and get to know your friends even better."
The questions sticker is available as part of Instagram version 52 on iOS and Android, and is launching on Tuesday, July 10th. Be on the lookout for an update alert in your app store, and be sure to update the app to see the new feature. As is the case with most Instagram features, everyone will probably not see the update all at once, so be patient! You'll get it, and once you do, you can start answering all of the questions.