You'll Need This Netflix Hack To Watch The Original Cut Of 'Arrested Development' Season 4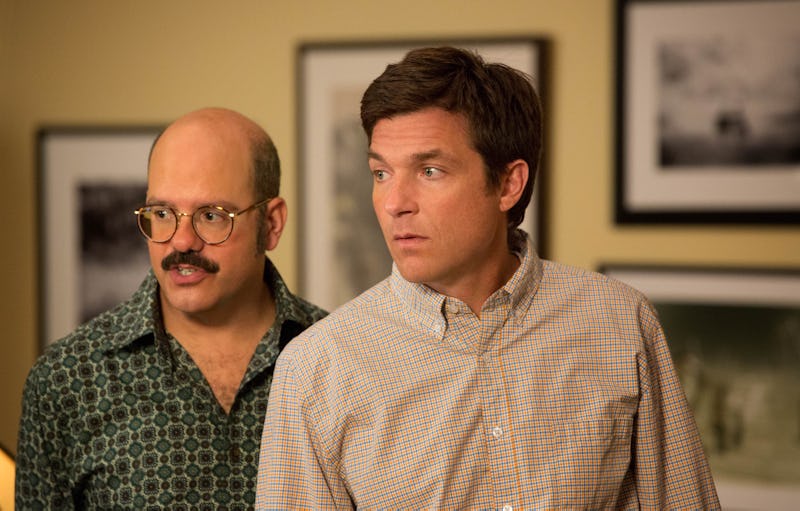 Mike Yarish/Netflix
Netflix gave Arrested Development fans a Cinco de Cuatro present by releasing a remixed version Season 4 on May 4. And whether you loved or hated the original Arrested Development Season 4 on Netflix, you may want to revisit that contentious season to see how it compares to the remixed version. It seems that streaming service may have replaced it completely with the new cut, but really, the season is just hidden. Fortunately, there's a Netflix hack to find Arrested Development in its original Season 4 form.
Only Season 4 Remix: Fateful Consequences seems to be available to watch when you go to Netflix. But if you're craving Season 4 in its pure, character-centric form, there is a trick that lets you access those episodes from 2013 when Arrested Development was first revived. Because though the new episodes were disappointing by some standards, a lackluster season of the Bluths is better than no Bluths at all.
May 2018 is a big month for Arrested Development since just three days after Fateful Consequences dropped, Netflix unveiled the Season 5 premiere date and trailer. Season 5 premieres on May 29, so it's time to see if the previous season holds up. And Arrested Development creator Mitch Hurwitz encouraged fans to do so in his May 1 announcement about Fateful Consequences. Hurwitz wrote in a memo posted to the show's official Twitter page, "P.S. I want to remind you that you can watch the original seasons 1 – 4 on Netflix right now. There's always new comedy to be found on a rewatch." But how is that possible when it appears that the original Season 4 has been removed from the "Episodes" section of Netflix?
There were extreme expectations when the original Season 4 dropped. Arrested Development had been cruelly taken away from TV eight years earlier, after three seasons on Fox. And the original Season 4, unfortunately, didn't live up to the anticipation. The season introduced new characters that fans weren't invested in and it was muddled by its own cleverness as it focused on only one main character per episode. With the Season 4 remix, viewers knew what to expect content-wise and the format matches the original episodes that aired in the '00s. So Fateful Consequences will likely make fans feel a little more optimistic about Season 5.
But the original Season 4 certainly doesn't deserve to be erased completely by Forget-Me-Nows. And it's still on the site; fans just have to look a little harder. The Arrested Development Twitter account revealed that you can access the original cut of Season 4 if you go to "Trailers & More" on the Arrested Development Netflix page.
Neither Netflix or Hurwitz has explained why the "o.g. Season 4" is buried away in a different section. But it's certainly a sneaky move and it makes it seem like Hurwitz's new cut is now the definitive Season 4.
As for Season 5, you can expect the family vibe to be more reminiscent of the glory days. In the Season 5 announcement from May 2017, Netflix chief content officer Ted Sarandos said, "The Bluths will collectively be spending more quality time with their millions of fans around the world" — alluding to how the family was divided in Season 4. And narrator Ron Howard says in the trailer, "The Bluth family is finally back together" and that Season 5 is a "new new beginning."
So take Naked Eyes' "Always Something There To Remind Me" in the trailer as a cue to rewatch all of Arrested Development — including the original Season 4 — before Season 5 premieres. Sure, Netflix is making you work for it with an extra set of clicks (and the next episode doesn't automatically play), but as Hurwitz said, there's always new comedy to be found when it comes to the Bluths.