The 9 Best Theories About How The New 'Game Of Thrones' Books Will End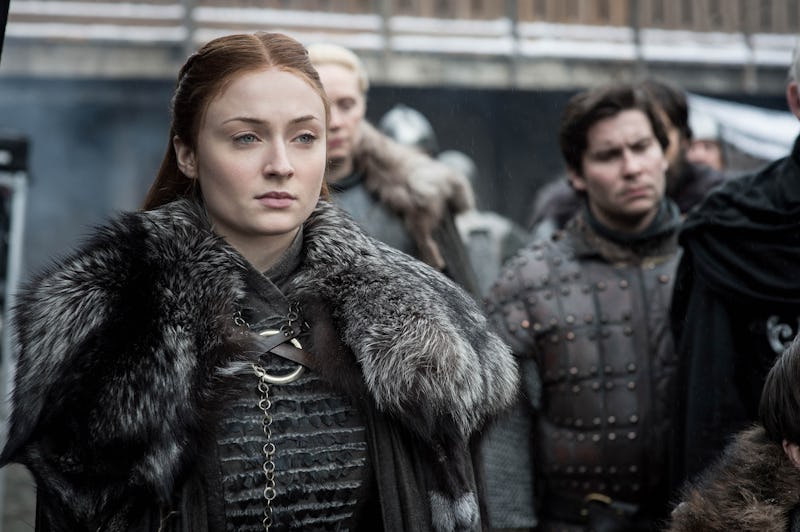 Helen Sloan/HBO
After eight long years of waiting, HBO finally revealed the winner of the Iron Throne in Sunday night's Game of Thrones series finale — but readers still don't know what will happen in the books. I've got nine theories about how the new Game of Thrones books will end, for those of you who are still waiting in agony for The Winds of Winter and A Dream of Spring. This article contains major spoilers for both HBO's Game of Thrones and the five released books in George R.R. Martin's A Song of Ice and Fire series, so proceed with caution if you aren't up-to-date.
It's safe to say that Game of Thrones ended with... considerably less intrigue than when it began. By the time the collected lords and ladies of Westeros crown King Brandon I Stark over the Six Kingdoms — Winterfell having withdrawn itself to independence under the Queen Sansa Stark — everyone seems tired of the long years of fighting and just wants to go home. They name the Three-Eyed Raven as the new king, and then they all part ways to get a little peace and quiet.
There's hardly any peace and quiet for A Song of Ice and Fire (ASOIAF) fans, however. George R.R. Martin's readers have been waiting nearly eight years for The Winds of Winter, the sixth book in his epic fantasy series. Martin recently had to shut down rumors that both The Winds of Winter and the final ASOIAF book, A Dream of Spring, were already completed and he was waiting until after the HBO adaptation had finished airing to release them.
With no sign of The Winds of Winter coming out this year, fans will have to cling to their theories about how the books will end, while hoping that Martin comes through for them soon. If you're already experiencing Game of Thrones withdrawal, here are nine potential endings to consider while you wait for the next ASOIAF book to come out.