How Yael Grobglas Made Her 'Jane The Virgin' Villain Everyone's Fave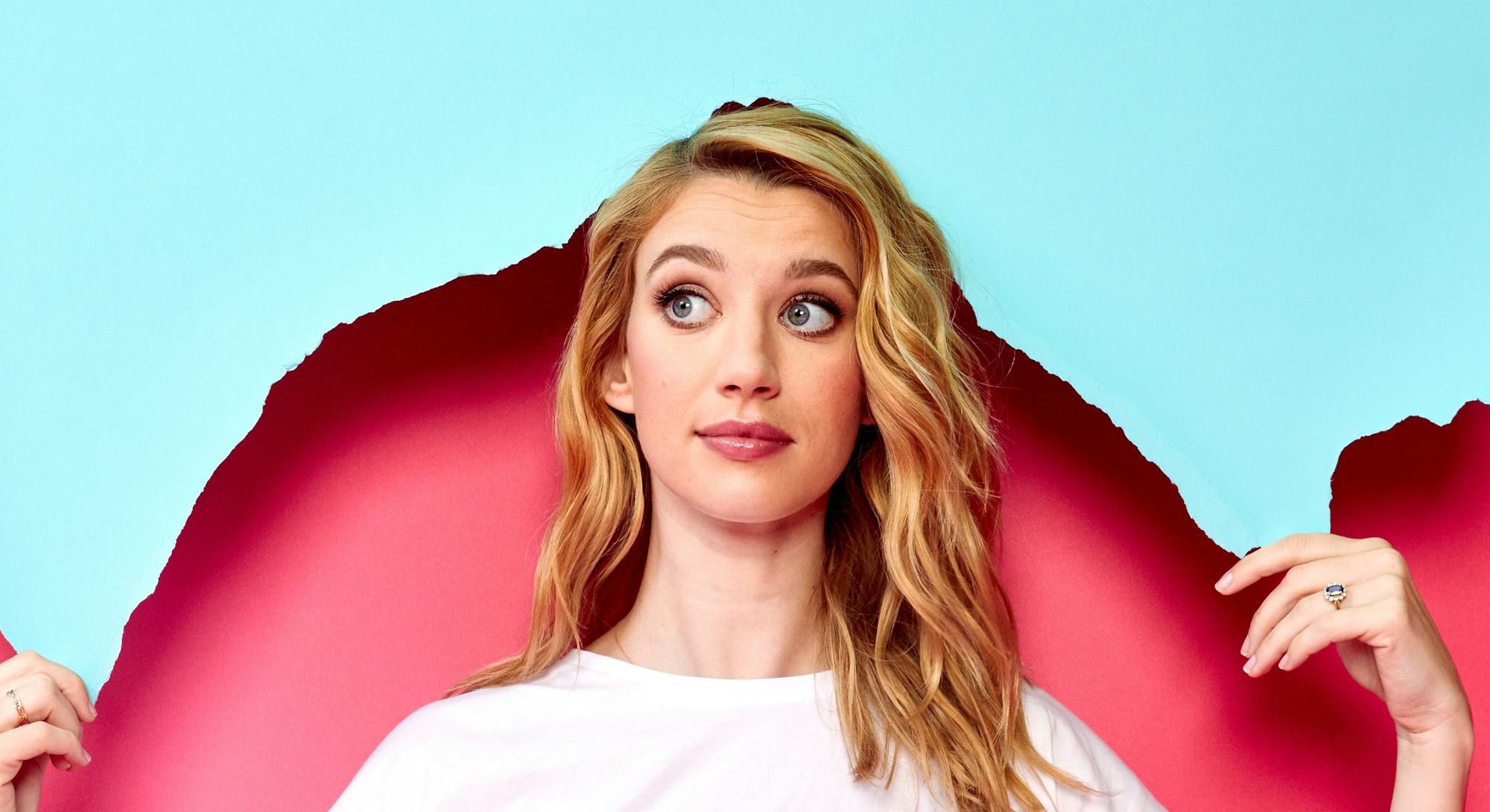 Photo: Ashley Batz/Bustle; Design: Bry Crasch/Bustle
Throughout July, Bustle's Comedy IRL package is featuring photoshoots, profiles, and stories of the women in comedy who are using their craft to elevate female voices and speak out on important issues. Comedy is powerful as hell, and we're toasting the women who prove it. Check out the whole package here.
Yael Grobglas won't stop rolling around on the floor. She's in the middle of a photoshoot in a sunlit studio in the heart of Hollywood, and after the requisite glamour shots, she gets down on the ground, starts tearing the neon blue paper from the backdrop, and playing with the pieces in a way that can only be described as cat-like. Her face is gleeful as she tosses the scraps in the air above her, batting at them with her hands, seemingly without a shred of regard for the camera pointed at her. This bubbly, excited, and playful side shows the real Grobglas — a stark contrast to her beloved villain on Jane the Virgin.
For three seasons, the French-Israeli actress has played Petra Solano, the cunning, manipulative, trophy-wife-turned-"mom-trepreneur" on the CW's telenovela. Of course, over those years, Petra has evolved into so much more than that description, but even Grobglas admits that she's the antagonist of the series. Or at least, she was when she first landed the role.
"I didn't know much about her based on only the pilot. All I heard was that she was going to be the villain," Grobglas tells me, leaning forward with her elbows on her knees as we sit on the couch in the corner of the studio now that she's done playing with the set decorations. "She was just supposed to be this trophy wife. What surprised me most about Petra was that she became funny. She wasn't funny in the beginning."
...what makes [Petra] so funny is that she doesn't know that she's funny.
The actor couldn't be more right. When Petra was first introduced, she was an antifeminist minefield, trying to trap her rich, hotel owner husband Rafael (Justin Baldoni) by getting inseminated with his last sperm sample (frozen before he went through chemotherapy). She was also sleeping with his best friend. Oh, and she got someone to hit her and framed Raf for it. Gold digger, man-eater, cheater — you name it and Grobglas has heard it all when it comes to judging Petra.
But then a funny thing happened: Petra stopped being the villain you hated, and became the villain you just couldn't help but love.
Even when she steals Rafael's actual last sperm sample recovered by the hospital later and artificially inseminates herself with a turkey baster — "Do you know how many turkey basters I've gotten as gifts since that scene?" she tells me with a laugh — it's become impossible not to feel for and laugh along with the girl from the Czech Republic doing anything she can to survive and not go back to her former poverty-stricken, tragedy-laden life.
But Petra's character evolution through comedy came as quite a surprise to Grobglas. The first time she realized Petra wasn't just going to be the villain of the story was back in a Season 1 episode when she and her mother accidentally kidnapped the criminal trying to blackmail her with information about her real Czech identity (ah, the telenovela world). What ensued was hours of "bonkers" physical comedy that firmly cemented Grobglas as a comedic heavy hitter.
"I was surprised at how much I liked that [physical comedy] for Petra," she says. "For me, that's really where it started."
Apparently, Grobglas almost took to the newfound skill too much — "Sometimes now they tell me to actually calm down and take it down a notch." (Don't worry though, she's got a spinoff idea for any of her over-the-top physical comedy that ends up on the cutting room floor: "Petra-fied.")
But since she turned over this comedic leaf, Grobglas hasn't forgotten her character's roots. Petra can really make the Jane The Virgin audience feel something, too.
"It's really her private moments that give you a glimpse into what's actually going on in her mind," she says. "If you only see through the eyes of everyone else, you'd see one person, a villain. When you see her alone or with someone she's in love with or her children, you see her weaker spots, her vulnerability. She takes herself very seriously, and that surprised me at how funny it is."
While being on a telenovela means sometimes the situations the characters are thrown into can get so unbelievably crazy, (hello, turkey baster as artificial self-insemination vessel), according to Grobglas, the most important thing is keeping her character grounded and real, so audiences can relate to her no matter how much they're laughing at her ridiculous circumstances.
"It's like seeing yourself thrown into this crazy situation and seeing how you deal with it," she says. "Otherwise you wouldn't feel for them if they were just clowns, you know? Seeing her stealing someone's sperm, inseminating herself and discovering she's having twins, that's all very funny. But then dealing with postpartum depression, that's a very real and serious matter. She deals with it, hopefully, like a real person would."
Getting to tackle such an important issue like postpartum depression was a career highlight for Grobglas, but it's hardly the first time Jane the Virgin has ventured into real, relatable issues pertaining to motherhood in a way that's so rare on TV since they authentically show both the comedy and drama of it all.
"I love how our show handles motherhood," she says. "Petra's whole pregnancy experience and birth and dealing with having children was so different from Jane's [Gina Rodriguez], with her postpartum depression and her really hard birth, which was so opposite of what she wanted. She's not this naturally maternal person, and she doesn't have the strong female support group that Jane does. She doesn't have any kind of support group, actually, and she's had to figure it out on her own."
That's why Grobglas loved when the series jumped ahead three years in a shocking time jump twist. Petra was no longer "terrified of her own children" — something that struck the actor hard when she researched postpartum depression. Instead, "she went from being a trophy wife to a brilliant businesswoman to the 'best' mother," Grobglas says. "She learned to trust herself and realized, 'I can do this.'"
But after discovering her comedic powers and sorting out how to sensitively portray serious issues like postpartum, Grobglas ran right into a new challenge: playing Petra's long lost twin sister Anezka. And considering her penchant for cat-like gestures on set, the inspiration for her second character should come as no surprise.
"All I was told was that Anezka had a bit of an accent, she's a ferocious eater, she scratches people when they get close and she yelps," Grobglas says. "So to me, it was clear. I knew exactly who to base it off of: My cat."
Suddenly, Grobglas' antics during the photoshoot make sense. The self-described cat person is very close with her furry friend, Pablo, so the solution was obvious when it came time to figuring out how to differentiate the physicalities between the polished, glam Petra and the mousey, meek Anezka.
Sure, hair, makeup and wardrobe choices helped separate the two characters on camera but for Grobglas, little Pablo was the real inspiration behind her portrayal of Anezka ... especially when it came time for Grobglas to play Anezka pretending to be Petra after putting her sister into a medically-induced paralysis coma to try and steal her life (as the Narrator would say, "I know! Straight out of a telenovela, right?").
"It was so easy to base Anezka completely off of my cat," she says, before mimicking Pablo getting scared over and over.
"I call it 'getting the fear.' My cat gets the fear. He's constantly terrified of something. So I play Anezka as if she lives in a world where she's constantly afraid of a giant hand coming out and slapping her from somewhere. That's how she was created, this mousey, crazy, weird character."
Now that she's mastered playing both Petra and Anezka, Grobglas is ready for the Jane writers to pitch her another curveball acting challenge. "I really am waiting for a triplet to show up, some skinny dude with a mustache," she says with a laugh. "I would love to do that. I did some weird stuff in drama school so it would be great to actually use that on camera. Anything can happen. I'm waiting for zombies to attack."
Catching my puzzled reaction, she laughs again. "On Twitter, fans have asked me what my ideal crossover episode would be," she says. "My answer is always The Walking Dead. What would that look like? Zombies in Miami? I want to see that. I would watch that."
Now that would be a twist straight out of — well, not a telenovela exactly, but something pretty close.
Hair: Karina Vega at 3Plus Management using Oribe
Makeup: Jenna Kristina using Chanel at TMG-LA