Huge Inflatable Travis Scott Heads Are Popping Up All Over For This Not-So-Random Reason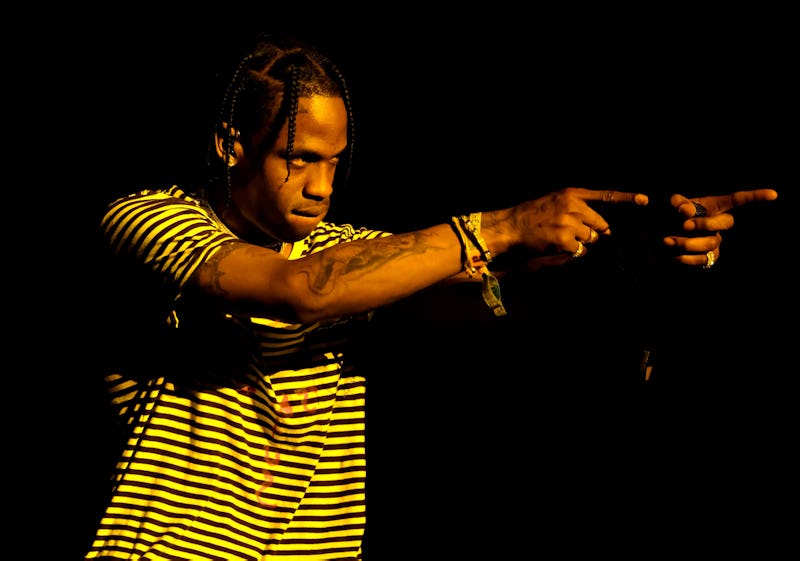 Frazer Harrison/Getty Images Entertainment/Getty Images
Imagine, for a moment, that you're just walking around, minding your own business. You turn a corner and like a mirage in the desert, you squint your eyes to see ... is that ... is that a giant inflatable Travis Scott head? Yes, yes, it is. Your sight is not deceiving you. Kylie Jenner's boyfriend's face is quite literally popping up all over the place.
On July 31, XXL reported that giant inflatable gold-colored heads in Scott's likeness were appearing all over the country. Apparently, the replicas of the rapper's head are meant to promote Scott's new album, Astroworld, which comes out on Aug. 3. They also probably promote nightmares, but hey, they're definitely memorable.
If you're confused about how a giant inflatable head is tied to Scott's album release, well, you're not alone. It takes a minute to register, but — to reiterate — Scott's new album is called Astroworld (like the name of a theme park with rollercoasters) and the reason his inflatable mouth is gaping open is because it's supposed to resemble one of those terrifying carnival fun house" entrances. See it now? Yeah, still scary.
These inflatable Scott faces also match the artwork featured on his new album cover, which he tweeted on Tuesday:
The fun house association is made even more clear, though, by the short promotional Astroworld clip Scott posted via his Instagram Stories on Monday. It's trippy (and sadly, no longer available to watch).
Travis Scott/Instagram Story
Also, it's now becoming very evident that the 26-year-old rapper clearly has a thing for amusement parks. Back in April, Kylie Jenner rented out an entire Six Flags in California for his birthday, according to Teen Vogue.
Not only that, but Jenner also presented Scott with a hilarious — but also totally thoughtful, of course —  rollercoaster birthday cake, which depicted Scott, Jenner, and their newborn baby girl, Stormi, strapped into a lit-up ride with some serious loop-de-loops. She certainly knows what her man likes.
According to Pitchfork, the Astroworld heads started popping up on July 27, with the one on top of Amoeba Records in Los Angeles seemingly being the first. Since then, they've been spotted in several other music-related landmarks across the United States, including on top of the Hard Rock Cafe's marquee in New York City; outside of Cactus Records in Bozeman, MT; and in front of Houston, Texas' Minute Maid Park (which, in addition to being the home of the Houston Astros, also doubles as a concert venue).
Scott tagged famed photographer David LaChapelle in all of the photos on his Instagram Stories, but it's hard to tell if that's because LaChapelle actually took the photos, or if Scott just wanted him to take note. LaChapelle, for his part, hadn't posted anything about the giant gold heads on his social media pages at the time of publication.
One thing's for sure, Scott cannot and will not be ignored — literally. You cannot ignore a giant gold face on top of a building. Maybe just don't make eye contact with it, though.