This 'PLL' Finale Moment Is The Perfect Send-Off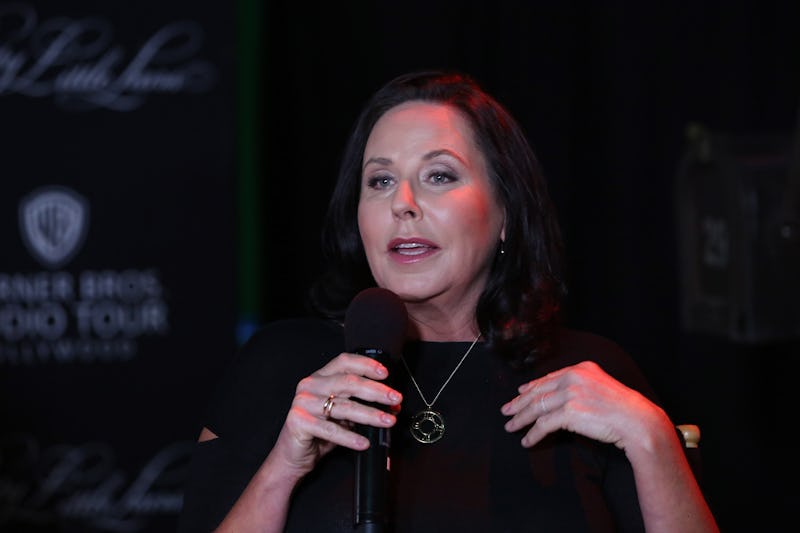 Jonathan Leibson/Getty Images Entertainment/Getty Images
Sure, the Pretty Little Liars finale was filled with jaw-dropping moments, but not all of them surrounded A.D.'s identity. Spoilers ahead. Surely fans let out a gasp, or maybe even a chuckle, during showrunner I. Marlene King's cameo in the PLL finale during the Ezria wedding. It was the perfect way to send off the show she poured over for seven seasons.
Just as Ezra and Aria are exchanging vows, a phone goes off. The entire audience looks at one another, frightened that the A.D. texts are starting again. But guess what? It's just Marlene King, who's acting as the wedding photographer. Her phone accidentally went off, and the whole group gets to breathe a sigh of relief and just laugh it off. King cringes and even does the signature "shhh!" face that fans know all too well from the opening credits.
Throwing a King cameo in the finale seems like the best way for her really to get her moment in the spotlight. After all, she's worked behind the scenes on the show ever since it began, and while fans are quite familiar with her — thanks to social media and interviews — this is almost the equivalent of hopping on stage and taking a bow.
And don't worry, this cameo didn't go unnoticed. Fans on Twitter were quick to throw in their appreciation for the scene.
Honestly, the only thing that would've made this moment better would be if King revealed herself to be A.D. Wouldn't that have been a major twist?
But that's alright, the creator still got her chance to shine. And fans finally got their Twincer theory after all. So in that sense, it's really a win-win.