This Oscars Category Honors More Women Than Most Others — But Don't Celebrate Just Yet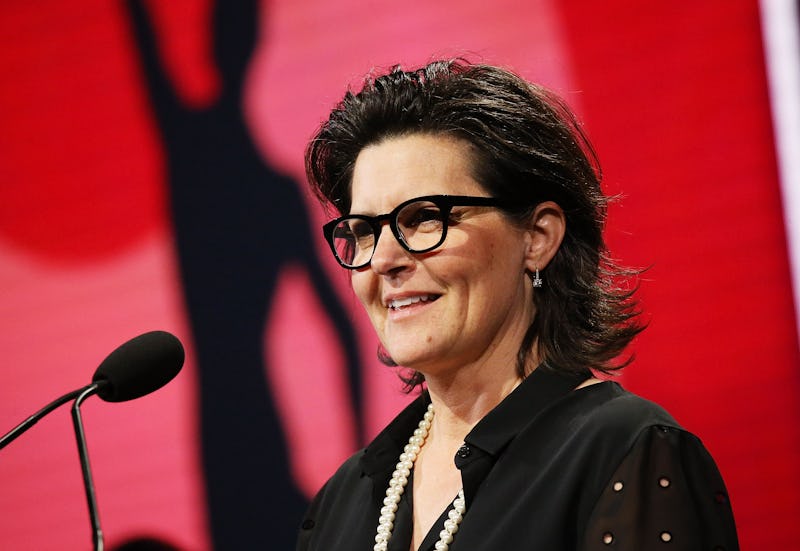 Michael Tran/Getty Images Entertainment/Getty Images
It's no secret that there's a serious gender disparity problem in Hollywood. A study from the Center for the Study of Women in Television and Film at San Diego State University found that of 2017's top 250 domestic grossing films, women made up just 18 percent of the all directors, writers, producers, executive producers, editors, and cinematographers. One of these jobs — editing — has proven over the years to be more willing to accept women, but the numbers are still disappointing. And the 2018 Oscar nominations make that clear; while historically, many more women have been nominated for editing Oscars than most other behind-the-scenes categories, only one woman was honored this year: Tatiana S. Riegel for her outstanding work in I, Tonya.
Though this is her first Academy Award nod, Riegel is a veteran editor with three decades in the business who's worked on films and shows such as The Way Way Back, United States of Tara, and Lars and the Real Girl. Despite Riegel's own success and that of other women, editing, she tells Bustle in a phone interview, is still a mostly male field, perhaps due to the way female editors are treated early on. "The editors guild is only around 23-perfect female, whereas film schools I think are pretty much 50-50," explains Riegel. "So something is happening there where people are coming out of school and not getting the opportunities or dropping out of the business."
Historically, Riegel explains, editing was one of the few positions women were trusted to hold in the industry. For example, when editing was first recognized as a category at the Academy Awards in 1935, Anne Bauchens was nominated for her work on Cleopatra — the only non-actor woman nominated that year. She went on to become the first woman to win an Oscar in 1941 for North West Mounted Police; the only other woman nominated that year was Bella Spewack for Best Original Story. These women were clearly groundbreaking, but Riegel points out that their achievements unfortunately didn't influence more men to hire more women in the field.
"In the early days of film there were a lot of women [editing] because people thought of it as very tactile, similar to sewing or something like that, that women, would be good at somehow," Reigel explains. "Over the course of the years, people realized how important editing is and men wanted to get involved in that."
Today, however, editing is recognized as being an intrinsic part of filmmaking. And while not enough women are honored for their editing work, the field does have, as said, less of a gender disparity than most others. Three-time Oscar winner Thelma Schoonmaker is tied with a man (Michael Kahn) for holding the record for most editing wins at the Academy Awards; she's received a whopping seven nominations for her work. And when Margaret Sixel won the Academy Award for cutting Mad Max: Fury Road in 2016, she became the 12th female editor to win — a much higher number than the amount of women who have won for directing (one, Kathryn Bigelow) or cinematography (zero).
According to Riegel, women will not get more opportunities to cut movies until more women are given directing roles. "Most of the directors are men and the director-editor relationship is a very close one," she says. "You spend a lot of hours in the cutting room with the director, and I think a lot of times, directors want somebody that they feel very comfortable with, and I think often for men they want another guy, a buddy."
This has proven to be true in many cases. Bauchens achieved recognition for her work with Cecil B. DeMille, cutting his films for 40 years. Likewise, as the BBC notes, Schoonmaker is recognized for her close relationship with director Martin Scorsese, whom she worked with on The Departed, Raging Bull, The Wolf of Wall Street, Goodfellas and many others. And there's a strong correlation between Oscar Best Picture winners (typically directed by men) and best editing nominees.
In order for more women editors to get a chance to build fruitful working relationships with directors, Hollywood is going to have to make more changes. "I think it starts from the top down," Riegel says. "If you can't see it then you can't be it, and there's not many women directors." She adds that it's up to executives and producers to start "thinking outside the box," saying, "When people are sitting around trying to pick directors, you pick from the pool that you're aware of, the films that you've seen, and if there aren't women in that pool who come to mind at first then they're not going to get on that list."
Riegel is, however, hopeful that things might be different in the future for her field. Though women are usually not given the opportunity to cut big action movies, she points out that there was the aforementioned Oscar win by Sixel for Mad Max, while Maryann Brandon and Mary Jo Makey teamed up to edit Star Wars: The Force Awakens. "I think it's starting to change," Riegel says.
Another good piece of news? There's evidence that more high-profile award nominations can open doors for women. While it's only a small step, the 2018 Oscars has seen Lady Bird's Greta Gerwig become the fifth woman to ever be nominated for Best Diector. Meanwhile, Mudbound cinematographer Rachel Morrison is making history as the first woman ever nominated in the category's 90-year history. Hopefully this is just the beginning of the Academy, and Hollywood, recognizing more women in cinematography, directing and editing, so that woman like talented Riegel won't be alone representing their fields.