Greta Gerwig & Jordan Peele's Oscar Noms Are Worth Celebrating. Now Here's What Needs To Happen Next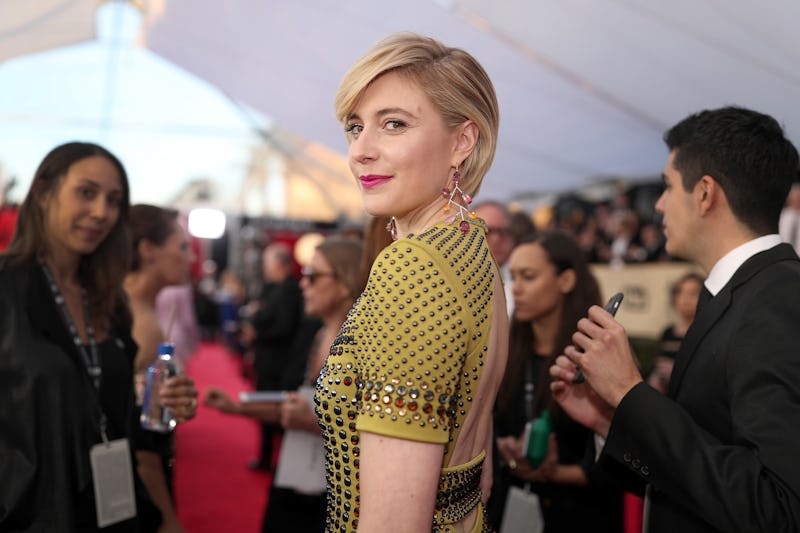 Christopher Polk/Getty Images Entertainment/Getty Images
Unlike the 2018 Golden Globes, at this year's Academy Awards, no one, not even Natalie Portman, will be able to introduce the Oscars' Best Director category by saying "all-male directing nominees." For the first time in nearly a decade, a woman, Greta Gerwig was nominated for Best Director. If Gerwig wins, she'd be only the second woman to win Best Director in the Academy Awards' 90-year history. (The Hurt Locker's Kathryn Bigelow being the first and only female winner in that category.)
There are a lot of reasons to celebrate Gerwig's much-deserved nomination for her solo directing debut. (She co-directed the 2008 film Nights and Weekends with Joe Swanberg.) After all, Lady Bird set the Rotten Tomatoes record for best-reviewed movie of all time, a movie that's about a teenage girl coming into her own. But, Gerwig's nomination should really be celebrated for what it could mean for the future of female directors and other women behind the camera.
The history of female directors at the Oscars is short and rather pathetic. Gerwig is only the fifth woman up for Best Director, according to The Hollywood Reporter, which reported that as of 2017, the ratio of male to female winners in this category was 1 to 88. For nearly a hundred years, that category more often than not has been all-male and all-white.
In the past decade, only nine male directors of color have been nominated with three winning: Ang Lee in 2012 for Life Of Pi; Alfonso Cuarón in 2013 for Gravity, and Alejandro G. Iñárritu in 2014 and 2015 for Birdman and The Revenant, respectively. (No woman of color has been nominated in this category ever, FYI.)
It's why this year's nominees stand out. Gerwig will be going up against Phantom Thread's Paul Thomas Anderson, Dunkirk's Christopher Nolan, The Shape of Water's Guillermo del Toro, and Get Out's Jordan Peele. Del Toro —whose film is the most nominated this year with 13 — is from Mexico. While Peele is only the fifth African American director to score a nomination and would become the first Black director to win Best Director if he snags the statue.
While there's more than one chance that a director could make history in 2018, it's last year's Oscars that got us here. After years of accusations that the awards were too white and too male, Hollywood hit its breaking point in 2016 when the lack of diversity in all four major acting categories for the second year in a row got people talking. It not only rehashed the 2015 hashtag #OscarsSoWhite it had people like Jada Pinkett Smith calling for an all-out boycott of the awards.
The criticism led the Academy to make serious changes to its voting body, which, no surprise, was overwhelmingly white, male, and old. They invited a record number of 683 new members to join — 46 percent of these new members were female, while 41 percent were people of color — including recent Oscar winner Brie Larson, Creed director Ryan Coogler, Gerwig, and Mary J. Blige, who was nominated this year for Best Supporting Actress for Mudbound.
The world saw the beginnings of how important that change was when the 2017 Oscars avoided a repeat of #OscarsSoWhite, nominated at least one performer of color in every acting category and nominating three films with predominately Black casts — Fences, Moonlight, and Hidden Figures — for Best Picture. It was an improvement — and, let's be honest, the least the could do after years of snubs — but it was a very small one. In the technical categories there was still a lot of work to be done.
In 2018, the Academy seemed to make a little good on some of their problems, nominating more women and people of color not only in the gendered acting categories, but in the behind-the-camera categories, too. This year, women got nods in categories that are all too often all-male including directing, editing, and cinematography, where Mudbound's Rachel Morrison became the first woman nominated for Best Cinematography.
The power of seeing more women and POC nominated this year is hard to deny and it likely came from the outspokenness for change from those in the industry. But it's a Band-Aid for a bigger problem. To make real change it's not just speaking up about the lack of diversity when that year's Oscar nominations are announced. It's about making sure there is more representation in film in the months leading up to the awards. This way, there is no reason that Greta Gerwig is the only female nominee, or Jordan Peele is the only Black nominee for Best Director.
The goal shouldn't just be to get more women nominated, it should be about getting more women and women of color hired behind the camera. Last year, the annual Celluloid Ceiling study by the Center for the Study of Women in Television & Film found that, in 2016, only 7 percent of the 250 films were directed by women. While three more women directed a top 100 film in 2017 compared to the year before, according to The Hollywood Reporter that only brought the number up to eight last year.
This isn't to say these nominations don't help. Morrison told the Los Angeles Times that by becoming the first female cinematographer nominated for an Oscar that she hopes it opens the door for more women to become cinematographers. "I think that once you see 50% of us [in the industry]," Morrison said, "you'll see a lot more nominations this time of year."
The point is: Hollywood shouldn't pat itself on the back just yet, there is still too much work to be done. People can't get complacent, they need to continue pushing the film industry to make changes and move forward with its hiring practices. A continuous outspoken push for more diverse hiring behind the camera is the only way to level the playing field. It's the only way to guarantee that in the future seeing an Oscars category that isn't all-male or all-white won't be something to celebrate, it'll be a thing of the past.