A Study Looked At The Gender Disparity On Film Sets. The Results Were Disappointing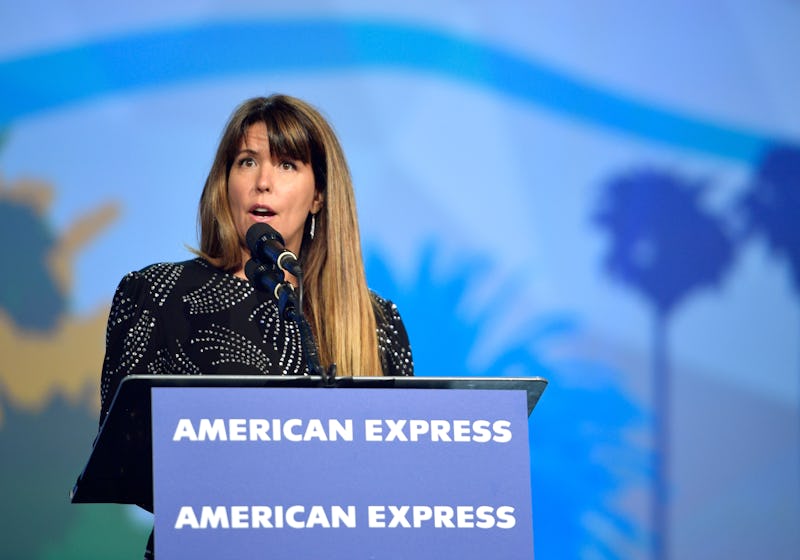 Matt Winkelmeyer/Getty Images Entertainment/Getty Images
Women working in Hollywood aren't just making mere pennies compared to their male co-stars, and they aren't just being left out of major awards nominations. They're also sorely underrepresented behind the scenes. San Diego State University's Center for the Study of Women in Television and Film published a new study examining the women working behind the scenes of Hollywood's top films in 2017, and the results were discouraging to say the least. The study reveals the huge lack of women working behind the scenes in Hollywood in major roles, specifically as directors, writers, producers, executive producers, editors, and cinematographers.
The annual study, named "The Celluloid Ceiling," revealed just how little Hollywood statistics have changed over the years — and just how far we have yet to go. While these disappointing statistics definitely shouldn't discount the women who do currently fill these roles, there's still work to be done. According to the study, of the 250 highest-grossing films of 2017, only 18 percent of all directors, writers, producers, executive producers, editors, and cinematographers were women. This is one percentage point above the "Celluloid Ceiling" findings of 2016, but is far from an improvement.
As the study notes, in 1998, the statistic hovered at 17 percent, meaning that the number of women in major roles behind the scenes has not changed significantly in the last 20 years. Furthermore, the study found that as the percentage of women directors, producers, and executive producers has increased over the past 20 years, the percentage of female writers and editors have actually gone down (the percentage of female cinematographers is holding steady). Even more shocking is the assertion that, in 2017, there were only 1 percent of films that employed 10 or more women behind the scenes — 70 percent employed 10 or more men.
These new statistics are disappointing, but they are hardly surprising. And there's an easy way for Hollywood studios and production companies to change the statistics: Hire more women. How do we get studios to hire more women? Celebrate more women, elevate more women, and flood the workplace with more women. If the lack of female director nominees at the 2018 Golden Globes taught us anything, it's that even when women do the work, they aren't always rewarded for it in the same way that men are. That's not to say that women need awards to motivate them to do these jobs, but the lack of recognition makes it hard for working women, especially younger women, to even think to try. It's like the Geena Davis Institute on Gender in Media says, "If she can see it, she can be it."
Award shows, especially high-profile ones like the Golden Globes and the Oscars, can be major advocates for change simply by opening up their nominations to women. Greta Gerwig, the writer-director behind Lady Bird, might very well join the exclusive club of women nominated for a Best Director Oscar, but she might never have had the chance it if weren't for Kathryn Bigelow breaking that glass ceiling and becoming the first woman to win in 2010. "When Kathryn Bigelow won the Oscar for best director it meant a great deal to me, personally," Gerwig said in a recent interview with The New York Times. "Suddenly, there she was, and more seemed possible to me." Eight years later, Gerwig is considered an Oscar frontrunner after, despite not being nominated herself, her film won the Globe for Best Picture — Comedy. (The hypocrisy abounds.)
Unfortunately, women behind the scenes are rarely celebrated on such public platforms. Only four women have ever been nominated for Best Director at the Oscars. In 2017, the Women's Media Center, via Entertainment Weekly, revealed that only one-fifth of the non-acting categories at the Academy Awards had any female nominees, with only one female writer nominated. And, while women have achieved Oscar nominations as directors, writers, producers, and editors, there has yet to be a woman nominated for Best Cinematography. Incidentally, according to "The Celluloid Ceiling" report, cinematography is the category studied with the lowest female representation — only four percent of cinematographers working on the top 250 films in 2017 were women.
Many are hoping that 2018 will be the year these numbers begin to shift. Not only are fans hoping to see more female directors in the Best Director category, but they are also hoping for Mudbound's (director: Dee Rees) Rachel Morrison to become the first woman nominated for Best Cinematography. Already, Morrison has made history, becoming the first woman nominated for an American Society of Cinematographers Award for Outstanding Achievement in a Theatrical Release, as well as the first female cinematographer to work on a Marvel film (Black Panther). ASC President Kees Van Oostrum feels strongly that Morrison's nomination could help bring more women into the field.
"When you want to become a cinematographer and you have the aspiration to be a cinematographer, you need to see a light at the end of the tunnel," Van Oostrum said in an interview with The Los Angeles Times. He continued, noting how the lack of female cinematographers only leads to more women being turned off the profession. "That's the perception these days that you can change by showing that there are women cinematographers who are very good and very successful and have careers." Imagine what being nominated for an Oscar would do to show women everywhere that the profession is not off limits to them.
Ultimately, the goal is not to have women equally nominated for awards (though that would be nice); it is to have equal opportunity to do the work in the first place. Admittedly, it would be nice if studios just hired more women because it's the right thing to do, but many need an incentive, like, for example, an award. For there to be equal representation of women behind the camera, there need to be more women recognized for their work. And then, hopefully one day, we can live in a world where, outside of acting, there is never a category with "all male nominees" ever again.