This Vagisil-Inspired Primer Made My Makeup Go On Like Butter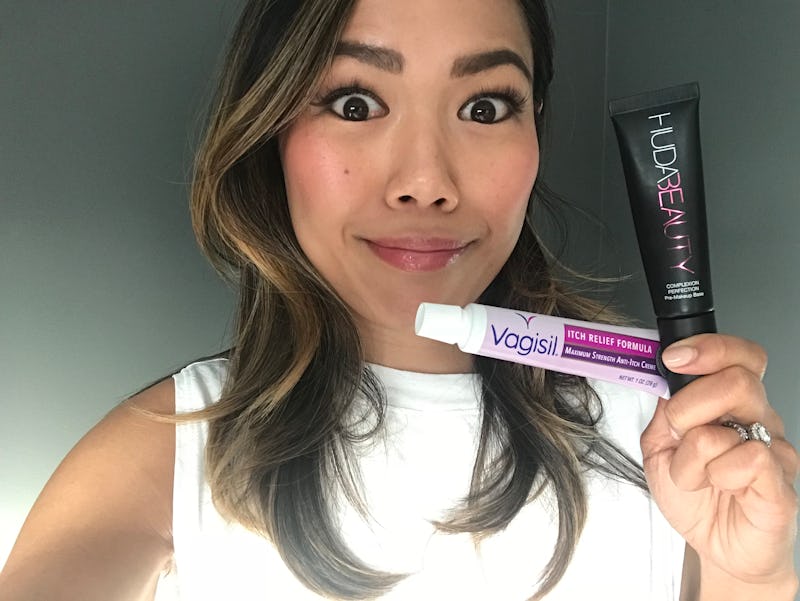 Sara Tan
Inspiration can come from the most unexpected places, especially when it comes to beauty products. Take Benefit, for example, who looked to space suits and spaceships when they were creating their latest aeroparticle-packed BADgal Bang! mascara. Or how about when Jen Atkin had the brilliant idea to create Ouai's Dry shampoo foam after one of her followers, a nurse, told her about a no-rinse foam cleanser they use at hospitals for patients. The latest unusual backstory for a new beauty product might take the cake, though — Huda Kattan's new Complexion Perfection Pre-Makeup Base was inspired by Vagisil. Yes, Vagisil — the very same cream you can find at your local pharmacy to treat vaginal irritation.
While the idea of applying a vaginal anti-itch cream on your face might sound truly horrifying, Kattan was actually very impressed with the results of using Vagisil as a makeup base. It all started when she tested out a bunch of bizarre products as primers, including lubes and laxatives. Kattan was pleasantly surprised to find that Vagisil's smooth texture and hydrating finish actually made for the perfect makeup base.
"The Vagisil worked really well — I feel like my makeup is sitting really properly, it's kind of hydrated, and I feel like it's controlling the oil," Kattan said in her YouTube tutorial.
The reason Kattan likely was impressed by Vagisil's performance is the fact that the product has dimethicone, a common silicone-type ingredient found in makeup products that can soothe skin and fill in pores and fine lines. Kattan also loved how soothing the Vagisil felt, since, well, that's it's main purpose — to soothe irritated skin.
"I would totally use the Vagisil again, I just think carrying it around is going to be a little awkward," she noted. So instead of feeling embarrassed about having a tube of Vagisil in her makeup kit, Kattan did what any successful beauty entrepreneur would do — made her own version, but better and specifically for makeup.
Huda Beauty Complexion Perfection, $35, Sephora
So, how does this Vagisil-inspired makeup primer actually hold up? Incredibly well, in my opinion, especially if you have or are experiencing dry skin.
Huda Beauty's Complexion Perfection feels very lightweight upon application. It has a creamy texture and goes on very smooth onto your skin. It feels extremely hydrating too, thanks to the dimethicone and nourishing rosehip oil. Huda Beauty even suggests using the primer in place of a moisturizer during your pre-makeup routine, but don't worry — it's not so hydrating that it'll leave your skin feeling oily. That said, it is definitely a primer that those with dry skin would benefit most from.
The primer made my skin appear smoother, but didn't completely diminish my pores like other skin-perfecting primers I've used. However, what really impressed me was how my makeup looked when I applied it on top of the primer. My foundation glided on easily and I could immediately tell that the primer helped my makeup blend more seamlessly into my skin. What's more, after hours of wearing it, my makeup still looked in tact at the end of the day.
One aspect of the primer many customers feel very strongly about according to the reviews, is the scent. The primer does have a slight floral fragrance to it, but I actually don't mind at all. It reminds me of a cup of green tea — not too strong, but definitely aromatic. It's something to keep in mind if you are sensitive to scents, and I'd recommend testing out a sample before buying it.
I will definitely be using this primer again, especially during those extra dry days when my skin is feeling particularly dehydrated. I love how dewy it made my skin look and might even try mixing it with my foundation, per Kattan's suggestion, to create a BB cream-like tinted moisturizer. I'm still on the fence about whether it'll be replacing my new favorite primer, Tatcha's Silk Canvas, but one thing's for sure: No matter how impressive Vagisil's makeup priming abilities are, there is absolutely no need to ever use it on your face ever again, thanks to Huda Beauty's Complexion Perfection. And for that alone, we should be grateful.