I Tried "Root Beer Float" Hair & My Highlights Have Never Looked Better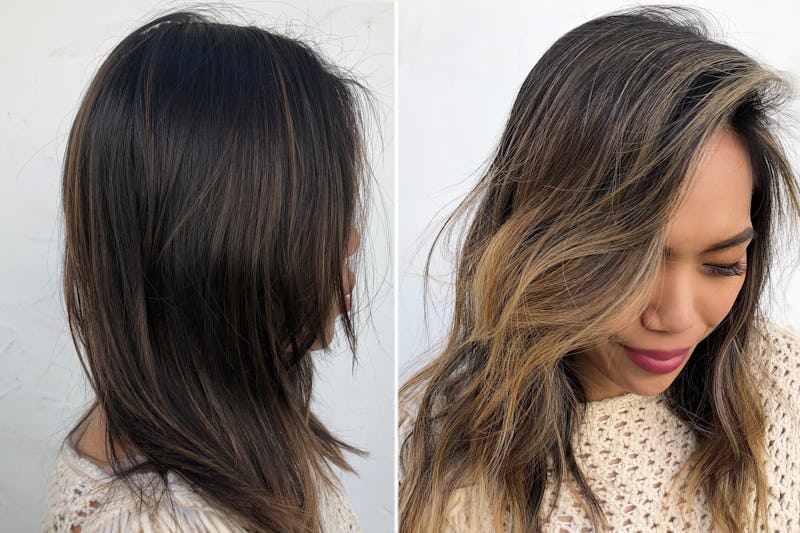 dpHue
There are so many ridiculous beauty trends out there inspired by the most random things, from squiggle makeup to La Croix locks. It's hard to keep track. But for every out-there trend, there's always one gem, and for me, 2018 is all about root beer float hair. Now, before you roll your eyes at me for assuming I just doused my locks in sugary-sweet soda, let me explain what the trend really is.
Root beer float hair is a color technique inspired by the sweet soda-shop dessert and it was dreamed up by celebrity colorist and dpHUE Creative Director Justin Anderson. You may have already heard of the root beer hair and cream soda trends, but root beer float hair is what you'd get if you put the two together. When you mix the warm, caramel colors from root beer and the soft blonde hues from cream soda, you get a gorgeous blend of highlights that make for the perfect brunette balayage. (Balayage is a highlighting technique where colorists paint the hair to create a natural ombre effect.)
While I already had some blonde (albeit super grown-out) streaks in my hair, Anderson convinced me to freshen up my locks with the brighter and warmer-hued highlights. I have gone blonde before, and it did not end well, so I was a bit skeptical to go any lighter than what I already had. But if anyone was going to make me blonder, there's no one who can do the job better than Justin Anderson, the unofficial king of blondes. Anderson is responsible for some of the most enviable blondes in the biz, including Miley Cyrus, Kristin Cavallari, and Erin Andrews. My hair was literally in good hands.
Another thing I was worried about? Going too red. But Anderson assured me, a little caramel isn't a bad thing. "Every girl is always afraid of red, because no one wants red, brassy hair, but the thing that a lot of brunettes should realize is that a little hint or undertone of red is always nice because it looks good on [most brunette's] skin tones," he explains to me. "You would never want to be too ashy. It's kind of like that in-between, but you still want warm, caramel, honey tones with a bit of the brighter poppy blondes."
While it might have a crazy name, the root beer hair trend (which has been seen on the likes of Selena Gomez and Olivia Munn) is actually a super natural look for brunettes. "Even if [you] spent a lot of time in the sun and it lightened naturally on its own, there would still be some of those warm highlights," says Anderson. "You always want to think about a little kid's hair and how it reacts to the sun — you still want to keep some of that warmth in there. Nothing too ashy, nothing too pale. There will be a few pieces that will frame your face that are a little bit lighter, but overall, we want to have those warm, golden tones."
Needles to say, I was sold.
To begin the color transformation, Anderson and his assistant Aleksey Bishop lightened my hair using a mixture of bleach and Olaplex, a product that is often used during color or bleaching treatments to help rebuild broken hair bonds. After spending about 20 minutes painting the lightener formula all over my hair, my head was pretty much covered in foil. After heating the foils up with a blow dryer and letting the bleach really soak into my hair, it was time to rinse. This was where the color magic came in.
Anderson applied a mixture of red and blonde glosses onto my newly bleached strands to achieve that warm and buttery root beer float hair hue.
It was strikingly red — almost like ketchup — but when it was massaged into my hair and then rinsed out, the result was warm, golden blonde highlights.
I was absolutely obsessed.
Even though it was much blonder than I was used to, it still looked natural and totally reminded me of that sweet and yummy ice cream dessert
To maintain my root beer float hair, Anderson advises that I use an at-home gloss, like dpHUE's Color Boosting + Deep Conditioning Treatment in Golden Blonde, to keep my highlights rich and warm, as well as an Apple Cider Vinegar rinse between shampooing my hair to strengthen my locks, while also keeping my color strong.
dpHUE Color Boosting Gloss + Deep Conditioning Treatment, $30, ULTA
If you want to try out the root beer float hair trend, Anderson suggests telling your colorist you want to keep your balayage nice, warm, and glossy with pops of blonde going through.
It's also suggested you treat yourself to an actual root beer float afterwards to celebrate your delicious new 'do.