Natalie Portman Totally Called Out Golden Globes Sexism & Twitter Is Living For It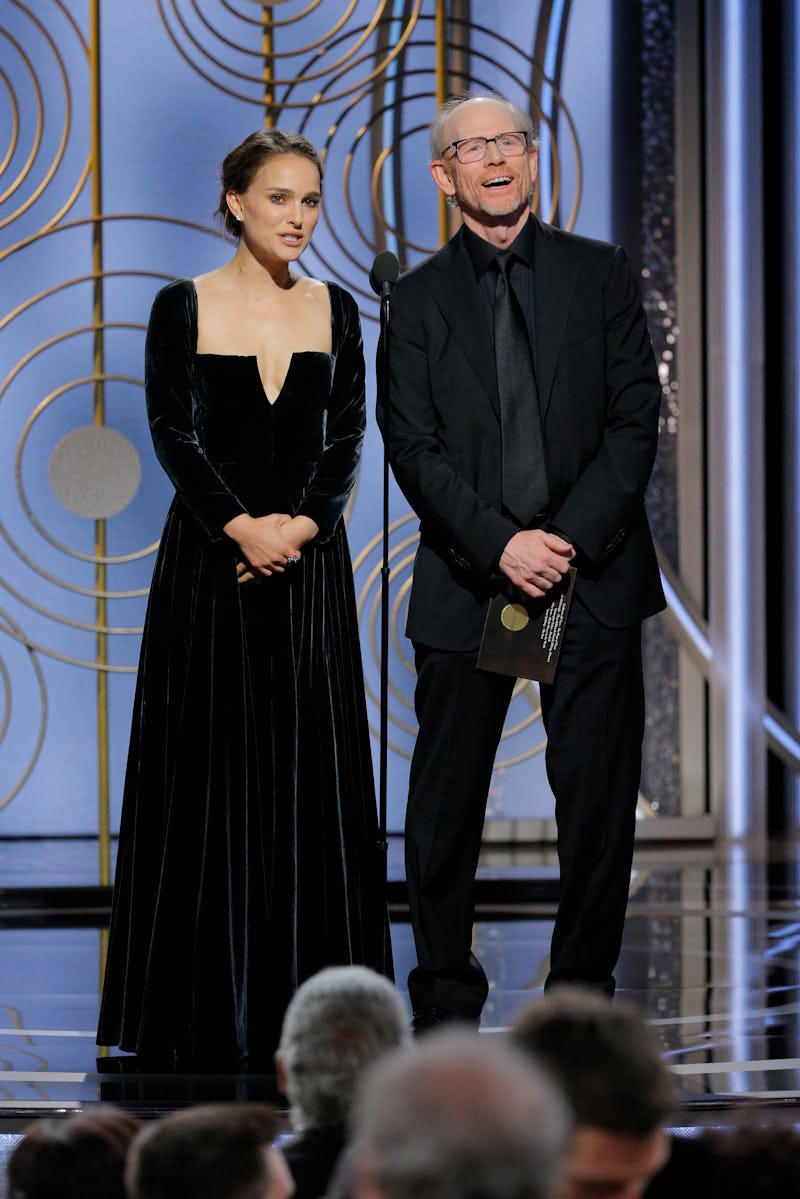 Handout/Getty Images Entertainment/Getty Images
And the award for best one-liner goes to? Natalie Portman, who just won the 2018 Golden Globes and Twitter can't handle it. She did with just a few words while presenting the award for Best Director. "And here are all the male nominees," Portman said without missing a beat. Of course, Twitter was right there with her ready with their reactions.
The number one response being pure shock to see Portman just speak her mind like that. "Damn Natalie, you a crazy chick," Bustle TV writer Leah Marilla Thomas wrote. "'And here are the all-male nominees' says Natalie Portman SO GUTSY & RUDE, as she presents the best-director nominees," New Yorker writer Emily Nussbaum tweeted. "Whoa."
Zoë Saldana agreed that this was definitely a "whoa" moment and she was completely on board. "And then my girl #NataliePortman names the all 'male' nominees for best director!" the Guardians of the Galaxy actress tweeted. "Preach!"
Saldana turned Portman's name into a hashtag, but others on Twitter thought that those seven words she delivered were more than hashtag worthy. "Natalie Portman often drives me crazy," Buzzfeed's Anne Helen Petersen tweeted, "but 'HERE ARE THE ALL MALE NOMINEES' is iconic." For one fan, though, Portman's killer line was just another reminder of how amazing she is. "DON'T MESS WITH NATALIE PORTMAN !!!!" they tweeted. "THE LOVE OF MY LIFE !!"
While Portman's mic drop was certainly unexpected, it shouldn't be that surprising that she would speak her mind on a night that was all about letting men know it's time for a change. The #TimesUP movement took over the 2018 Golden Globes red carpet with women standing together to speak about the need for gender equality, including Portman. "It's time because time's up" Portman said on the red carpet about the need for this latest movement that has brought women in all industries together. "It's time we want our workplaces to reflect the world we're living in and have everyone represented."
With her off the cuff comment while presenting the award for Best Director she was just keeping with that message. Perhaps, she was just keeping with the role of a former first lady in Jackie.
"'When I said there'd never be another Camelot, I meant it,'" Natalie Portman intoned, tossing a kerosene lamp onto the Golden Globes stage," The Daily Beast's Ira Madison III tweeted.
What Portman might have been blowing up was the notion that a woman didn't deserve to be nominated in that category. After all, Greta Gerwig's directorial debut took home the prize for Best Musical or Comedy Motion Picture, but she couldn't get a nomination in the directing category. No woman has since 2014 when Ava DuVernay was nominated for Selma. No woman has actually won that award since Barbra Streisand, who won in 1983 for Yentl and remains the only woman who has ever taken home the Best Director in the Globes' 75-year history.
"Thank you Natalie Portman for pointing out how absurd it is that no women were nominated for Best Director at the #GoldenGlobes," Huffington Post's Emma Gray wrote.
Another fan joked how hard it was to follow Oprah, but somehow Portman made it work. And this person actually managed to make a "hold my drink" joke work in 2018. "Me: Sucks to follow Oprah with such a trash category," they tweeted. "Natalie Portman: Hold my drink."
One fan even thought that Portman's one-liner was a direct response to the Globes' awkward timing. Right after Portman and director Ron Howard passed out the award for Best Director, Gerwig came out to introduce her movie.
"Greta Gerwig following the 'all male nominees' is quite the PR fail for the Hollywood Foreign Press," they wrote. "Natalie Portman totally knew that and is queen."
Certainly, if that's true, it's a reason to bow down to Portman's ability to seize a moment. It was a moment that's bigger than her comment, though. But between Portman's "all male nominees" comment, Oprah's speech that got everyone on their feet, and Reese Witherspoon's promise to tell the stories of victims of sexual assault, it was women that made the 2018 Golden Globes one fans won't soon forget.