'Hidden Figures' Could Make Oscar History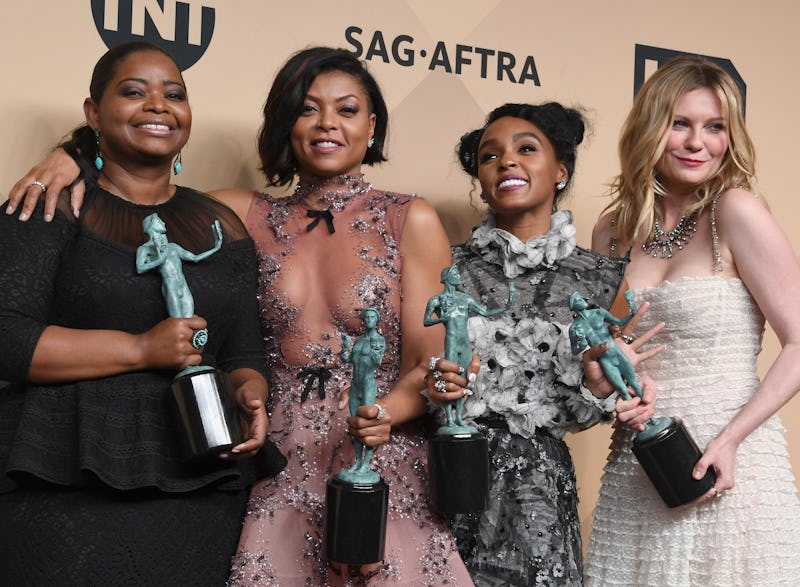 Alberto E. Rodriguez/Getty Images Entertainment/Getty Images
At the Screen Actors Guild Awards on Jan. 29, Hidden Figures shocked almost everyone by taking home the Outstanding Performance by a Cast in a Motion Picture trophy, the night's most high-profile prize. Though the movie many believe to be the Oscar frontrunner, La La Land, wasn't nominated in the category, another Best Picture hopeful, Moonlight, was, and the fact that Hidden Figures bested the critically acclaimed drama could be a sign of things ahead. And if Hidden Figures does win the Oscar for Best Picture at this year's Academy Awards, it wouldn't just be shocking — it would be historic, making the film one of the very, very few female-ensemble movies to ever nab the top award.
There have been a number of films starring a woman that've taken home Best Picture over the years, from Million Dollar Baby to Silence of the Lambs, even if they do also feature male actors in prominent roles. And there are also plenty of Best Picture winners that feature great female characters as co-leads to their stories, like American Beauty, Shakespeare In Love, Titanic, and West Side Story. But you really have to go back to the 1950 win for All About Eve to find a movie focused on telling the stories of multiple women that nabbed Best Picture. If Hidden Figures, which revolves around the story of three women, wins the Oscar, it'd be a major deal.
Best Picture winners have been pretty dude-centric in the last few years. Films like Spotlight, Birdman, 12 Years a Slave, Argo, and The King's Speech all feature heavily male casts or focus on men. A Hidden Figures win could bring some female energy back to a category that hasn't seen much since 2002's win for Chicago, and even the ladies of that film shared the stage with Richard Gere. If Hidden Figures could win Best Picture, it would be revolutionary in that its focus is clearly on telling the stories of three women of color, and that's something Best Picture has never seen before.
With a 93 percent rating on Rotten Tomatoes and a $104 million box office take on a $25 million budget, Hidden Figures is a certified hit, and it makes sense that more awards acclaim will come its way. If the movie does, indeed, win the Oscar, it wouldn't just be meaningful for the Academy Awards, but for Hollywood overall. Thanks to Hidden Figures' box office haul and critical acclaim, it's going to be harder for studios to claim that medium-budget movies starring women, especially women of color, aren't worth making. It's clear that they are, especially considering the outer influence films like Figures can have on society. The movie has already inspired a scholarship contest for young women in STEM, helped launch a website for future programmers of Black Girls CODE, and won the Sloan Science in Cinema Prize. As star Taraji P. Henson said at the SAGs, Hidden Figures is truly becoming a movement.
Still, there's no guarantee that Figures will win the Oscar. It's going to be tough beating La La Land; we all know how much Hollywood loves to reward stories about itself. But much like with early frontrunner Boyhood a couple of years ago, there is a small backlash growing against La La Land. Meanwhile, the other frontrunner, Moonlight, may not be the kind of movie the traditional Academy gravitates toward, and so voters might opt for something a bit more uplifting. Could Hidden Figures enter for the surprise win? It's not impossible, but seeing it happen — and make Oscar history — would really be out of this world.