7 Small Things You May Fixate On If Your Relationship Lacks Security, According To Experts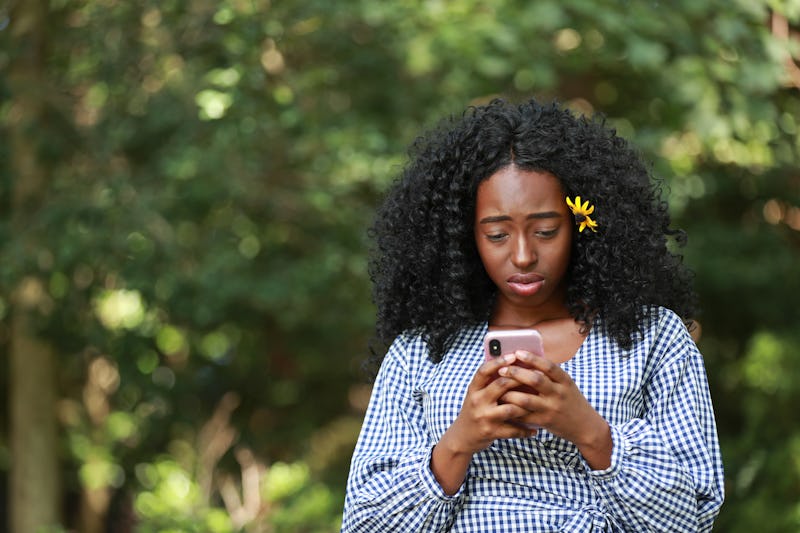 Shutterstock
If you ever find yourself fixating on the little things your partner does (or doesn't do), and it feels like you can't stop worrying, it could be a sign your relationship lacks security. You might bite your nails when they don't text back, or wonder what it means if you don't see each other for a few days. And while it may seem like you're making a big deal out of nothing, small worries like these can actually stem from a larger issue.
"A person fixates or feels insecure because their intuition is telling them that something doesn't feel right," Jennifer L. McBride McNamara, MA, LAMFT, a licensed associate marriage and family therapist, tells Bustle. "The fixation becomes the guidepost for where the relationship lacks security." For example, if you're hung up on their texting habits, it may mean you don't trust your partner, or that you need to communicate more.
By recognizing these worries, and talking about them with your partner, you can start to create a greater sense of security within your relationship, McNamara says. It's best to be honest, validate each other's feelings, and keep a conversation going in order to establish trust.
From there, it'll be easier to feel secure, no matter what happens. "Trust takes time and it takes the accumulation of lots of little not-broken trusts," McNamara says. "It requires consistently doing what you say you're going to do, being where you say you're going to be, talking about subjects that need to be addressed, and being vulnerable with feelings." Here are a few things you might fixate on, if security is an issue in your relationship.