7 Signs Your Insecurities Are Causing Problems In Your Relationship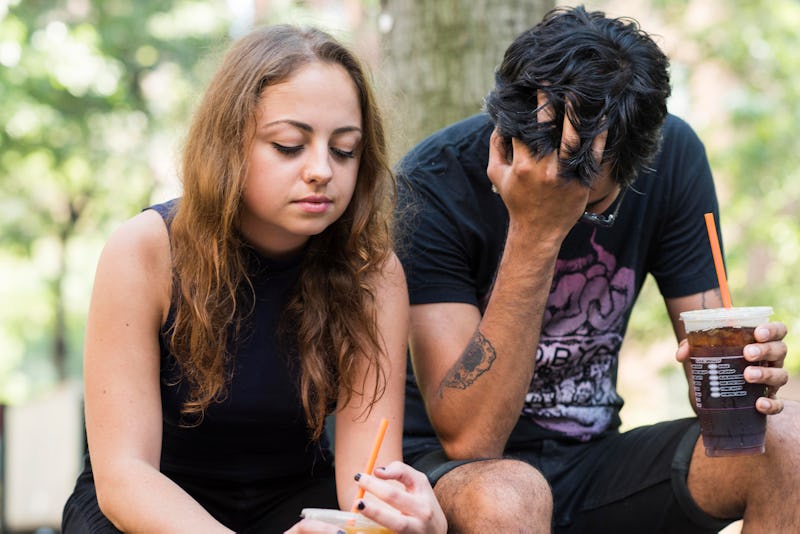 BDG Media, Inc.
We're only human, which means that we all — even the most confident folks among us — have our own individual insecurities of varying magnitudes. These insecurities can be difficult to pinpoint and acknowledge, let alone work through, but if you want to lead a healthy, happy life, figuring out how to manage your insecurities is crucial. If left unchecked, those insecurities can have a serious impact on so many parts of your life, including your love life. That's why knowing how your insecurities affect a relationship — and recognizing the signs that yours are causing problems in your love life — is so important.
"When thoughts become action — that is where it really starts to break down," Caleb Backe, health and wellness expert at Maple Holistics, tells Bustle. "Being somewhat insecure or a little jealous/paranoid is natural. We can be very possessive, sometimes without even meaning it. You can think all kinds of things, and it doesn't necessarily guide your decisions. But this changes when you start acting on your insecurities. If you don't keep your insecurities in check, you may become too dependent on your partner."
Simply put, if your insecurities are causing you to think negative thoughts, which later manifest into negative actions, that's when your relationship can start feeling some of the side effects of your insecurity. It might not happen overnight, but know that it's OK if you need to work through some insecurities, whether that's on your own, with a therapist, or with the love and support of your partner. Here are seven signs that your insecurities are having an impact on your relationship, according to experts.