11 Social Media Habits That Could Mean Your Partner's Cheating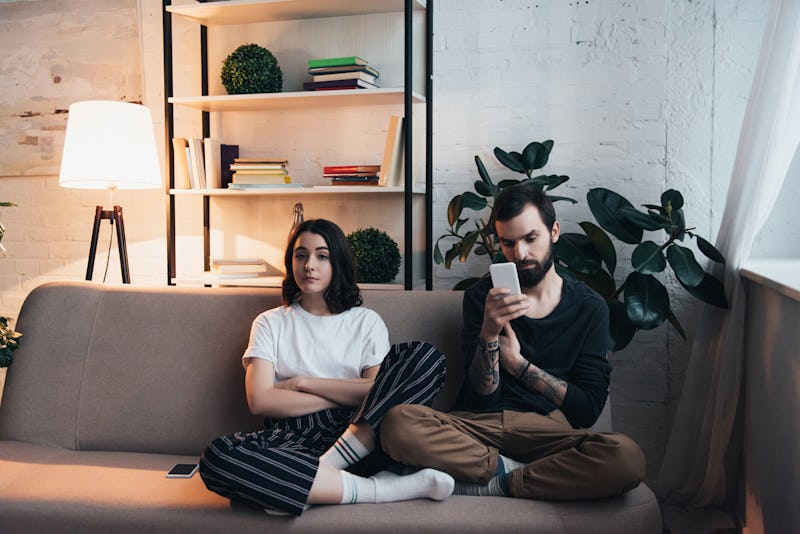 Shutterstock
If your partner is actively having an affair — or even thinking about starting to stray — you might be able to tell by the changes in their online habits. While you can't put the blame on the likes of Instagram or Facebook, there is a link between social media and infidelity. And that's because, in many ways, "social media has made cheating more accessible," Theresa Herring, LMFT, a Chicago-area couples therapist, tells Bustle. "What starts off as a harmless communication can spiral into a full-on emotional and/or physical affair."
It has a lot to do with the easy access to other people, and the attention they can provide. "People use social media to cheat when they are unhappy with their lives and/or their relationships," Herring says. "It usually [starts when] a [...] person is giving them the validation that they've been seeking. They rediscover a lost part of themselves, feel like someone appreciates them for who they are, and it's off to the races."
That doesn't mean, however, that all is lost, that social media is evil, or that you need to monitor your partner's every move online. (That's not healthy for you or for them.) It also doesn't necessarily mean your partner is more likely to cheat, just because they're active on social media. But small changes can be one of the first sign's somethings up.
These are things to be conscious of, especially if you're feeling disconnected from your partner, or have reason to suspect them of cheating. "If you can recognize the signs early, you can more quickly strengthen the relationship to avoid or heal from an affair," Herring says. Here are a few social media habits experts say might mean your partner is starting to stray, as well as what to do about it.
This article was originally published on