If Your Mom Ever Says These 7 Things, It May Be Verbal Abuse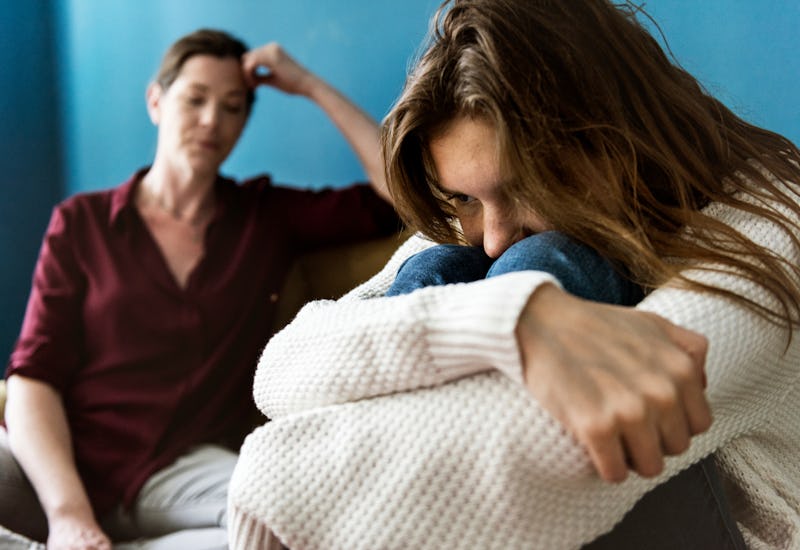 Rawpixel.com/Shutterstock
Being humiliated or shamed by others may make you feel small, like a kid again even, but this kind of verbal abuse is in no way confined to childhood. Verbally abusive mothers, like all other verbally abusive people, don't stop at a certain age. And knowing the signs of this kind of abuse is important even after you've left your parents' house.
There are a lot of misconceptions about verbal abuse. First of all, this kind of abuse doesn't have to mean one person screaming at the other. Second, verbal abuse between a mother and child isn't confined to childhood. "Verbal abuse is an engagement style designed to punish, harm, or hurt another individual," Joshua Klapow, Ph.D., clinical psychologist and host of The Kurre and Klapow Show, tells Bustle. "[...] Verbal abuse does not have to involve yelling, or obscenities, but rather can be subtle in tone yet powerful in impact. Verbal abuse from a parent to a child can occur from as early as a child can recognize speech through adulthood." Because of the complexities of this kind of interpersonal abuse, it can be difficult to identify.
Verbal abuse is also just one part of the larger spectrum of types of emotional abuse. "Through the use of words, the victim of verbal abuse is made to feel shamed, less than, and humiliated," Stephanie Camins, MA, LPC, licensed professional counselor and clinic director at Road to Growth Counseling, tells Bustle. "The goal of the abuser is to create severe self-doubt, insecurity and dependence." Even an adult mom can make their child feel this way.
Here are seven things that, if your mom says, may be verbal abuse, according to experts.