I'm Bustle's Sex Editor & Here Are My Five-Word Reviews Of 13 Sex Toys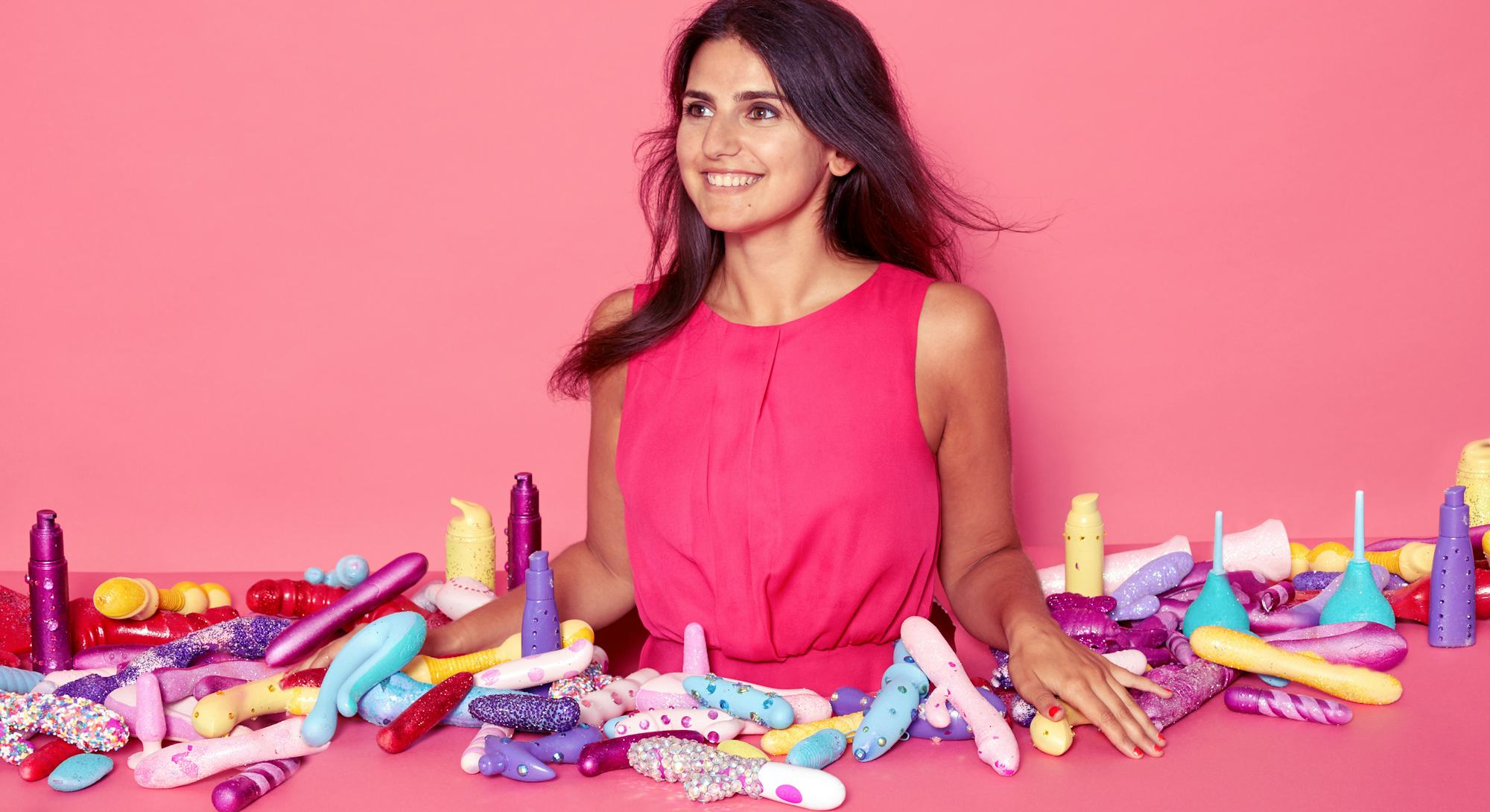 Ashley Batz/Bustle
For the month of September, Bustle's Sex TBH package is talking about sex, honestly. We're delving into how women approach the things they're taught to be shy or embarrassed about in the bedroom — and, in doing so, we're liberating people to live their best (sex) lives. Let's do it.
I am surrounded by sex toys. Not just figuratively, as someone who covers them for work, but also literally. There are toys to my left, right, in four huge boxes next to my desk, and in my filing drawers. Oh, and there's also one in my vase because I'm running out of room here. Four years ago, before I became a sex and relationships editor, I never would have guessed I'd be fenced in by sex toys — at that point I'd never even touched one before.
I wasn't ever opposed to them back then, but they weren't really on my radar. My friends never spoke about sex toys, even though we talked about sex all the time. And aside from seeing them on Broad City or Sex and the City, I really had no points of reference. (I later learned how hard it is for sexual wellness companies to have any sort of presence on social media due to strict, sex-negative policies.)
I was also slightly intimidated — especially by the plastic, phallic ones or the large massagers that looked like power tools I didn't want anywhere near my bed. Until I started researching, I didn't realize how many innovative products there are, and how you can find ones that can completely fit your body, desires, and aesthetic — and even your taste in jewelry.
I also ignorantly thought I didn't "need" them. I was able to get off fine solo, and what I thought was often enough during sex. I had no idea how much toys would end up teaching me about my body, or that the sensations they'd provide would be unlike anything I'd experienced before. I also later learned how beneficial they'd be with a partner. Previously, whenever I didn't orgasm with a partner, I figured it was because I couldn't focus, not because I needed more stimulation, as most women do. "Vibrators kind of level the playing field for women in the bedroom," Claire Cavanah, co-founder of Babeland, tells Bustle. "A lot of women really need the consistent stimulation on their clitoris to have the same experience as men have."
They've helped me feel more comfortable and confident in the bedroom, and with my body. But I do realize how overwhelming walking into a store can be for beginners. And, even though 81 percent of women have brought a sex toy into the bedroom, according to The Journal of Sexual Medicine, there's still a stigma attached.
So in an effort to bring more awareness to the awesome options that are out there now, I tried out 13 inventive solo and couples toys on the market to see what's really worth the hype. Here's what I, and in some cases my boyfriend, thought about each in five words — because short really is sweet, and also we don't have the right emojis for this kind of thing yet.
Nope. Boyfriend: Are you OK?
How it works: Sync is a hands-free couples vibrator that's designed to stimulate the clitoris and G-spot during sex or solo play. You insert it into the vagina, where it's meant to stay in place as you move around. It can be controlled through its app, so even if you're miles away your partner can play along. Even though it's designed to adapt to your body, I think this toy was too big for me. My boyfriend didn't mind it, but once we started having sex I could feel it moving around and it started to hurt.
We-Vibe Sync, $199, Babeland
An actual gift from above.
How it works: The concept of this clitoral vibrator is simple: The harder you squeeze, the stronger the vibrations. You can also record your own vibration custom patterns and replay them.
Minna Limon, $119, MinnaLife
Sleek, small, gets job done.
How it works: With five speeds and two vibration modes, this portable, stainless steel vibrator is meant for external use and can be used solo or with a partner. It comes with a removable black silicone cap, which is meant to enhance pleasure.
Strong AF, but G-spot found.
How it works: With 10 different patterns, this asymmetric vibrator is designed to provide internal stimulation, aka hit your G-spot, but you can also use it externally as a clitoral vibe.
We-Vibe Rave, $119, Babeland
Unlike lipstick, will use frequently.
How it works: This clitoral stimulator in disguise is an on-the-go version of the popular Womanizer, using pleasure air-technology just like the original. Instead of vibrations, the toy stimulates via pulsating pressure waves without actually touching your clitoris.
Womanizer2Go, $168, Amazon
Mission(ary) accomplished! We both enjoyed.
How it works: Eva is a hands-free couples vibrator that provides clitoral stimulation during penetrative sex. With two flexible wings that go under the labia, the toy is meant to stay in place as you move around during intercourse.
Eva, $105, Dame Products
99 problems. Wish ain't one.
How it works: Wish is a stimulation vibrator, so you can use it internally or externally. The plush toy uses We-Vibe's exclusive PowerPulse technology, so the vibrations are designed to provide deeper sensations than other vibes. It comes with 10 modes, but you can also customize your own through its app.
We-Vibe Wish, $119, Babeland
Appropriate name — pro at satisfying.
How it works: Like The Womanizer, this toy offers touch-free clitoral stimulation in 11 different settings through waves of air-pressure that are meant to mimic the sensations of oral sex. Unlike the OG version, this update has a whisper mode and a longer handle meant for better control.
Satisfyer Pro 2 Next Generation, $100, Adam and Eve
Meh. Too strong. Stimulation overload.
How it works: This clitoral vibrator offers sensations on both sides of the wand. One side provides a gentle massage, while the other offers powerful vibrations using patented PulsePlate Technology, which is designed to provide high-amplitude oscillations. For me, though, it was a little too much.
A million times yes. Yes.
How it works: A dual stimulator, Nova offers G-spot stimulation and clitoral vibration simultaneously. You can change the intensity on either motor or turn one off completely. The toy has 10 different settings and the option to customize your own via its app.
We-Vibe Nova, $96, Babeland
Easy, effortless, and cute too.
How it works: With a tapered tip, this vibrator is meant to target your clitoris. The vibe is shaped like a pebble so it can fit comfortably in your hand has eight modes of vibration, each with 12 speeds.
Oral fans, run don't walk.
How it works: This handheld oral sex simulator offers clitoral sensations through 10 pleasure settings and a rotating, vibrating nub that's meant to mimic a moving tongue.
LELO Ora 2, $189, Amazon
More pls. Boyfriend: Nope, ow!
How it works: This vibrating ring, which rests at the base of the penis, is meant to be used to offer pleasure for both partners during sex (aka longer lasting erections and clitoral stimulation). The toy has 10 vibration modes, and if you connect to its app, you can control the ring from anywhere. Personally, I loved the vibrations Pivot was giving off, but it wasn't exactly wide enough for my boyfriend and he didn't find it enjoyable. However, he's willing to try it again.
We-Vibe Pivot, $109, Babeland
As you can see, finding the right toy for you depends on your body and your needs. While they weren't my favorites, We-Vibe Rave and Queen Bee could be total game-changers for those who want powerful vibrations. And if you're using a couples toy, you'll absolutely need to take your partner's body and needs into consideration too. Sync didn't feel right for me during sex, but my boyfriend didn't mind it. And while I was ready to call Pivot my new BFF, he couldn't wait to take it off.
That being said, sex toys are constantly becoming smarter and more customized, so setting your own pattern, speed, and even shape is now very much a possibility with a lot of toys. Don't be afraid to get out there and explore — your body and your sex life will thank you.