These Are The 17 Best Sex Toys For Women Right Now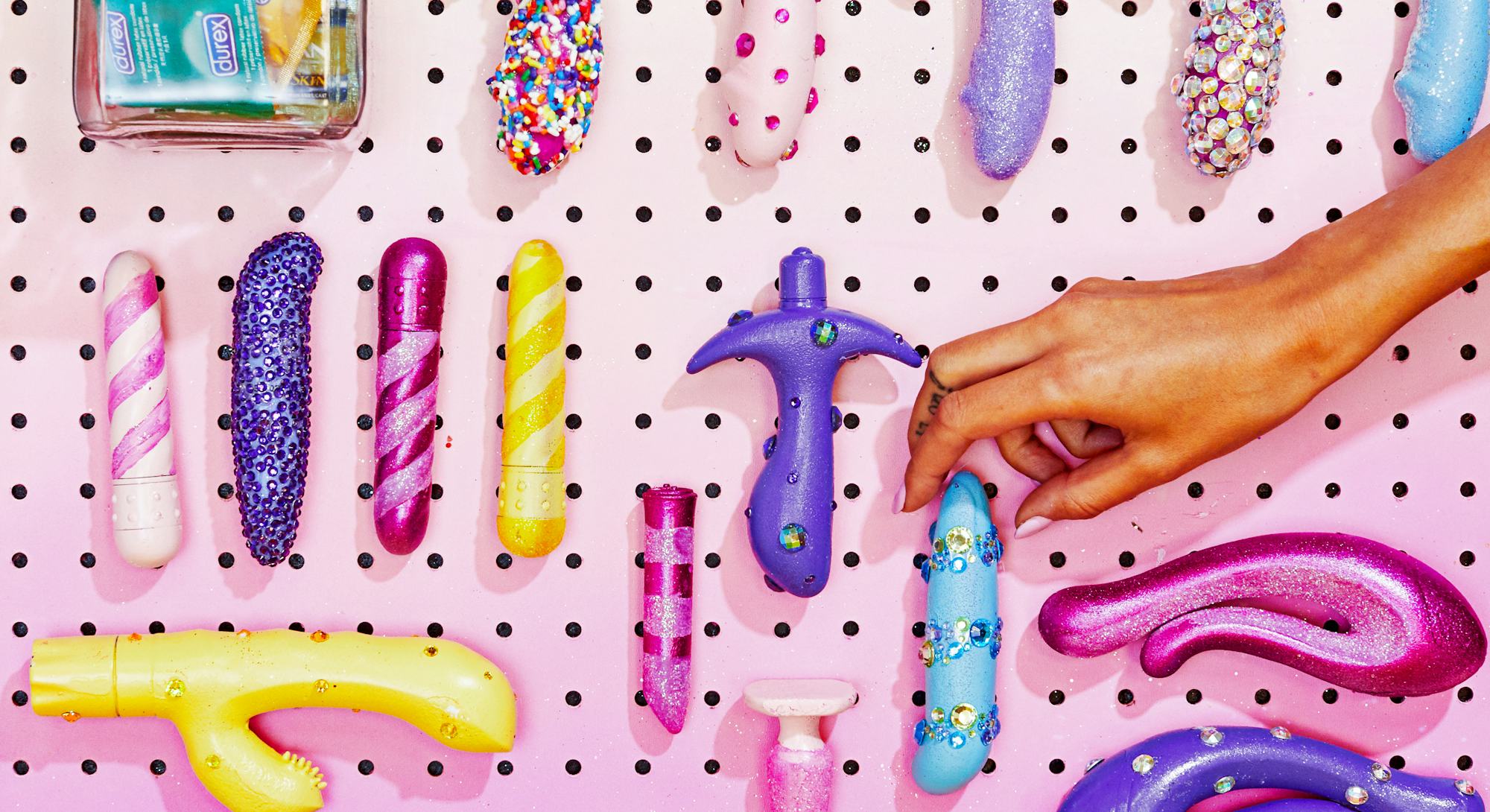 Ashley Batz/Bustle
For the month of September, Bustle's Sex TBH package is talking about sex, honestly. We're delving into how women approach the things they're taught to be shy or embarrassed about in the bedroom — and, in doing so, we're liberating people to live their best (sex) lives. Let's do it.
I bought my first vibrator when I was 19, as a broke college student. I didn't know much about vibrators other than the fact that I really wanted one, and I was too embarrassed to actually buy one at a sex toy shop so I ended up buying the cheapest rabbit vibrator I could find off eBay. I was so paranoid about whether or not it was sanitary that I used the toy over my underwear. Although it wasn't the best on the market (and didn't last me very long), ever since I bought that first vibe, I never looked back.
Accessorizing my sex life with a variety of toys and products has not only made masturbation much more pleasurable, but it's helped me become more confident during sex. I know exactly what I need to reach orgasm, and being aware of my body helps me ask for what I want in bed, too. "An important part of a grown-ass woman's mindset is understanding her needs and taking responsibility for making sure they're met," Dr. Emily Morse, doctor of human sexuality and founder and host of the Sex with Emily podcast, tells Bustle. That means never being afraid to explore your body, your fantasies, and your sexual curiosities.
In addition to making you feel good and helping you communicate with a partner, sex toys also create more equality in the bedroom. A survey published in the Archives of Sexual Behavior earlier this year of 52,000 adults between the ages of 18 and 65 found that the the orgasm gap is unfortunately still very much alive. In fact, 95 percent of heterosexual men say they usually orgasm every time they have sex in comparison to 86 percent of lesbians, 66 percent of bisexual women, and 65 percent of heterosexual women. "Vibrators kind of level the playing field for women in the bedroom," Claire Cavanah, co-founder of Babeland, tells Bustle, "A lot of women really need the consistent stimulation on their clitoris to have the same experience as men have."
Thankfully, the sex toy industry is thriving, and there are so many innovative shapes, sizes, colors, and designs to fit any type of body and any type of need. From high-tech vibes to vagina-toning kegel balls to beginner butt plugs, here are the hottest sex toys out there right now.
Yes, the Womanizer toy may look like a facial cleaning tool, but it is so much more exciting than that. It offers a unique suction-type sensation that mimics oral sex, and has several different settings so you can build up to your orgasm, or use it for nipple play. Unlike the Deluxe version, the Womanizer Plus has a long handle, which allows you to comfortably use it alone or hand off to a partner.
If you need any more convincing, a 2016 study conducted by urologist and sexual health expert Dr. Jennifer Berman found that 100 percent of the 100 women studied had an orgasm while using the product. If that's not already impressive, more than 20 percent of women in the sample reported having difficulty orgasming previously, but they were still able to do it with the Womanizer. Even if you don't typically have trouble getting off, this toy is worth a shot.
Womanizer Plus, $138, Amazon
If you've been curious about trying out kegel balls, consider letting Abbi and Ilana take you there with these vagina-toning balls from Broad City's new sex toy collection. The balls unscrew, so you can take out the weights and use the extra space as a top-secret storage compartment — if you're sneaky like that.
Broad City Nature's Pocket Kegel Balls, $30, Lovehoney
A recent study from Indiana University's Kinsey Institute for Research in Sex, Gender, and Reproduction found that nearly 40 percent of women have had anal sex in their lifetime. If anal play is on your must-do list, this vibrating plug with a remote control by We-Vibe is a must-have. It's slim, flexible, and great for couples who are new to anal play. As with other We-Vibe products, you can sync this one to the We-Connect app so you can play together even when you're not in the same room.
We-Vibe Ditto, $129, Babeland
The Ora 2 by LELO is an oral sex simulator for women that aims to deliver "nothing less than award-winning oral sex." With a vibrating nub that rotates, it'll feel like a tongue flicking your clitoris. As one reviewer put it, "Wowza!!!" Enough said.
LELO Ora 2, $189, Amazon
If you're looking for something you can carry in your purse wherever you go (hey, you never know when the urge is going to hit), the Iroha Stick Vibe by Tenga is a great option. It looks just like your favorite lipstick, but it actually hides a multi-speed clitoral vibrator beneath its angled silicone tip. Babeland reviewers say it's a great starter vibe for newbies, and the price is pretty great, too.
Tenga Iroha Stick Vibe, $22, Babeland
Crave does an awesome job creating sex toys that look like everything else in your life — your computer, your phone, your necklace, your USB. You won't find any phallic-looking or intimidating vibes with them. Released earlier this year, the Wink Plus by Crave is a stainless steel vibe that comes in three different colors, contains five different vibrational modes, and is perfect for sticking into your purse when you're going out for the night.
Crave Wink+, $79, Babeland
If there's absolutely one sex toy every grown-ass woman must have in her drawer, it's a rabbit vibrator. Rabbits were built for female pleasure with both clitoral and G-spot stimulation, and the flexible Nova by We-Vibe with 10 vibration settings is no exception. Using the We-Connect app, your partner can even get in on the fun by controlling the toy. It's an oldie, but a goodie.
We-Vibe Nova, $96, Babeland
The Womanizer 2Go is a bestselling, travel-friendly clitoral stimulator that looks just like a lipstick. It contains the same PleasureAir technology as the popular Womanizer, so you can get that unique sensation even when you're on the road.
Womanizer 2Go, $169, Babeland
Made from award-winning PulsePlate technology, this brand new wand massager with a powerful oscillating plate aims to bring some serious intensity to your orgasm. And, the clitoral massager certainly worked for one Bustle writer who tried it out. "I let the oscillating plate do the work while I laid back for the rest of the ride," she writes.
Queen Bee, $149, Hot Octopuss
If you're looking for something small, versatile, and effortless, Fin by Dame Products might be just what you need since you can easily slip it on your fingers. As one review put it, "Fin felt like a natural extension of my fingers ... It felt natural."
And it's definitely a product you can use during sex with a partner, too. Dame Products has made it its mission to close the orgasm gap between men and women through its toys. "We believe that we will not have true gender equality until we have pleasure equality," Dame Products' co-founder and CEO Alexandra Fine tells Bustle. "Everyone has the right to sexual pleasure!" Can't argue with that.
Similar to the Womanizer, the Satisfyer Pro 2 Next Generation is a new and improved version of the Satisfyer Pro 2, and claims to be even quieter and can be more easily controlled than the original. It also features a wider and larger silicone head for more comfort, comes in 11 different power levels, and like other products on this list, it's meant to mimic stellar oral sex. As one review put it, it's like someone's going down on you, but even more intense.
Satisfyer Pro 2 Next Generation, $100, Adam and Eve
The Desire by Lovehoney was voted "The World's Best Vibrator" by Good Housekeeping. It's a compact clitoral vibe that comes in eight different modes and 12 different speeds of intensity. It's also pebble-shaped, so it can easily fit in your hand.
Cock rings were built to help men achieve longer lasting erections as well as better orgasms, but there are benefits (and maybe even a vaginal orgasm) in it for women too. This vibrating ring is soft and as a huge bonus, it includes a hands-free clitoral stimulator, so this is definitely a product you both can share.
We-Vibe Pivot, $109, Babeland
Still in search of your G-spot? Then this best-selling vibrator from LELO is worth a shot. It's built with a curved and flattened tip, made to target the elusive area. It's also waterproof and comes with eight different speeds so you can change it up.
LELO Gigi 2, $139, Babeland
If you're new to anal play, the Novice Plus by b-Vibe is a premium, beginner-friendly vibe that works solo or with a partner. With a shape that mimics a finger, the toy is small, body-safe, and has a motor in the tip. There are six vibration levels and 15 different pattern combos, so you can play around and find a setting that works for you.
Novice Plug, $130, b-Vibe
Looking for something powerful? Le Wand is a female-founded, rechargeable take on the notorious Hitachi magic wand aka the "Cadillac of Vibrators." The strong vibrating massager has a flexible neck, 10 speeds, and 20 patterns, so you'll have plenty of options to try out.
If you're not afraid of a little exploration, consider the Duet by Crave. The shape of this vibe allows every individual to figure out their own unique way of using it. For instance, you can use the dual tips to surround your clitoris, or since the material of the tip is different from the bottom of the vibrator, you can flip it around to experience new sensations. The possibilities are endless.
Crave Duet, $149, Babeland
Finding the right sex toy has the potential to not only enhance your sex life, but completely transform it, too. And luckily, there are so many game-changing options to try out. Whether you explore new toys solo or with a partner, don't be afraid to advocate for your pleasure — you deserve it.