Women Reveal How Using Sex Toys With A Partner Transformed Their Relationships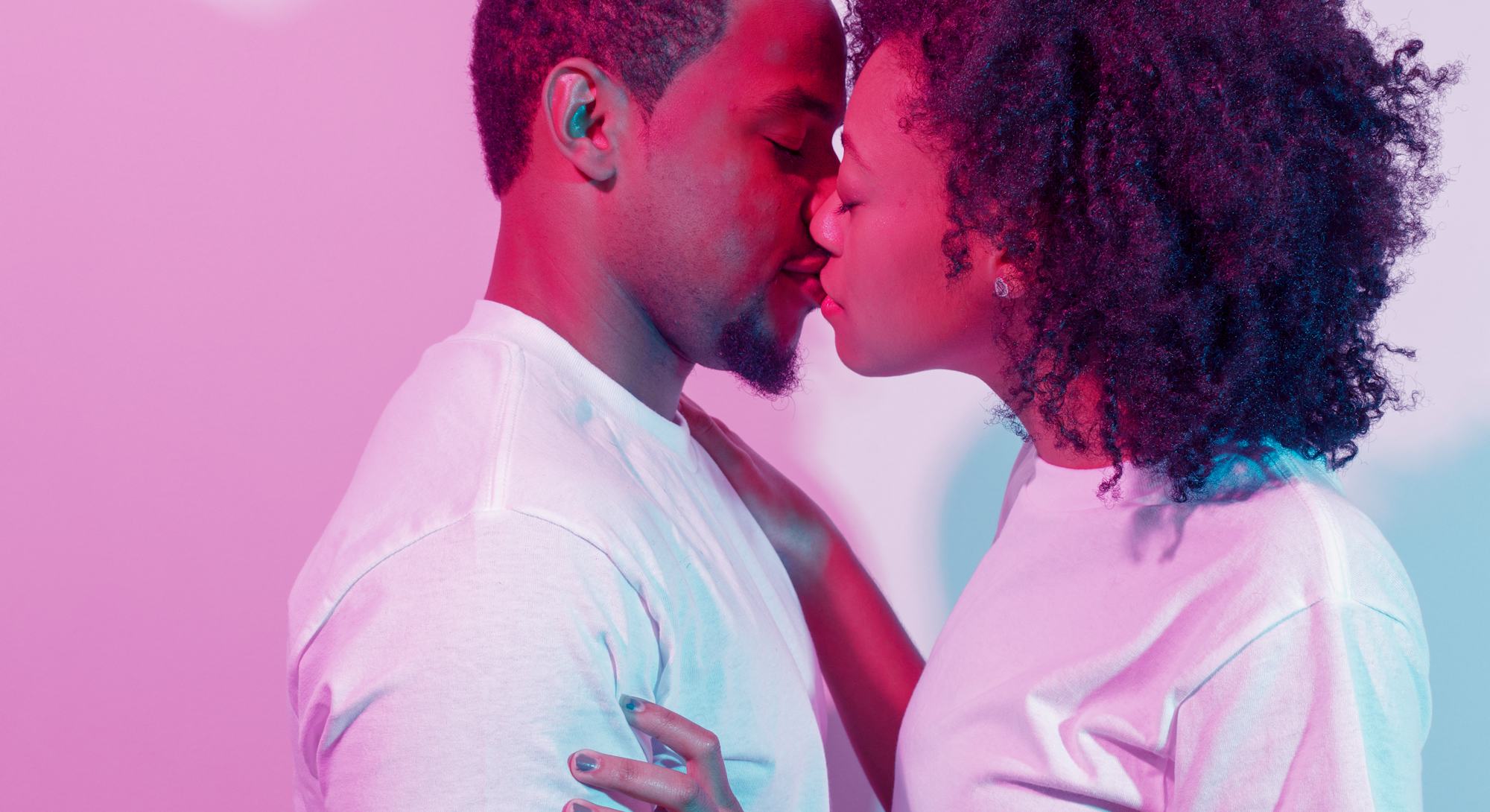 Ashley Batz/Bustle
For the month of September, Bustle's Sex TBH package is talking about sex, honestly. We're delving into how women approach the things they're taught to be shy or embarrassed about in the bedroom — and, in doing so, we're liberating people to live their best (sex) lives. Let's do it.
Elia, 36, has owned sex toys since she was legally able to. Her first purchase was a "terrifying" jelly rubber insertable, which she says is everything that's wrong with vibrators ("frighteningly large, loud, and probably toxic"). But like some who may be too young to purchase a toy, Elia first started experimenting with other everyday items like a squiggle pen. "I definitely wanted to try toys because I was curious about how much better or different my orgasms might be with them," she tells Bustle.
When it comes to relationships, she's actually never had a partner who wasn't interested in using toys. "I am very upfront about my toy use," she says. "If I'm getting naked with someone, I would have already talked with them about their sexual interests and how adventurous they are. Everyone knows what they're in for, and I don't 'spring' toys on anyone." Depending on the moment, she might bring out a toy and ask to try it on her partner, or ask if they'll use it on her. "Then I show them how."
Nowadays, Elia, who is bisexual and polyamorous, uses sex toys with her husband and other partners. Her husband might use a vibrator or a dildo on her, and then one (or both) might wear an anal plug during intercourse. She and her husband have also played around with pegging. "I have a harness and several harness-compatible dildos," she says. "I have a wide variety of toys, so anything goes. The point is to share the physical experience together."
Sex toy usage among couples is probably more common than you'd expect, and the industry is growing rapidly. A 2009 study published in the Journal of Sexual Medicine of 3,800 women ages 18-60 found that 41 percent have used vibrators with a partner during foreplay, and nearly 37 percent have used it during intercourse. It's so popular that a Forbes report from 2016 found that the once "niche" sex toy market is now an "unstoppable $15 billion industry." It's also projected to not only hit, but surpass $50 billion by 2020.
"We have seen a 116 percent increase in sales of toys and products marketed as 'for couples,'" Mike Mele, operations manager for intimate lifestyle retailer, Ella Paradis, tells Bustle. "Even more interesting is our focus group testing showed over 45 percent of customers indicated they purchased a toy in the last 12 months for use with a partner. It's also most common for men to purchase solo toys for women with the intention to use together."
Although sex toys are popular, using them is still not something people are comfortable talking about. "My observation has been that most people are open to the idea of using sex toys," Dr. Steve McGough, associate professor of clinical sexology and director of research and development at Women and Couples Wellness, tells Bustle. "Men, particularly those over 50 or from more male-centric cultures, seem more resistant, but not always."
The reason? Being "replaced" by a sex toy is one of the biggest concerns many heterosexual men have when it comes to using toys with their partner. "This is often due to the couple's perception of what sex is," McGough says. "Is it an orgasm for the man? An orgasm for the woman? Intercourse? Intimacy? Connection? Many times couples just don't have a common idea of what 'sex' means to each other. That's where the concern comes in." For example, most people want to feel like they're good at sex. They want to feel like they can pleasure their partner. So if a man sees that his partner can get off with use of a toy, he might feel useless.
On the other hand, some women are embarrassed to bring up the subject to their partner. "Unfortunately, many women have been culturally conditioned to be embarrassed by expressing their own sexual desires, particularly in the case of their own masturbation," McGough says.
For some, bringing up toys to their partner can be super uncomfortable. "I had an ex whose manhood was completely threatened by a sparkly pink vibrator I once purchased, so I was a little worried about bringing the possibility up to my current partner," Laura, 30 tells Bustle. "Having that initial conversation can be really daunting."
With stigma surrounding toys, it's no wonder that online adult toy retailer Adam and Eve found that 47 percent of women and 41 percent of men waited over a year before introducing sex toys into their relationship. But there's really no reason to feel embarrassed — they can do wonders for your relationship.
While Laura had to deal with an ex who wasn't into using toys, her current partner is more open-minded. In fact, she says they have an ever-growing collection, ranging from dildos to vibrators, impact toys (like floggers) to bondage equipment. "How we use them really depends on what we feel like doing on a given day," she says. "Some days we go for it and lay out the entire toy box. Other days we don't use them at all."
Laura and her partner are both open about sex and enjoying toys, but that doesn't mean the initial conversation didn't bring up insecurities. "I really think the hardest part of the whole process is opening up that conversation in the first place," she says. "It exposes you to judgement. I would suggest to be honest, open-minded, and to start small. Be open with what you're interested in, be understanding of your partner's wants and needs, and be willing to compromise."
For some, the trick is acting casual about it. "The media really helps get conversations going," Sasha, 25, tells Bustle. "Though it may seem a little silly, seeing someone in a movie or on TV do something you might want to try can help you open up conversations without it being about the two of you."
While Sasha says her and her partner's sex life was "unreal" without sex toys, seeing handcuffs together made them curious. "We just had a simple conversation after seeing them in person," she tells Bustle. It started with a hypothetical situation of them using handcuffs, and then they decided to give them a try. "It wasn't the most fun so, instead we just took turns using our hands as restraints, which was even better," she says."
Nikki, 29, who's bi, relies on the heat of the moment. "Usually, mid-first makeout session with someone, I'll bring them up or whisper something seductive like, 'I'd really like to tie you to my bed right now,'" she says. "That's always a great indicator or litmus test to see if they really would be willing for me to tie them up." Other times, depending on the person's vibe, she'll just simply reach over to her closest sex drawer while they're making out, and pull out something like a vibrator to gauge their reaction that way.
"With toys like strap-ons, it can be shocking if you just pull it out," she says. "Some women have done double-takes, but once they let me use it on them, they're hooked. So I go for the shock value first, see their reaction, and then show them that there's nothing to be afraid of. Most end up getting into it. Or sometimes I might even take my date to a sex shop. I'll see her getting into the idea and then we buy something to use together." As you can see, there's really no one way to go about bringing toys into the bedroom.
But, as Nikki learned fairly quickly, not everyone is into toys. "Some men and women will be open to them," she says. "Others won't be at all, which becomes a deal-breaker for me."
Your best bet is to just start a conversation about it. "Begin by expressing your interest in exploring together and suggest some simple toys that you could enjoy as a couple," Ellen Barnard, MSSW, sex educator and counselor, tells Bustle. "Consider it your goal to make sex even more fun for each of you and choose toys that are likely to do that." As you'd imagine, the products you use can really make or break the experience for you.
Like new sex positions or techniques, sometimes things work out perfectly with toys, and sometimes they don't. But it doesn't mean you should stop experimenting completely. While Sasha and her partner didn't end up liking handcuffs, they found other products they enjoy using, like flavored lube, which they use for foreplay and oral. They also use couples vibrators to amp up the fun. "When we use products by Dame, we always have amazing sex," she says. "The new finger vibrator is perfect for use during penetration from behind, so you can still receive clitoral vibration."
There are so many different kinds of sex toys out there, and chances are there's something that fits your tastes. For instance, Elia and her partners use a variety of toys during sex. Since she needs clitoral stimulation to get off (as most women do), a small bullet vibe is a go-to. "I will sometimes tuck a small vibe between us instead of my fingers so we can have our hands free," she says. "I think that if people with clitorises have trouble having orgasms, a clit vibe is a great investment. Choose something small that you can fit between your bodies during sex. I like the Tenga Iroha Mini. I highly recommend it. I think if you're not afraid of butt stuff— and please, don't be afraid of butt stuff! — anal plugs are also amazing for all genders."
Tenga Iroha Mini, $30, Babeland
Laura and her partner have a bunch of toys they use together, many of which are made for impact play and bondage. Sometimes one of them will instruct the other to play with certain toys as a precursor to sex. For example, one person will use a vibrator or butt plug over the course of the day until they get together in the evening. "We have the steel Njoy Pure Plug and both very much enjoy using it," she says. "A beginner plug doesn't have to be huge or super expensive either, just make sure it's body safe and ALWAYS have a flared base on any anal toy or you are risking a very embarrassing trip to the emergency room."
Njoy Pure Plug, $70, Babeland
They also started experimenting with BDSM a few years ago and tried a bunch of different toys as they got deeper into their exploration. One of their very early purchases was a restraint set that goes underneath the mattress and allows you to tie down your partner's wrists and ankles. "The one I got was fairly cheap and consisted of soft fabric cuffs with Velcro, so it wouldn't be too scary for beginners," Laura says. "It's worth trying even if a couple doesn't intend to get into heavy bondage or BDSM."
She also says that a blindfold is another simple but underrated toy. "Not being able to rely on sight makes you off balance and causes you to focus on other senses."
We-Vibe Sync, $199, We-Vibe | Womanizer 2Go, $173, Ella Paradis | Svakom Tyler C Ring, $75, Ella Paradis | We-Vibe Pivot, $110, Ella Paradis | Suction Cup Dildos, $16, Ella Paradis
Mele says some of the most popular purchases at Ella Paradis are the We-Vibe Sync, which is a more traditional couples' vibrator. Another popular but less traditional purchase is the Womanizer 2Go, which is a clitoral stimulator that can be great for partner play. Flavored lubes are also pretty popular, as well as cock rings like the Svakom Tyler and the new We-Vibe Pivot. "We've also seen a rise in voyeuristic couples' toys," he says. "For example, our focus group testing found that suction cup dildos, which many couples use over Facetime, Snapchat, or in-person are pretty popular. When couples play together, they're recording it more often. When they're not together, they're interested in toys where they can watch each other via apps."
Most couples toys are actually designed for more "advanced" users, so Mele says the best results tend to come from solo toys that can be used with a partner.
But aside from just feeling good during sex, toys can enhance your relationship in so many other ways.
From finding new erogenous zones to learning how to reach orgasm, toys can be a catalyst to growing sexually. Also, if enhancing intimacy with your partner is what you're after, using a toy with can be an amazing solution.
"Taking the time to explore our own wants and needs is a crucial part of sexual confidence," Dr. Emily Morse, doctor of human sexuality and founder and host of Sex with Emily, tells Bustle.
According to Stacy Rybchin, founder and CEO of sexual health and wellness service, My Secret Soiree, using toys in your relationship can help you have more enjoyable sex and quicker and more intense orgasms. "Sex toys are the key to helping you and your partner express yourself sexually," she says. "So allow yourself to explore what feels good and experiment with new types of sensation."
While there are more toys on the market for women than there are men, men's toys can be great for outercourse aka anything that doesn't involve penetration. "My partner and I have actually been enjoying a male masturbator called Blewit," Sexologist Dr. Megan Stubbs tells Bustle. "It's great for those times when I'm on my period (I just can't do period sex, the mess!) and I don't feel like giving a blow job."
Dr. Stubbs says stimulating her partner with a toy is an erotic experience, but watching him touch himself is even better. "Sex toys shouldn't be considered a replacement for human contact, but as a way to help people learn more about their bodies and what feels good," Dr. Morse says.
But if their purpose is misunderstood, that's when toys can have a negative impact.
"The downside of using toys can be the stigmas people have about what bringing toys into sex means for a relationship — that the other person isn't good enough at sex," Kenna Cook, sex educator and pleasure professional with the O.school, tells Bustle. "This misconception isn't really even about the relationship. It's about your partner's lack of self-confidence. I don't think anyone has ever been dumped for a vibrator."
According to Cook, Dr. Morse, and Rybchin, there aren't really any downsides to sex toy usage in your relationship. Instead, there are tons of myths and misconceptions that can get in the way.
"All kinds of people use sex toys," Rybchin says. "Sex toys are an enhancement to a relationship, not a replacement. An object is not a substitute for a real person. A sex toy can give you an orgasm, but it can't say, 'I love you.'" So they're not something to be threatened by.
Ellen Barnard, MSSW, sex educator and counselor, tells Bustle that when a couple has good communication skills and can ask for what they want and need during sex play, then the use of toys is just another way to increase pleasure. "Think of sex toys as just one more 'tool' in the lovers' toolkit," Barnard tells Bustle. "In that way, they reflect the strengths and challenges of the relationship."
For Sasha, experimenting with toys has allowed her and her partner to talk openly about other issues, especially insecurities related to their bodies. "We have been open about more serious matters with our body because of this," she says. "For example, my partner has been having a lot of stomach issues, which are resulting in him needing a colonoscopy. I honestly don't think he would have been as open with me about it if we didn't already have such an honest open relationship with our bodies."
Laura also sees improvement in communication between her and her partner. "If our communication was affected by anything other than the natural progression of our relationship, it would probably be by the nature of playing with BDSM and power exchange," she says. BDSM requires a lot of discussion, especially since you're dealing with impact toys and bondage.
"You always have to be checking in and make sure that everything is safe and enjoyable for your partner," she says. "I think that could possibly spill over into other non-sexual areas of our lives."
On the flip side, when a couple struggles with communication or confidence already, an attempt to introduce a sex toy might result in hurt feelings. "What I see from our customers is men writing reviews on how their wives enjoy sex products and I think this is the reason behind some insecurities," Steve Callow, founder of male sex toy retailer, Perfect Fit Brand Inc., tells Bustle. If men think their partner can get more pleasure from a toy than them, it can have a direct effect on their self-confidence.
"By introducing toys, and seeing our partner really enjoy them, that can be confusing," he says. But Callow says that once they figure out toys aren't a replacement or a dig at their abilities, it becomes less of a big deal. "If I wear a cock ring and my partner responds in a way that is unexpected (like they really like it), do I question my own abilities? Well, would you question your ability to run faster and longer with a good pair of sneakers instead of bare feet?" he says. "Guys who have already gone past this hurdle actually have another set of tricks up their sleeve. They know that sex toys can add to the experience."
It can be nerve-wracking to share a fantasy or desire, but perspective is key. When it comes down to it, you're making a suggestion to add more pleasure into the bedroom. "Toys really aren't that strange or unusual," Elia says. "If you don't make it weird, it's not weird."
If the biggest issue you have is the fear of what using toys would mean for your relationship, that can be easily solved through an honest discussion with your partner. If you can openly talk with your partner about what you want —in any situation — you may find that the possibilities are endless.