'Into The Spider-Verse' Is The Start Of A Cinematic Uni — Uh — Spider-Verse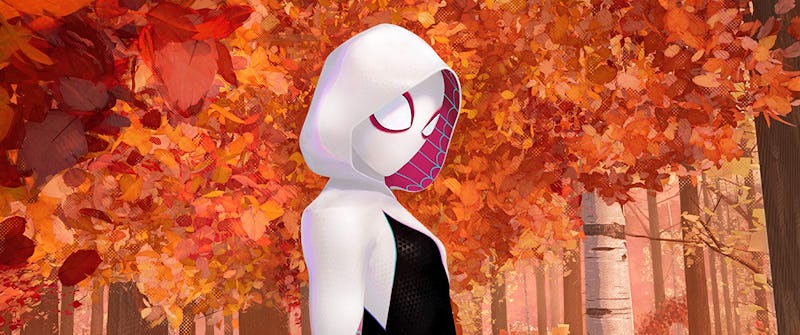 Sony Pictures
Spider-Man: Into the Spider-Verse hasn't even been released yet, but fans already can't get enough of the film. It's the best-reviewed movie to ever feature the webslinger, its animation style looks like nothing else out there, and its inclusion of Spider-Persons from all walks of life ensures that a ton of different demographics are represented. So naturally, there is already talk of a sequel. So will there be an Into the Spider-Verse sequel, and if so, what will it look like?
Good news, Spider-fans: an Into the Spider-Verse sequel is already a possibility, and that's not even the best part. Sony Pictures, who produced and distributed the film, are so excited about its prospects that they're not just working on a sequel, but also exploring a number of different spinoffs! Into the Spider-Verse doesn't hit theaters until Dec 14, but Variety reported on Nov. 27 that Sony was moving ahead with its franchise building due to the animated film's "incredible buzz." The sequel will continue to follow Miles Morales, the young, black and Latino version of Spidey who is the main protagonist of the new film. It already has its director and screenwriter confirmed in Joaquim Dos Santos and David Callaham, respectively, and Amy Pascal will again produce.
As for the spinoffs, a number of ideas are reportedly being considered. Producers Phil Lord and Christopher Miller told Comicbook.com that they want to produce a number of shorts centered around the film's heroic pig Spider-Ham, voiced by comedian John Mulaney, even going so far as to joke that they're going to create a "Spider-Ham cinematic television universe." As fun as that sounds, there's another spinoff idea that's even more exciting, and that's already in the early stages of becoming a reality.
Sony is aiming to produce an all-female spinoff that will focus on three generations of Spider-Women, according to Variety. Into the Spider-Verse's Spider-Gwen, who's played by Hailee Steinfeld in the film, is the most likely candidate to be a main character in the film given her sizable role in the first movie, but that's not yet confirmed. Spider-Gwen is a relatively new addition to the Spider-Man mythos, having made her first comic book appearance just four years ago in 2014 and landing her own solo series the following year. But the character's origins actually stretch back many decades earlier.
Like Miles Morales, Spider-Gwen — whose alter ego is Gwen Stacy — hails from a different universe than the OG Spider-Man, Peter Parker. But there was also a Gwen Stacy in Parker's universe, and her story is a tragic one. She was Peter's first girlfriend, before Mary Jane Watson, and she debuted way back in 1965. She was killed by the Green Goblin in the seminal story arc "The Night Gwen Stacy Died" in 1973, an event that many fans consider the start of comic books' "Bronze Age," where darker stories became popular.
But 40 years later, the frequently used plot device of a female character being killed off mainly to make a male character sad was stale if not downright offensive, so Gwen Stacy was given a second chance as a character with Spider-Gwen. Now empowered with her own spider abilities similar to Spider-Man, Gwen has the opportunity to choose her own fate — she's not here to sacrifice herself in someone else's story.
The Into the Spider-Verse sequel and female-centered spinoff are a sign that superhero movies are becoming more inclusive, and that's definitely great news for every kind of Spider-fan.