Why Irish Expats Are Flying Home For The Abortion Referendum, In Their Own Words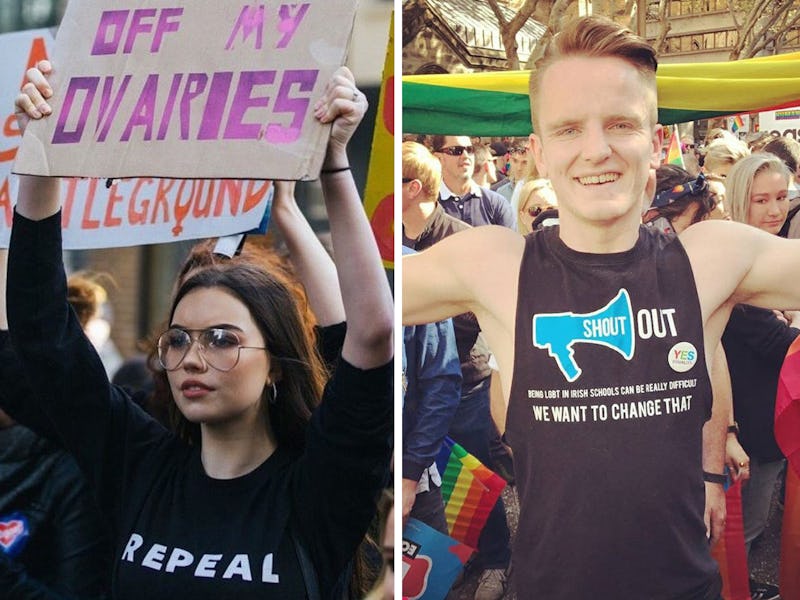 Courtesy of Lauryn Canny; Courtesy of Owen Murphy
Lauryn Canny, an Irish actress living in Los Angeles, recently sat down with two friends to discuss a subject that has been gnawing at her for a long time: abortion. Chatting with the two non-Irish women, who both chose to have abortions, crystallized for Canny just how "barbaric" the situation is for women in her homeland. Abortion in Ireland is virtually non-existent: In order to terminate a pregnancy, Irish women must travel out of the country to have an abortion if they're able, or else take abortion pills without medical supervision. The penalty for taking abortion pills in Ireland is 14 years in prison.
"It was a hugely difficult —albeit the right—decision for them at that point. But they were treated with such respect and care by their countries," Canny, 19, tells Bustle. "They were devastated to think about how they would have been treated had they been in Ireland."
Canny is originally from Templeogue, a Dublin suburb, and like many Irish expats she's flying home this week to vote in the crucial referendum. Voters will decide on Friday whether to repeal the Eighth Amendment to Ireland's constitution, a choice that will have huge implications for the future of abortion rights and women's reproductive health in the country.
Canny plans to wear a "Repeal" sweater on the 5,160-mile flight; her friends and family pitched in to pay the price of her ticket home. In fact, Canny feels so strongly about abortion rights that she says it's unlikely she'll move back home if the Eighth Amendment isn't repealed.
"I am so proud to be Irish, our country does a lot of incredible things," she says. "But while the Eighth Amendment is still in place we are not treating the women in this country as equal citizens. Every woman deserves the right to choose what is right for her life and her body."
The Death That Galvanized A Generation
Ireland's Eighth Amendment, which was voted into the constitution in a separate 1983 referendum, gives equal weight to the "life" of a fetus as to the woman carrying it. Abortion remains illegal in Ireland in all circumstances, including in cases of rape and incest. The only exception is when the life of the mother is at risk. Proving that risk, however, is a notoriously difficult process that often leaves doctors' hands tied.
Ireland's restrictive abortion laws force roughly ten women and girls to travel from Ireland to the United Kingdom each day to obtain a legal abortion, according to the Abortion Rights Campaign. For those returning to Ireland to vote—around 40,000 Irish expats are eligible to vote in this referendum—their journey home is highly symbolic. They hope making the trip means that Irish women and girls will never again have to cross international borders to get an abortion.
"Everyday, harrowing stories are coming out of Ireland, and I think that should be acknowledged," says Claire McGowran, a spokesperson for the London-Irish Abortion Rights Campaign, which supports repealing the Eighth Amendment. "It's about every woman."
Seven Irish expats who plan to return home to vote in the referendum tell Bustle that they see the vote as a chance to break their country's centuries-long obsession with controlling women's bodies and their reproductive rights. Over the past several years, for example, Ireland has come to terms with the hellish conditions experienced by many women in "mother and baby homes" in the the 20th century. Pregnant, unmarried women were hidden away from society in those homes, where they gave birth only to have their children taken away.
Mellina van der Valk, a sculptor living in London who plans to fly to Dublin for the vote, says the Eighth Amendment makes Irish women feel as if they're "raised with the sole purpose of being a vessel to carry a child."
"You are not an individual, you are not a person," she tells Bustle, but rather "an object, an incubator."
But the wake-up call for many young Irish people was the 2012 death of Savita Halappanavar. The pregnant, 31-year-old dentist experienced back pain and began miscarrying 17 weeks into her pregnancy, but was denied an abortion at the hospital. Her husband, Praveen Halappanavar, says doctors at University Hospital Galway told the couple that Ireland is "a Catholic country". Under Irish law, doctors cannot perform an abortion as long as a fetal heartbeat can be detected (The Guttmacher Institute, a U.S.-based reproductive rights think tank, says that such highly restrictive laws don't lead to significantly lower rates of abortion, but make the practice secretive and unsafe instead).
Halappanavar's death was a "turning point for people in my generation," McGowran says.
The case made international headlines and laid bare the extreme nature of Ireland's restrictive abortion laws. Halappanavar's father, Andanappa Yalagi, has been vocal in his support of repealing the Eighth Amendment.
"When Savita died, that was it," Owen Murphy, a Sydney, Australia-based recruitment worker who is flying home to vote, tells Bustle. "That was the moment when everybody had enough. We have proven time and time again that we are not a backward Catholic rock on the side of the Atlantic Ocean."
Shattering The Taboo Around Talking About Abortion
There is still stigma in Ireland around openly talking about women's reproductive health and rights. So while the journey to this referendum has been difficult, it's also an opportunity to change the way that Irish people talk about abortion.
"I am flying back because this referendum is only the start of a much needed discussion around women's rights and women's health in Ireland," says Eimear Crombie, 30, a Galway native who will be flying from Madrid to Dublin to vote. "It is important that everyone in Ireland takes part."
"It has brought around a new kind of dialogue in Ireland's public life where until very recently this topic was considered taboo," she continues. "You can see greater awareness and openness to discussion."
Ireland is known for its huge global diaspora. Around one in six Irish people live abroad, according to the Organisation for Economic Co-operation and Development (OECD). The #HomeToVote campaign says 40,000 people living abroad are eligible to come home and vote, based on data from the country's Central Statistics Office. Of course, that doesn't mean they all will, and people who've lived outside of Ireland for more than 18 months are not eligible to vote in the referendum.
"We have the chance to ensure that my two baby sisters grow up in a more caring and compassionate Ireland than before."
McGowran says the #HomeToVote campaign, which is part of the London-Irish Abortion Campaign, began after people started sending the group screenshots of their flight itineraries home. The referendum isn't the first time Irish expats have returned home to vote en masse, either. #HomeToVote was inspired by a 2015 gay marriage referendum that also saw members of Ireland's diaspora journey home to participate in a monumental political event.
"It encouraged people who might have been a bit apathetic about voting, when you see people come all the way home," McGowran says. "It's such a positive story at the end of a difficult campaign."
The referendum also reflects a strong desire among many young Irish people to see their country step out of what they view as its bigoted, backwards past, and leap forward into the 21st century. While Ireland is touted as one of the top ten countries in the world for gender equality, and it was the first country to legalize gay marriage by popular vote, its restrictive abortion laws show that the country isn't as progressive as those honors suggest.
"This referendum means a lot for every single woman in Ireland, regardless of their political stance on the subject," Canny tells Bustle. "It means we have the chance to ensure that my two baby sisters grow up in a more caring and compassionate Ireland than before."