Sorry, Kylo Lovers, Adam Driver Is Very Happy In His Love Life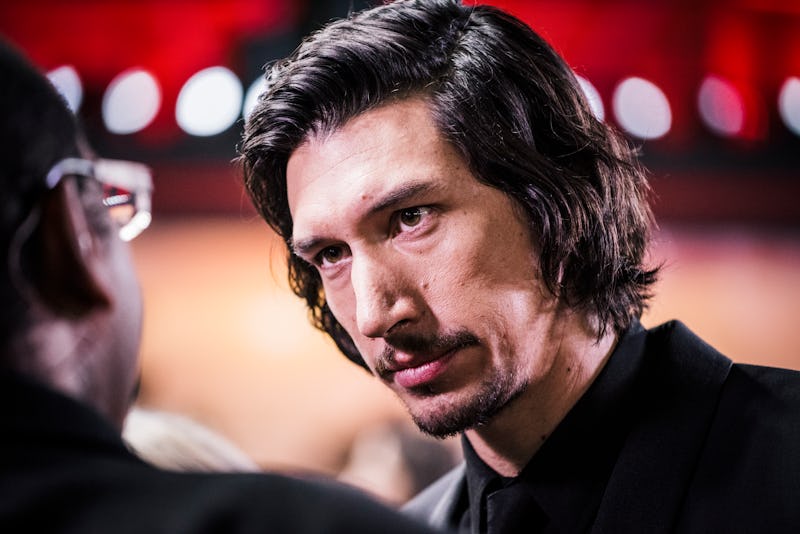 Gareth Cattermole/Getty Images Entertainment/Getty Images
After seeing Star Wars: The Last Jedi, there's been one burning question on the minds of a number of fans who were impressed by Adam Driver's performance in the film (especially one scene, in particular) — is Adam Driver single? Well, as it turns out, Driver is married and has been with his wife, Joanne Tucker, for quite some time. So sorry if it comes as a disappointment, but Driver is definitely not single.
Driver, who plays villain Kylo Ren in The Last Jedi and is also known for his role in the HBO series Girls, and Tucker were wed in June 2013, Us Weekly reports. The two met long ago while studying at Juilliard in New York, where they both were studying acting. At the time of their wedding, a source told Us that Driver and Tucker had "been dating forever, years, and live together." The sourced added that the couple are "very comfortable and in love." Indeed, Driver and Tucker do seem quite happy and in love with each other.
This news might come as a disappointment to some fans who had a strong reaction to a specific moment in The Last Jedi. Minor spoilers ahead! Said moment goes down while Kylo Ren and Rey (played by Daisy Ridley) are telepathically communicating with each other from across the galaxy. Not only can Rey speak to Kylo Ren, but she can also see him and his surroundings. This connection causes Rey some discomfort when she notices that Kylo Ren is not wearing a shirt. Rey asks him to put a towel on, but a lot of users on Twitter have had a different opinion, and strongly enjoyed seeing a shirtless Kylo Ren.
Undoubtedly, some of the fans who enjoyed the shirtless Kylo Ren scene are probably disappointed that Driver is taken, but don't be! The actor's relationship status in real life definitely shouldn't take away from how you enjoy a film. Plus, Driver and Tucker seem so happy that it's hard to hate on the couple.
Additionally, Driver and Tucker are commendably charitable, which again makes them hard to hate. Driver, who used to serve in the Marine Corps, and Tucker founded Arts in the Armed Forces in 2006, and Tucker currently serves as the organization's Artistic Director. According to their website, "the purpose of Arts in the Armed Forces is to provide high-quality theater programming for active duty service members, veterans, military support staff and their families."
Seriously, what an adorable couple. So, what else do we know about Tucker? In addition to her role at her role at Arts in the Armed Forces, Tucker is also an actor. In 2010 she performed in Dan Klores' play, Little Doc, and she's known for her role in the 2012 film Gayby, in which Driver was also a cast member. That wasn't the only time Tucker appeared alongside Driver, as she also had a cameo in an episode of Girls that aired in 2016. Tucker played a character named Ruthie in an episode titled "Hello Kitty" during Season 5 of Girls. Tucker's most recent film credit is the 2014 movie, Listen Up Philip.
A few years ago Driver did an interview with Rolling Stone and spoke about the influence Tucker has had on him. "I just kept dressing like a 15-year-old until my wife was basically like, 'You know, you should wear long pants now. Maybe shorts are good for some people, but not you," he explained to the publication. "'And maybe you should get your toe looked at, 'cause, you know, it looks like a turtle shell.'" In the same interview he also joked about how Tucker taught him what Gouda cheese is. All-in-all — cheese lessons included — Driver and Tucker seem quite well suited for each other!