Adam Levine Sang Live At The Super Bowl & Brought Out All The Maroon 5 Classics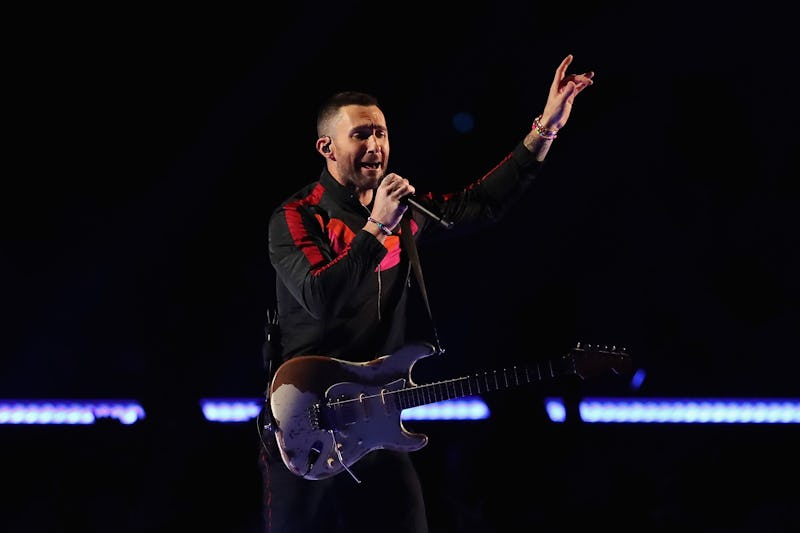 Elsa/Getty Images Sport/Getty Images
Super Bowl Sunday is known for a few things — first and foremost, football; celebrity-filled, clever commercials; A+ snack choices; and an attention-grabbing halftime show. Maroon 5 is headlining the 2019 Super Bowl halftime show, which also features Travis Scott and Big Boi. While there's plenty of chatter surrounding the performance, here's a major question: Is Adam Levine lip syncing during the Super Bowl halftime show? (Bustle reached out to Levine's rep for comment, but did not receive an immediate response.)
UPDATE, 8:44 p.m. EST: Levine's rep confirmed to Bustle that he was indeed singing live.
EARLIER: Of course, there's any number of reasons an artist may use a back-up track and lip sync at a major event. Whether it's weather reasons, or personal health, or anything in between, it can be a common occurrence in the industry. But when it comes to Maroon 5's game day performance, it definitely appeared that Levine was singing live, based on the vocals coming out of his microphone.
Plus, fans will be pleased to know he brought back some of the band's classic songs, like "This Love," "She Will Be Loved," and "Harder To Breathe." A gospel choir even joined Levine and company on the stage for the band's newer track "Girl Like You" — and they pretty much stole the show.
To be fair, whether Levine sang live may not have even been at the forefront of people's minds anyway — some were more concerned that they were performing in the first place. When it was initially announced that Maroon 5 would perform at the Super Bowl, the news sparked quite a bit of attention. While other artists reportedly declined to participate, as a show of solidarity for Colin Kaepernick's NFL protest (where he first kneeled back in 2016 to send a message about police brutality and other injustice), Maroon 5 stood by their decision, despite backlash. And yes, there was backlash.
In a recent pre-Super Bowl interview, Levine told Entertainment Tonight about his thought process:
"No one thought about it more than I did. No one put more thought and love into this than I did ... I spoke to many people, most importantly though, I silenced all the noise and listened to myself, and made my decision about how I felt ... I will never sit here and deny that. I think that to have not done that would have been deeply irresponsible."
He also noted that past halftime performances have been controversial (albeit, he did not dive into the specifics surrounding this year's). Levine said to ET, "You know, I think when you look back on every Super Bowl halftime show, it is this insatiable urge to hate a little bit. I am not in the right profession if I can't handle a bit of controversy. It is what it is. We would like to move on from it and speak through the music."
Speaking through music seems to be exactly what Levine and the rest of Maroon 5 did on stage, but surely there are people who wouldn't mind if he elaborated a little more on the social issues surrounding the backlash, too.