Ariana Grande Might've Just Pulled Off A Major Hair Transformation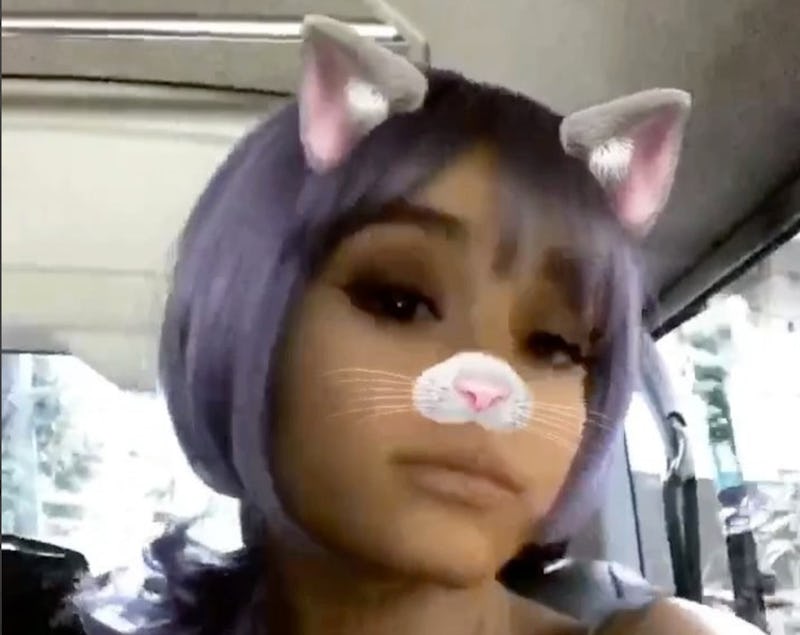 Ariana Grande's signature half-up ponytail is one of the most recognizable celebrity hairstyles around, so when she switches things up, people take note. And she might've just made a major hair leap — the singer posted a video on Instagram that has people wondering, is Ariana Grande's purple hair real?
In the boomerang (complete with a kitty filter, which is obviously very on-brand for Grande), Grande's rocking lilac-colored hair pulled back into a low ponytail and bangs. While it'd be sort of amazing if it were real, from the looks of the way it sits on her head, there's a good chance the purple hair is a wig.
It is hard to tell, though — she hasn't posted an Instagram photo of herself since the purple-haired pic in question, so she hasn't given her fans any more clues. Boyfriend Mac Miller also posted a photo of Grande with her purple hair, though, so maybe, just maybe, it's the real deal.
If her purple hair was real, it wouldn't be the first time she dyed her hair a bold color — when she was on Victorious, she had fiery red hair (which ultimately led her to the half-up style she wears now, thanks to the damage from having to bleach it).
Here's a look at the purple 'do:
And another view from Mac Miller.
While the purple hair is as fabulous as you'd expect Ari's hair to be, let's not forget her platinum blonde moment, too:
And, of course, he signature glossy brown hair is still pretty great, too.
From the looks of it, the purple hair is only temporary, but it's always fun to change things up a bit! All in favor of more Ariana Grande hair transformations, say aye! (AYE!)