OMG, Ariana Grande Has Short Hair Now — And No Ponytail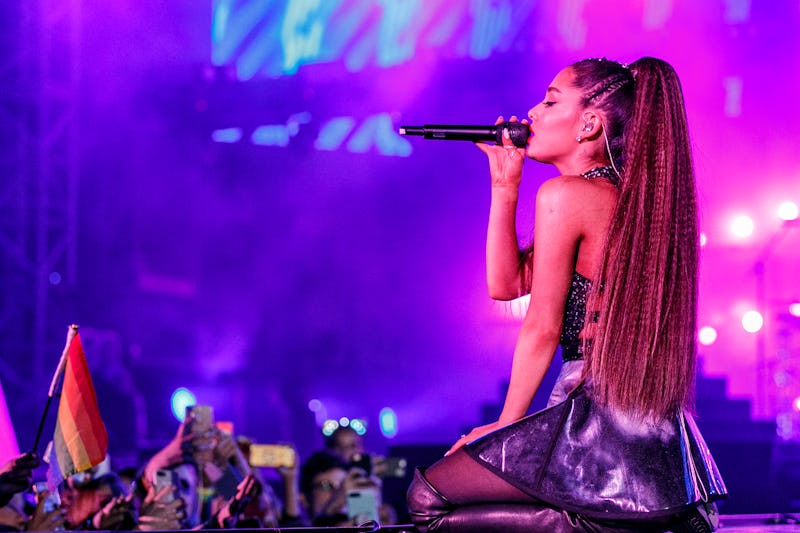 Rich Polk/Getty Images Entertainment/Getty Images
Ariana Grande's ponytail is iconic. Arguging against that fact is futile. While the singer is known for her outrageous voice, she's also known for her famous hairstyle. However, on Instagram, Ariana Grande's short hair is making a splash because not only does it appear that Grande doesn't even have long hair (we already that pony is not all hers), but she's got a low-key lob. If she were to even put it in a ponytail, it might not even reach the base of her neck! Are you shook yet?
On Thursday, Grande took to her Instagram to post a casual photo of herself with the bunny filter, and sure, that's cute because of her iconic bunny ears, but the ears were kind of a passing thought once you noticed her hair. Grande's locks certainly look to be shorn all the way up to just below her shoulders and *gasp* there is no pony in sight.
While Grande has gone without her signature ponytail in public before, she's almost always rocked long hair when it's down (and certainly when it's up). Now, though, it looks like the singer may have made a change, and honestly, while her style is iconic, Ariana Grande's lob looks SO good.
Typically, it's difficult to decide when a haircut is real given celebrities' affinity for wigs. For Grande, though, the opposite may be true. After all, it's not exactly a stretch to think that all of Grande's ponytail isn't actually hers. She'd probably set the record for world's longest, thickest hair if it were. While not a wig, Grande's tresses are probably not actually real.
It makes sense, then, that the singer could have had shorter hair all along, and this new long bob that fans are seeing on Instagram is just a clean-up of her usual cut. That means that Ariana Grande's lob is probably her real hair.
Does this new 'do mean the end of Ariana Grande's ponytail? No, it probably doesn't. The "Thank U, Next" singer has already said that she won't be saying goodbye to her iconic look any time soon. While she did have a fun Twitter exchange with fellow artist Camila Cabello about the constant ponytail pain she's always in, she's also been pretty up front about how she feels about her hair.
In an interview with The Fader, Grande explains that her ponytail has been an evolution for her and each different iteration of it means something different. With that much emotion attached to the look, getting rid of it doesn't seem like something she'd do. Another clue? The fact that she's clapped back at her ponytail haters on Instagram.
When a troll commented on a post of Grande rocking the money saying that they were tired of her ponytail, Grande had just one thing to say, "I'm not."
While the long bob is a great look for Grande, it's probably not a permanent change. If anything, she's taking a moment to heal from all of that scalp pain she's probably experiencing. Could she keep the long bob, sure? Will she? It looks doubtful.