Here's What We Know About Blake's Love Life After 'The Bachelorette'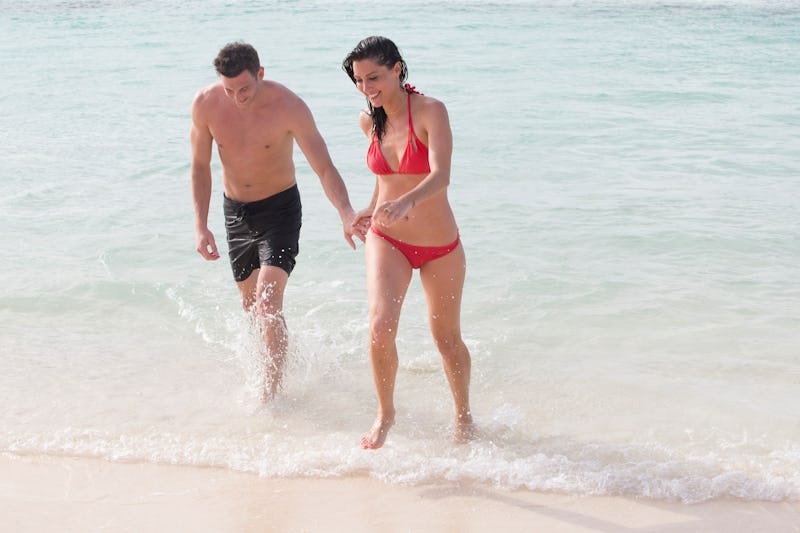 Paul Hebert/ABC
Um, how cute is Blake on The Bachelorette? He's definitely who I would pick as my fiancé if I were in Becca's shoes, and I'm sure there are plenty of viewers at home that feel the same. Now that The Bachelorette is narrowing itself down to its finally weeks, tongues are wagging to find out who Becca takes home to meet her family and home… forever. So far, Jason, Blake, and Garrett are our remaining dudes. So, is Blake single after The Bachelorette? This guy is playing his cards close to the vest.
Blake was a sleeper hit this season — he stayed out of all of the drama, instead choosing to get to know Becca better. It's amazing how much romance you can fit in when you're not sniping at the other guys, telling them the Earth is flat, or haranguing them for not wearing socks with their dress shoes. He had a momentary freakout in the Bahamas, but who among us could keep their cool forever in this situation? Blake's hometown date went pretty well, too, even though Blake's life has been nothing but one big sob story and he brought Becca to the place where it all started — his high school. That's where he found out his mom was cheating on his dad with his soccer coach and also where a terrible shooting occurred while he was in the building. If anything, though, it brought Blake and Becca closer together.
Blake's parents are also worried that Becca is going to smash Blake's heart into little tiny pieces (it's happened before, and they can't pick him up again), which is a valid concern if your potential daughter-in-law is dating multiple men at once, on purpose, on national television. But Becca and Blake seem strong, and there is an excellent chance that she lets him slip that ring on her finger in Thailand in a few weeks (please oh please oh please).
To get a hint of whether or not Blake is happily engaged now, I took to his Instagram and found… virtually nothing. Blake wasn't a prolific Instagram user before his casting on the show, anyway, but the only things he's been posting now are pics of him and Becca on The Bachelorette. Remember when they sang with the Baha Men?
And they went to Colorado?
Blake's latest moments on his Instagram are with Becca. It's that or a mystery date that he took to a wedding that turned out to be… his sister. Hmm, is Blake taking his sister to a wedding because he can't get another date? That seems implausible. Or is he taking his sister to a wedding because he's currently waiting until he can shout to the world about his secret television engagement? This one could go either way, folks.
ABC and The Bachelorette are strict about contestants revealing plot points on social media (they're not so strict if you like racist and homophobic memes, though), so if Blake weren't single, we really wouldn't know without an invisibility cloak. They don't want to spoil the show as much as many viewers don't want the show spoiled for them. The jury is out on Blake's relationship status right now — he's either happily coupled up with Becca and engaged, or he's hanging out with his family and taking his heartache one day at a time.
Either way, things don't look bad for Blake. America is so in love with him that he's definitely a finalist for the next season of The Bachelor come January. (I'd pick Blake over Colton any day of the week.) For now, we'll just have to see where Becca's heart lies and stay tuned into The Bachelorette.