Emilia Clarke Chopped Off Her Khaleesi Locks & She Has A BOB Now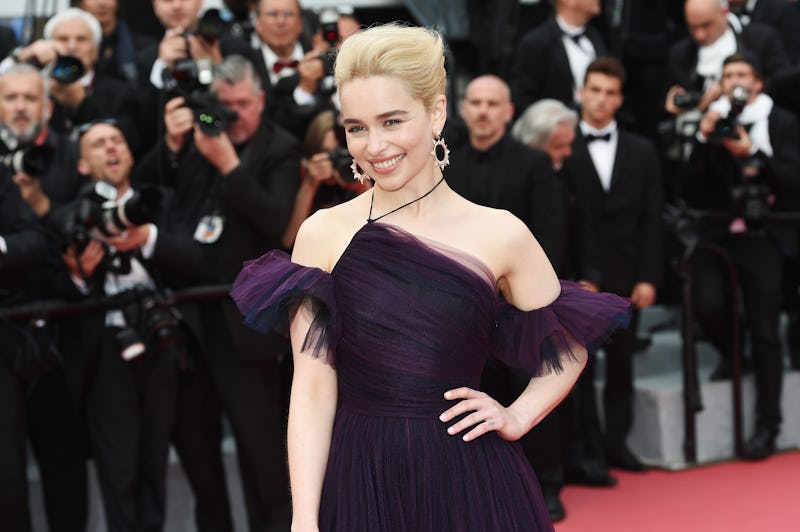 Antony Jones/Getty Images Entertainment/Getty Images
Game of Thrones fans are in a bit of a funk. There's over a year until the final season of the show airs, but thankfully, they've got Emilia Clarke keeping the Thrones puns coming. This time, it's about her hair. Emilia Clarke's blonde blunt bob is a new look for the Khaleesi, and she's cracking jokes about the new 'do that she seems to love.
In case you missed it, Clarke did actually dye her naturally dark hair blonde just like her dragon-riding, badass character on the show Daenerys Targaryen. Is this chop real, though? Based on both Clarke and her hairstylist Jenny Cho's Instagram account, this chin-length blunt bob certainly seems to be all hers.
In an Instagram post while she was appearing on Good Morning America, Clarke had more than a few jokes to make about why she decided to chop of a few inches from the long bob that she has been rocking lately. According to her, it was due to dead ends, but unless the rest of the mere mortals who don't live in Westeros part-time, her ends were singed thanks to her time as the Mother of Dragons. Clarke wrote that her bob helped her style, "burnt out mother of dragons split ends."
Honestly, though, if the choice was no dragons or perfect ends, the choice would still be dragons, right?
Clarke didn't stop there, though. She also took to her hashtags to add just a bit of an extra punch to hammer home just how much she knows fans probably love her Game of Thrones puns. In her follow up caption, she added, "When your ends look like a wildling's it's time to chop" in a hashtag. Basically, she's the queen of jokes, and how can you not love her for it? Also, for the ultra chic haircut obviously.
If you're a fan of Game of Thrones and are worried about what this chop could mean, don't be. Clarke's hair is, first of all, still blonde just like her character in the show. Secondly, Daenerys' hair in the show has always been much longer than Clarke's own, and she's donned wigs for every season. The length of her current hairstyle more than likely has absolutely no bearing on the show itself (unless the queen decides that her hair gets in the way of busting up a loot train on top of Drogon).
Why was Clarke on Good Morning America? Unfortunately for fans, it wasn't related to Game of Thrones at all, but it was for another, just as dedicated fan group. Clarke is starring in the new stand alone Star Wars movie, Solo, with Alden Ehrenreich and Donald Glover. She popped by the morning show to discuss the film which comes out on Friday, May 25. She just happened to do so with a brand new haircut.
While the chop isn't quite as dramatic as when the actor went platinum from her dark hair, it's still a few inches gone from her long bob and transitions the hair from a more lob type styles to a true bob given that the new look stops right about Clarke's chin. This new blunt style for the actor is a chic update, and it's perfect.
Don't worry too much, though, Game of Thrones fans. This is one Khaleesi that knows people love her character and the show, and she's always willing to drop a joke about it. Plus the chop doesn't appear to have any sort of bearing on the show. It's simply an update for those dragon singed ends of Clarke's. She is the Mother of Dragons after all.