This 'Riverdale' Theory Might Explain Betty & Ethel's Seizures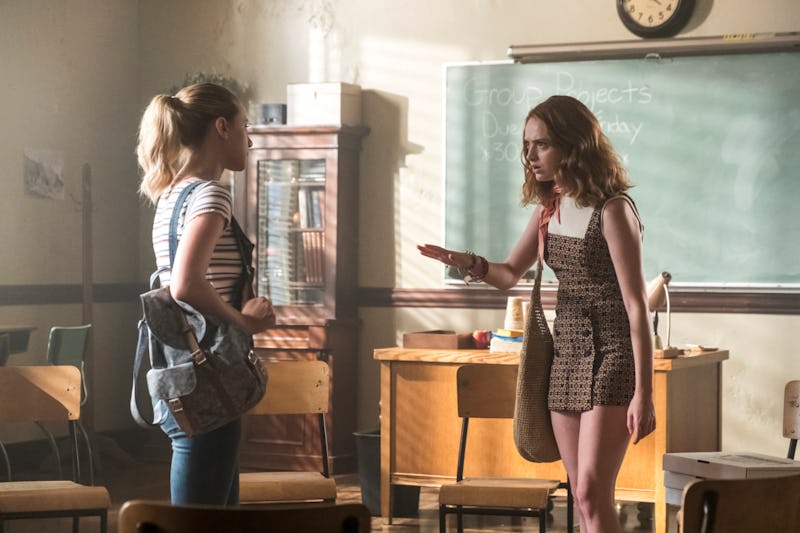 Katie Yu/The CW
Spoilers ahead for Riverdale Season 3 Episode 3. How does one even process Wednesday night's episode of Riverdale? Though we've yet to meet Edgar, the mysterious leader of the farm, his daughter is already stirring up trouble in town. She seems to have an uncanny habit of being around when her peers have seizures — first Betty, then Ethel — which has caused some fans to start speculating that Evelyn Evernever is a witch on Riverdale.
Admittedly, it sounds far-fetched. Betty is convinced that Griffins and Gargoyles is connected to Evelyn and the Farm, which means it's probably a red herring; it's unlikely Riverdale would show its cards so early on in the season. Still, the fact that both Betty and Ethel are having seizures, and that Evelyn is almost always nearby when they happen, is highly suspicious. As Betty says, seizures are not contagious, and theories about Evelyn being a witch have already begun to pop up online as a result. Keely Flaherty even suggests on fandom site Wikia that Evelyn might be trying to body swap with Betty. Eek!
With Chilling Adventures of Sabrina, another series created by Riverdale showrunner Roberto Aguirre-Sacasa, premiering this week, it is possible that Riverdale is building toward a supernatural twist, and the groundwork has certainly been laid for it to happen (characters from Riverdale have already visited Sabrina's Greendale). However, Aguirre-Sacasa has made clear magic doesn't exist in Riverdale — at least for now.
"During season 1 of Riverdale — before Riverdale exploded and found its footing as sort of a noir, crime, pulp show — we had said, 'Maybe Season 2 will be like [the comic] Afterlife With Archie. We'll do a big genre switch and it will be horror, and it will be Afterlife and Sabrina could come and be the antagonist," he told Entertainment Weekly earlier this month. "[But] it felt like there was a separation between Greendale and Riverdale — magic should exist in Greendale, but not in Riverdale."
Does that mean that magic is "against the rules" on Riverdale? Because the arrival of the Farm, these mysterious seizures, and the dark fantasy phenomenon that is the Gargoyle King and his role-playing game beg to differ. That's all pretty magical for a show that doesn't want to do magic.
Maybe Evelyn is a different kind of witch. It doesn't have to be a Sabrina crossover to be magic. The Farm may seem like Wild Wild Country meets Scientology, and the Gargoyle King may feel like Slenderman meets Dungeons and Dragons, but could any of this actually dip into the supernatural? Jughead and Betty's parents call G&G pure evil, which definitely suggests an otherworldly power.
Besides, theories about magic arriving on Riverdale have been bubbling since well before The Chilling Adventures Of Sabrina was announced. Remember the zombie theory from Season 1? And more recently, fans thought that Cheryl could become a witch — which honestly still needs to happen.
In the meantime, Evelyn is getting more and more suspicious by the hour. If there's a connection between Betty and Ethel's seizures, it's her, and unless the two of them are being drugged (via Fresh Aid, perhaps?) there frankly aren't a lot of possible explanations that don't involve magic. If anyone's going to be casting spells on Riverdale, like for real, it's gonna be Evelyn.