So, There's A BIG Hint That Georgie Might Actually Be Pregnant In 'Our Girl'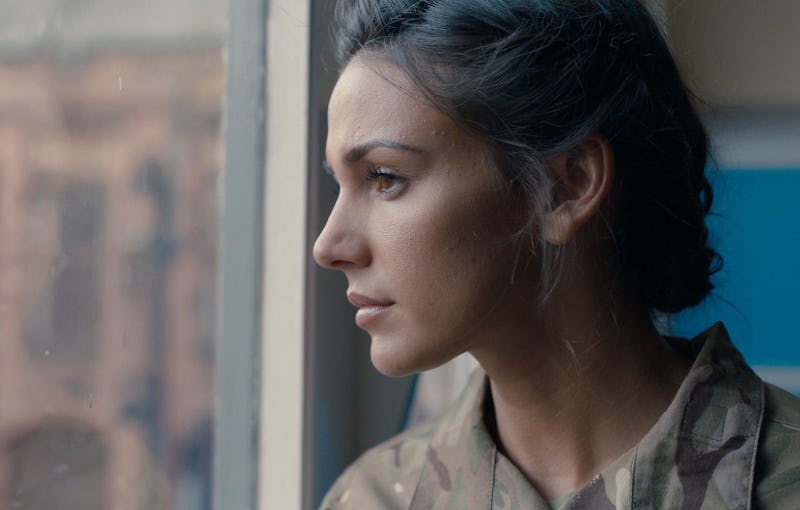 BBC
BBC's Our Girl is not a show that's afraid of drama. Last year, writers ruthlessly killed off Elvis Harte (Luke Pasqualino), fiancé of Corporal Georgie Lane (Michelle Keegan), leaving fans in utter shock. This time around, viewers have been left completely dumbfounded once again thanks to Captain James (Ben Aldridge) confessing that he is secretly in love with Georgie, despite the fact that he's married and was formerly Elvis' BFF. Then, in the nail-biting series finale, he and Georgie had sex for the first time, leaving some people wondering is Georgie pregnant in Our Girl?
Well, before I get into that, let's first take a proper look into how we got here. In the first part of Series 3, which was aired last year, estranged couple Georgie and Elvis had just got back together, reinstating their cancelled engagement, when an unbearable twist occurred. Just as the on-off couple were about to live happily ever after, Elvis was killed by a bomb, and died in his fiancée's arms.
Moving on to part two of Series 3, Georgie was depicted grappling with grief, while still wearing her engagement ring on a chain around her neck. It was all terribly emotional — but things quickly became even more complex courtesy of one Captain James, who, seemingly out of nowhere, announced that he actually sees Georgie as more than just a friend (and fiancée of his dead BFF, FYI).
To complicate matters further, it then transpired that Georgie and Molly are kinda mates. Georgie revealed she's Facebook friends with Molly in a recent episode, so at the very least, she's declined a Farmville invite from her. Though Captain James and Molly have ended their marriage, it seems pretty soon to be plunging into a relationship with his wife's pal Georgie — but plunge the pair do, sleeping together at the end of Series 3.
If Georgie and Captain James hooking up is such a prominent aspect of the series finale, is it possible that Georgie could find herself pregnant in Season 4? Well, yes it definitely is. But this could change everything.
Official army policy (yes, I read a pamphlet) states: "A Servicewoman who finds out she is pregnant while deployed on operations is to be returned to the UK to allow for appropriate pre and post-natal care." Does this mean Georgie will be taking time out from 2 Section? Well, it has been hinted that Michelle Keegan could be leaving Our Girl, so a pregnancy would be a pretty convenient way out.
Fans have speculated how much longer Keegan will want to stay on as Georgie in Our Girl after she opened up about how difficult long distance relationships can be. The BBC series is filmed in locations all over the world, which means she can find herself working in any corner of the world. However, Keegan's husband Mark Wright is based in the US. The time they are forced to spend apart is by no means easy.
During an interview with the Daily Mail, Keegan explained that she and Wright try to restrict how long they spend away from each other. She said: "The rule is we try not to spend more than three weeks apart, although the longest we've gone is six weeks [when she was filming series three of Our Girl] which was really difficult. And we make lists of what we are going to do when we see each other."
BBC bosses have not officially yet confirmed that a new series of Our Girl is definitely happening. Of course, it's very likely it will given the success of Season 3. And word on the street is that the new series is already in the works, despite the lack of official comment.
I reached out to Our Girl bosses to address rumours of Series 4; however, everyone's being extremely tight-lipped for now. My guess is that something big is in the pipeline.
Something big like, perhaps, a pregnancy?
.