Katy Perry Is Sure To Wow At The Grammys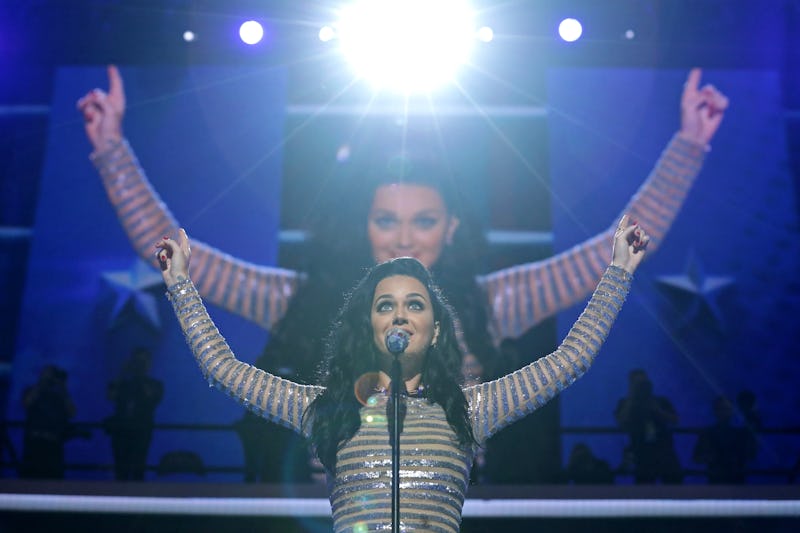 Chip Somodevilla/Getty Images News/Getty Images
It would be naive to think that no artist ever does it. Lip-syncing is a fact of the industry — a way to ensure that live, broadcast performances go off without a hitch. It's not uncommon for even seasoned professionals to at least use a backing track to beef up their vocals. So though it may seem ironic for artists to supplement themselves at an award show that honors excellence in music, it may still happen. The Grammy Awards are on Feb. 12 on CBS, and Katy Perry will be there for the debut live performance of her new single. Fans have been waiting years for new music from the artist; her last album Prism came out in 2013. But will Katy Perry be lip-syncing at the 2017 Grammys or will her vocals be pure and unadulterated?
First, it has to be said that Perry sounds amazing on the new track. "Chained To The Rhythm" was released this Friday and features Skip Marley — a singer-songwriter and the great Bob Marley's grandson — on the bridge. Most of the pop phenom's songs can be separated into three buckets: the anthem, the ballad, and the banger. "Chained To The Rhythm" is definitely in the last category, though the lyrics themselves are fairly downbeat. "So comfortable we're living in a bubble, bubble," Perry sings. The chorus urges the listener to wake up to what's going on around them and stop "stumbling around like a wasted song." You can definitely dance to the track, but it doesn't have the hopeful buoyancy of "Roar" or "Firework."
I think that her fans will be too thrilled to have Perry back on the scene to really care whether she's lip-syncing at the Grammys or not. But like many artists at her level, Perry appears to have done it before. In 2013, a video quickly circulated of Perry's performance at the NRJ Music Awards in Cannes, France. A gaffe definitely occurred; the singer was caught off guard when the wrong backing track began to play, implying that at least some of her vocals were prerecorded. According to Vanity Fair, the producers of the show issued a public apology to Perry, taking all the blame for the error.
Perry hasn't been all that cagey about lip-syncing when it's necessary. When she spoke to the press before her 2015 Super Bowl Halftime Show performance, Entertainment Tonight reports that she addressed the issue by saying, "I think all lot of it will be live." In a situation like that, an artist may not have the authority to determine how much digital support they'll be given. The producers want to see the show run smoothly, whatever it takes.
According to the Grammys themselves, any assistance will be minimal. In a 2012 interview with TV Technology, Grammys audio coordinator Michael Abbott said that broadcast prides itself on featuring live vocals. "The first thing I want to point out is that, unlike almost every other televised awards show in the US, the Grammys are committed to having every microphone on stage be live," Abbott explained. Though he did also allow for a change of plans in the event of extenuating circumstances, saying that "some performances are so demanding in terms of sound design that there has to be some of what we call 'track augmentation.'"
I don't know if Katy Perry will utilize track augmentation at the Grammy Awards or not, but I do know that it's been too long since her last run of catchy, chart-topping singles.