There Are Rumors Of Yet Another Kardashian Pregnancy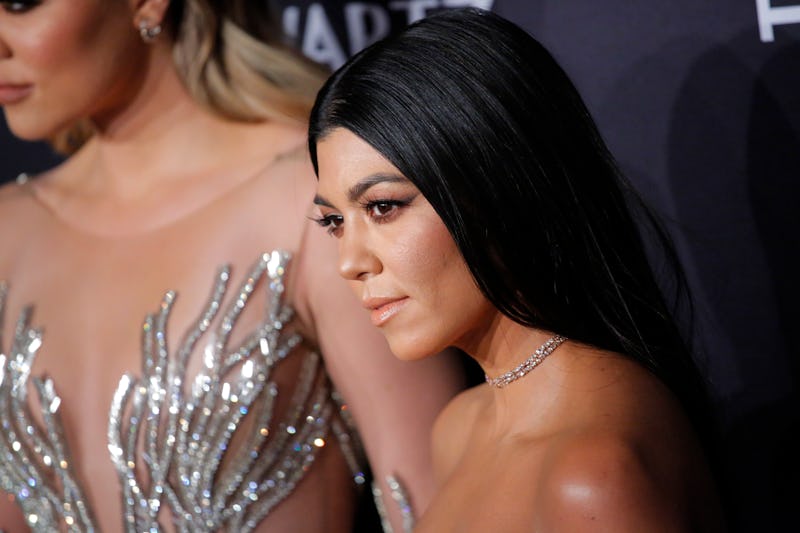 KENA BETANCUR/AFP/Getty Images
There isn't a day that goes by without some news or a rumor about the most famous reality TV fam out there: the Kardashians. This time, the rumor concerns the eldest Kardashian sibling. A Life & Style report claims that Kourtney Kardashian is pregnant and is following in her sisters footsteps.
This rumor comes after the astounding news that three of Kourtney's sisters are reportedly expecting children. Kim Kardashian confirmed that she and husband Kanye West are expecting a baby via surrogate in the trailer for this season of Keeping Up with the Kardashians. Khloé Kardashian and Kylie Jenner are also reportedly pregnant, but neither have confirmed the reports.
As for Kourtney, according to Life & Style, she is supposedly pregnant, as well, and expecting a child with Younes Bendjima. (Bustle has reached out to reps for Kourtney and Bendjima, but did not receive a response at the time of publication.) This would be Kourtney's fourth child. She has three children with her ex-boyfriend Scott Disick. A source told the publication that, "She was thrilled to learn she was expecting" and that she has always wanted her children to be a part of a large family, like she is.
Is Kourtney really pregnant, though? It would be crazy if it was true, but in this case, it's probably just a rumor.
Unlike her reportedly pregnant sisters Khloé and Kylie, Kourtney hasn't shied away from posting certain photos on social media. Khloé and Kylie can often be seen covered up, only seen from the chest up, or in throwback shots in many of their social media pics, which could mean they're covering up their stomach area, which would show that they are indeed expecting. Kourtney, on the other hand, has posted numerous photos of herself recently on Instagram with no pregnant belly to be seen. Of course, it could just be a while until Kourtney is actually showing.
Kourtney's also been out and about recently, either going on errands with sister Kim or hanging out with Bendjima, and there hasn't been a baby bump in sight. Kylie and Khloé have rarely been seen out in public. When they have, they've been seen covering up their stomachs or wearing baggy clothing, like Khloé did on a recent outing with boyfriend Tristan Thompson.
Life & Style is one of the only publications reporting the pregnancy news so far along with In Touch Weekly. Yet, when Khloé and Kylie's pregnancies were reported, they were covered by a wide variety of publications, including TMZ, Us Weekly and People. All of these have been mum on the rumors about Kourtney welcoming another child.
It just seems unlikely that the eldest Kardashian is pregnant during the same time that her sisters are expecting children. Although, everyone was just as surprised that there would be three Kardashian pregnancies. Is one more pregnancy in the fam really that much crazier?
Kourtney's been open in the past about how she would be open to having another child. In an interview with Cosmopolitan a year ago, Kourtney said that she would have more children in the future. She told the mag, "I would have more. I could see myself with six kids. I just don't know what's in God's plan." It sounds like it's definitely possible that Kourtney would like to welcome more kids in the future.
She also talked about how she feels about expanding her fam during a recent episode of KUWTK. Although, it was about how she'd feel about having another child with Disick. When Kim's assistant, Stephanie Shepherd, asked Kourtney if she would ever have another baby with Disick, Kourtney replied, "I feel like I would if the situation was right." Looks like babies are really on the brain with this fam.
So, it's possible that Kourtney could be pregnant since she's talked about expanding her family before. However, since Kourtney hasn't confirmed the rumors on social media, there aren't any clues from her that she is pregnant, and the news isn't being reported very widely, the rumors are probably just that.
If the rumors are true, though, and Kourtney is indeed pregnant, this season of Keeping Up with the Kardashians is going to be even crazier than originally expected. At this rate, there would be enough children that they could have a spin-off all on their own. Maybe this has been Kris Jenner's plan all along!