Here's What We Know About Alex's Status In 'OITNB' Season 6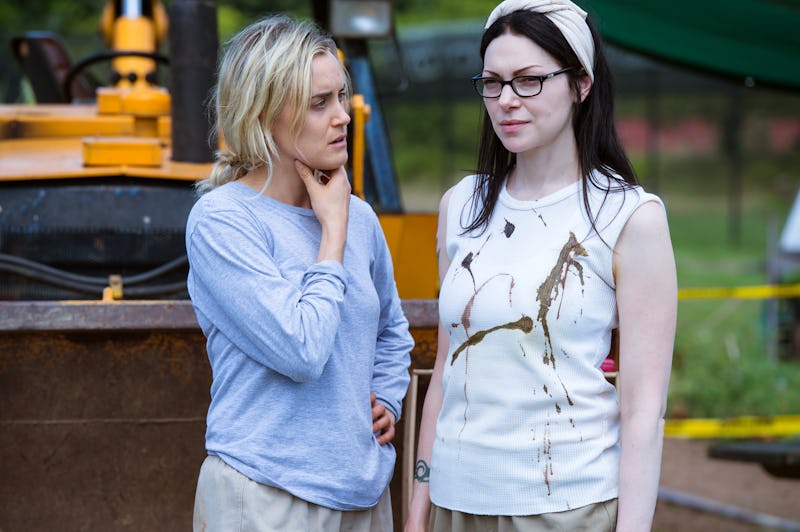 Jojo Whilden/Netflix
The women of Litchfield Penitentiary are starting their post-riot lives in a maximum-security facility this season and everything is different. Fans were given a sneak peek into how they are adjusting to their complicated and scary new "home" in one of Orange Is The New Black's trailer earlier this summer, but it was bittersweet, given that Alex Vause (Laura Prepon) was noticeably absent. So is Laura Prepon in OITNB season 6 or has her character disappeared for good this time? Her status isn't totally made clear right away, but fans will definitely see Alex again this season.
Prepon confirmed Alex's return via Twitter when she posted about filming with her "Orange family." She celebrated her last day shooting scenes for Season 6 by posting pics of her alongside Taylor Schilling, who plays her fictional love interest, Piper. So, this means Alex Vause will definitely play a role in the upcoming season. She said so herself, right?
While the scope of her role was kept under wraps by the series before the July 27 premiere of Season 6, everyone should rest assured that Alex and Piper will eventually be reunited with each other and the rest of the prison crew. How their relationship plays out under these new circumstances is a whole other issue, of course.
Alex was last seen in the Season 5 finale, which ended with a major cliffhanger as the three-day riot over Poussey's (Samira Wiley) untimely death came to a conclusion. The Correctional Emergency Response Team (CERT) broke down the barricades set up by the inmates and arrested most of the ladies after some physical conflicts.
Piper and Alex, who had an injured arm, were among a small group of inmates who sought shelter with Frieda (Dale Soules) inside her pool bunker. The last scene showed the ladies linking arms with Red (Kate Mulgrew), Taystee (Danielle Brooks), Nicky (Natasha Lyonne), Cindy (Adreinne C. Moore), Suzanne (Uzo Aduba), Gloria (Selenis Leyva), and Blanca (Laura Gómez) as CERT blew the doors off of their hiding spot. It was quite the cliffhanger — would they shoot? Blow the spot up? Arrest everyone? All viewers knew at the end of Season 5 was that the rest of the women were being shipped to other prisons while the fate of those ten women remained unknown.
Now, the trailer shows that (almost) everyone is at Litchfield Max and they are being questioned by authorities about what happened during the riot. The women are given different color uniforms, which unexpectedly puts some of them at odds with each other and they aren't sure who they can trust. At one point, Piper can be heard asking "Where's Alex?" but the question is never answered in the trailer.
It's not clear now much time has passed since they arrived at Litchfield Max, but Alex could possibly be receiving treatment in a medical location for her arm. She could also be held at an unspecified place for further questioning about the Litchfield riot. Or, she may have been sent to another maximum facility like Martiza (Diane Guerrero) and will eventually end up with Piper again. Alex has always been a character who disappears from time to time, but she always comes back for more action. And Prepon looked pretty comfortable on that set.