You Might See Meghan Markle's Delightful Friendship With This Spice Girl At The Royal Wedding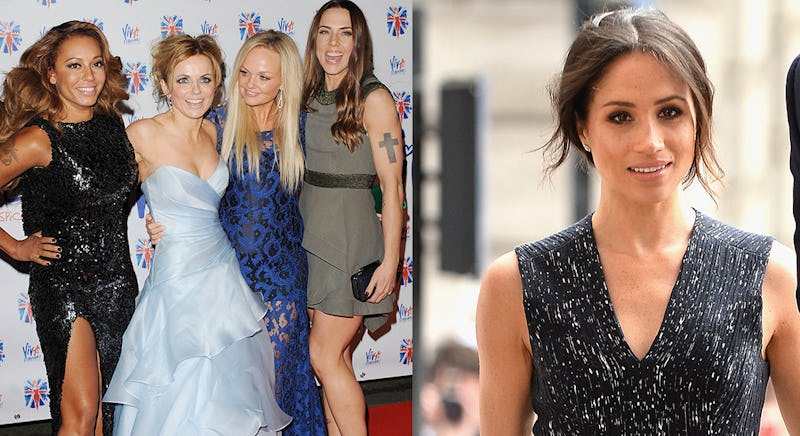 Stuart C. Wilson/Getty Images Entertainment/Getty Images; Jeff Spicer/Getty Images Entertainment/Getty Images
They're pop royalty. She's about to be an actual royalty. So the question remains: Is Meghan Markle friends with the Spice Girls? While what we really, really want is for the answer to be a resounding "yes," it seems that friendship will never end between Markle and some, but not all, of the iconic '90s girl group.
Rumors of whether or not the Spice Girls are performing at the royal wedding of Markle and Prince Harry at St George's Chapel, Windsor Castle on May 19 have been swirling for months, thanks in large part to a February appearance by Mel B. AKA Scary Spice on The Real. And, quite honestly, our hopes couldn't have been higher because can you think of a more perfect opportunity for the group to sing "2 Become 1"?
Chatting with the co-hosts on the daytime talk show, Mel B. revealed she's invited to the royal wedding, and even described the invitation as "proper" but refused to give further details, demurring, "That's getting too personal if I actually describe it." She did, however, admit she knew of at least four other certain attendees. When asked if she knew anyone else attending the wedding of the year, she replied coyly: "Well us five Spice Girls ... why am I so honest?" Further pressed by the panel if the Spice Girls would be performing, she tossed her cue cards into the air. "This is where I'm just like ... I need to go," she lamented. "I'm going to be fired!" Watch the video of Mel B.'s confession below.
What a difference a few months makes. According to a dream-crushing Page Six report, the Spice Girls are not performing — and were never slated to perform — at the royal wedding. Not only that, their unnamed source also revealed that not all of the Spice Girls were even invited to the royal wedding, with only Victoria "Posh" Beckham, Emma "Baby" Bunton, and Geri "Ginger" Halliwell scoring coveted invites.
While we're not sure what happened with Mel B., who the New York Post newspaper column claims is currently at home in Los Angeles instead of across the pond preparing for the big day, that also likely leaves Mel C. AKA Sporty Spice off of Markle's friends list.
If there's one of the girls who's sure to be there, though, it's Beckham. Back in February, Vanity Fair reported that she and Markle were becoming friends, striking up a kinship when the Suits actress first moved to the U.K. in 2017. The basis for the posh pals' connection? The bride-to-be wanted the designer's fashion advice. Citing an unnamed Beckham source, Vanity Fair said the pair hit it off and Beckham had been helping Markle pull together a wardrobe for her many royal appearances to come. In fact, Markle even wore a Victoria Beckham sweater in the royal couple's official engagement photos, according to Elle.
It wouldn't be Beckham's first time attending a royal affair though. Who can forget her appearance with hot hubby David Beckham at the April 2011 nuptials of Prince William, Duke of Cambridge and Kate Middleton, Duchess of Cambridge. Pregnant with her daughter Harper, she even wore a dress from her own collection and accessorized it with a chic Philip Treacy hat and custom Christian Louboutin shoes.
While there's no word on Markle's connection to rumored invitees Bunton and Halliwell, Time did remind us that the group has a long history with the royals in their definitive history of the royal family and the Spice Girls. Who knew that Markle's soon-to-be father-in-law Prince Charles, Prince of Wales was such a Spice Girls superfan? Can you imagine of him getting down to "Wannabe" at the reception?
The girls first met Prince Charles more than 20 years ago at a 1997 royal gala performance, where there was some uproar over Mel B. and Halliwell breaching royal protocol by giving him smooches on the cheek. Watch the hilarious video of their meeting below.
Markle's fiancé even got a chance to meet the group a year later while on a trip to South Africa with his dad a year later. No word, however, if Prince Harry was as enamored as the elder royal who gushed over the meeting. "It is the second greatest moment in my life," Prince Charles adorably said at the time, according to the BBC. "The greatest was the first time that I met them."
What's more, both Prince William and Prince Harry accompanied their dad to the 1997 Spice World premiere, and Prince Charles penned a letter to Halliwell when she left the group in in 1998. Sadly, the note didn't contain the phrase, "goodbye, my friend," though.
While there's no doubt about her future in-law's connections, we can't say for sure which Spice Girls Markle is friends with. We're going to go out on a limb, however, and say Beckham is one of them. And with any luck, she'll get with Posh's friends at the royal wedding this weekend, too.