Miley Cyrus May Have Written This 'Younger Now' Song About Her Breakup With Liam Hemsworth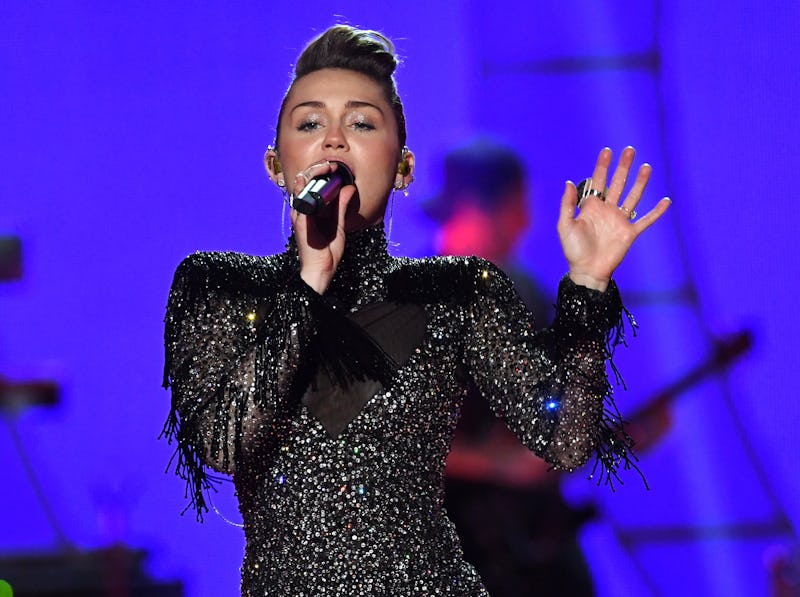 Kevin Winter/Getty Images Entertainment/Getty Images
Miley Cyrus' Younger Now was written and released in the wake of a pretty significant romantic reunion, so you know we have some questions. For example, is Cyrus' "Week Without You" about Liam Hemsworth? The singer hasn't commented officially on the inspiration for the fourth song on the album as yet. However, it's possible to connect the dots between the catchy new track and some things that both halves of this couple have said in the media.
With a title like "Week Without You," the song is clearly about taking a break from someone. And lyrics like "I think that I'd start goin' out / Get caught kissin' other dudes" make it obvious from the very first verse that we're talking about a romantic hiatus. While Cyrus' time away from Hemsworth was longer than a week, between their broken engagement in September 2013 and the first signs of their reunion in January 2016, she did indeed go out and "kiss some other dudes."
The 24-year old was linked to Patrick Schwarzenegger in November 2014, and rumors connected her to Victoria's Secret model Stella Maxwell in July 2015. For his part, Hemsworth seemed pretty coupled up with Eiza Gonzalez there for a minute in the same month as his breakup. But there's a beautiful concept suggested in the song, and it's that being free to go out and do their own separate things actually brought this pair closer as a couple. It's hinted at in the lyrics:
"You know I'd miss you, babe
Feels like I've known you since I was just seven years old
You used to make me smile, but now you don't do that anymore
It feels like I'm always just crying and sleeping alone
But when I think of you gone
I know"
These words suggest that Cyrus and Hemsworth lost something over the years, and that they had to spend some time apart to find it again. It might be terrifying to let go of something that used to be good, but if you really value yourself and your partner, that's the mature thing to do. Because coasting on the memory of what used to be might feel safer and like you're working at something, but it's ultimately not healthy.
And Miley Cyrus doesn't just sing about this truth in "Week Without You," she also talks about it in real life. Here's the singer on SiriusXM in May 2017:
"I think people that break up and get back together, that's awesome. You get time to be yourself. You get time to grow up. I think if you're growing up attached to another person, you never really get solid as your own being. So I'm really solid, and then he gets to be really solid. And together we get to be two really grounded people. It's not a half and a half making a whole."
Because these two trusted their gut and broke up when they weren't making each other happy, they were able to find their way back to each other once they'd done some learning. There's no use grinding away in something that isn't working anymore, and Cyrus isn't the only one who feels that way.
Her 27-year old fiance told GQ in May 2016 that, while their breakup was incredibly hard for him, he ultimately regrets nothing. He shared,
"At the time we were going in different directions and it's just what needed to happen. We were both super young and it was a good decision at the time — we both needed that."
Wise words from both halves of this power couple, so don't be surprised if they make you look at both this relationship and this song in an entirely new — and wonderful — light.