Is New Edition Still Together & Making Music?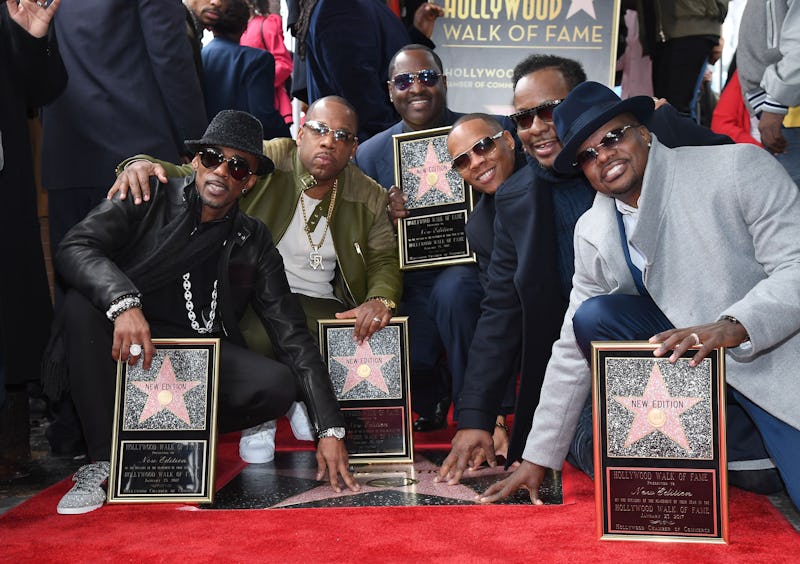 ANGELA WEISS/AFP/Getty Images
With the release of the BET miniseries about New Edition, The New Edition Story, it can be tempting to slot the boy band (or I guess man band, at this point?) into the category of nostalgia, but this may not be entirely accurate. Sure, their peak was in the 1980s, but does that mean they hung up the towel and are coasting on our recollections? In other words, is New Edition still together and making music? Well, the answer is "yes and no," so it's complicated. Although they aren't currently together as a unit, it's hard to make the claim that they never will be again, because New Edition has been through so much since they first formed back in 1978, and they always seem to find their way back to each other.
In the almost 40 years since, New Edition has lost members, like Bobby Brown, who was voted out of the quintet in 1985; gained them, like Johnny Gill, who joined Ricky Bell, Michael Bivins, Ronnie DeVoe, and Ralph Tresvant on the group's 1988 album Heart Break; and gone on a hiatus starting in 1990, during which its members pursued side or solo projects, and had multiple reunions over the years. In 1996 and 2004, the group reunited for their albums Home Again and One Love, respectively, and even attempted a tour for Home Again, although it ultimately had to be canceled after Brown and Bivins quit the group.
In 2011, all six members of the various forms of New Edition reunited to celebrate the 30th anniversary of "Candy Girl," and in 2014, they went on tour once again, although once again Bobby Brown had to bow out, this time due to health concerns. But just because it's been a few years, don't count these guys out just yet. Every New Edition member ultimately signed off on The New Edition Story, so they're clearly still on good terms, both personally and career-wise, and Bivins himself is optimistic that they'll come together again. He told Yahoo,
"The good thing about New Edition, it's so much depth with this group. With Bob moving around earlier on in our careers and having so much success, then Johnny, Ralph and Bell Biv Devoe [a three-person group made up of the New Edition members whose surnames are referenced in its title], it gives us kind of room to breathe. It somehow comes back to New Edition. It's always in our face whether we like it or not. It's going to comeback around. It's just a matter of time."
You heard the man! They may not be together or making music right this very minute, but there's a good chance there's more to come in the future, so keep your eyes peeled.