If You Love 'Brooklyn Nine-Nine' Then You NEED To Watch C4's 'No Offence'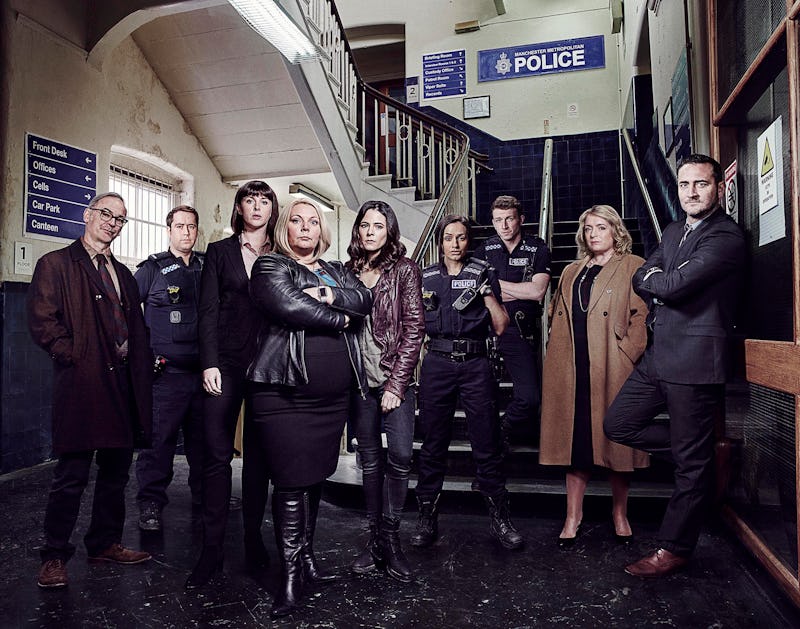 Channel 4/Adam Lawrence
Think Brooklyn Nine-Nine but in the middle of Manchester, and you've got No Offence. Both mix police procedural with humour, with one straying more towards sitcom territory and the other bringing a dash of British wit, sarcasm, and some kickass women to the table. The Channel 4 drama definitely has a more realistic tone than its American kindred spirit, which got me thinking: is No Offence based on a true story?
Created by Paul Abbott (the genius behind Shameless) and starring Joanna Scanlan, Eliane Cassidy, and Alexandra Roach, No Offence came about because Abbott spotted a gap in the TV schedules for a comedy cop show that actually worked. "No Offence came after searching for a concept that would match a Shameless landscape, which is f***ing enormous," he told The Killing Times.
"Writing a cop show that also featured dark comedy came as an imperative to me. The name No Offence came in to my head and made me piss myself laughing. The way the rules have to be applied in a twisted world, that is how I want my cops to be."
Even though the show is set in the heart of modern-day Manchester, Abbott's cops are purely fictional, and so is the precinct (again, similar to the set-up of Nine-Nine).
With that comes way more artistic freedom, and doesn't tarnish the name of an actual section of the Manchester police force — which gets a name change in the series from the real Greater Manchester Police to Manchester Metropolitan Police.
I also reached out to a representative for the show to confirm this, and they tell me that No Offence is indeed "a fictional drama". That's not to say that the series is without influence from the real world, however. As Abbot explained to Channel 4, "Series 3 is about the void left by political parties, clusters of ignorance streamlined into soldier ants."
"Whether it's a real or perceived voice doesn't matter. Predators will always exploit a weakness." Even though this is only the third season, Abbott has already covered quite a lot of ground when it comes to local crime that his fictional police force get to deal with. This time around however, it's more politically charged.
With storylines touching on the current political climate in the UK and protest scenes shot to feel as realistic as possible, the cast and crew definitely had it cut out for them.
"We researched in terms of how the Far Right behave at public events, and what it looks like and how the police physically managed it, to make sure it looked authentic", actress Joanna Scanlan told Channel 4. "We filmed scenes in the midst of rabble rousers and hooligans to make it feel dark and real and it had to be quite physical."
The darkness is accentuated, of course, by the writing. Actor Will Mellor commended Abbott for having a "keen knack for writing in the now and moment". He also perfectly described the premise of the series telling C4, "[Abbott] is brave enough to say how he sees it," and that the show doesn't "pull any punches — you get what you see and never know what's coming next."
Although, as Randolph Miller (who portrays Paul Ritter) pointed out, "It's important to remember that No Offence is story-telling, idiosyncratic drama, not documentary-style mirroring at what might be going on in society."
It is easy to get fiction and non-fiction mixed up when they so closely resemble one another, but in No Offence's case, it's the sign of a damn good police-procedural comedy that you defo need to tune in for. No Offence will premiere Thursday on Channel 4 at 9 p.m., and will continue weekly thereafter.