The Internet Is DIVIDED Over Pink's Grammys Dress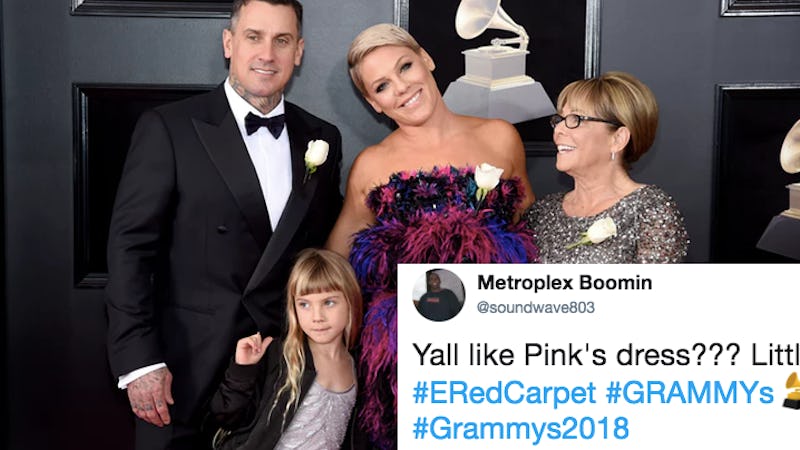 Jamie McCarthy/Getty Images Entertainment/Getty Images
In case you missed the reactions to Pink's dress on the Grammys red carpet, all you need to know was that it had feathers. Lots and lots of feathers. There were pink ones and blue ones and black ones, and they were all sticking out in a variety of directions and blowing gently in the New York City breeze.
As with many outfits Pink has worn over the years, nobody really knew how to handle it, and many folks took to Twitter to express their shock and disdain. But I kind of loved the look, for that very reason. The dress was eye-catching, overwhelming, and even a bit mind-bending.
But that's what makes Pink so great; she isn't afraid to really go there with fashion. The singer always keeps us on our toes with over-the-top looks, but she always wears them well. Despite all the feathers, Pink managed to rise gloriously above the plumes, like the regal lady she is.
It helped that the Armani Privé gown was strapless, so it didn't overwhelm her. The singer also kept the rest of the look minimal, by avoiding any jewels, and keeping her short hair simple and sleek.
Despite the fact folks on Twitter weren't too sure about the look — and that it instantly topped many a Worst Dressed list — Pink was still confident.
And really, how could she not be? The singer was too busy walking the red carpet with her adorable family, including daughter Willow Sage, her mom Judy, and husband Carey Hart, all of whom looked great in their own way.
But I think we can all agree, it was Pink who truly stood out. The singer is never one to shrink into the background. And her feathery gown made it impossible to do so, anyway.
Even while sitting in the audience — with her daughter adorably bored to her left — it was clear Pink had the best and brightest look of the night. She took command of a dress that might have swallowed up somebody else, and wrangled those feathers in a super chic way.
While some of her fans went wild for the look, it seemed most people were left scratching their heads. One look at Twitter and it was easy to see that people either fell into the "love it" group or the "totally hate it" group.
Without even considering that the feathery dress could be a fashion "miss," her fans simply accepted it as yet another awesome moment in a long history of super cool Pink dresses and pantsuits.
Others seemed to look right past the dress, and focus on loving the singer herself. Which is, of course, easy to do.
Fans loved that Pink walked the red carpet with her daughter, who came Grammy-ready in her own fashionable statement outfit — a lilac tutu, sneakers, and jacket. So cool.
But again, not everyone was so impressed.
While taking in the swirl of feathers, lots of folks online couldn't get The Muppets out of their heads. And, TBH, I could kind of see why. Anything feathered immediately brings to mind images of Sesame Street. But hey, is that necessarily a bad thing?
When it comes to stand-out looks like this one, many people are quick to blame the celeb's stylist. If it isn't a sleek black dress, or something predictable, this is often the reaction. But what would the Grammys be without amazing dresses like Pink's?
If you know anything about Pink, then I think we can all rest assured the look was intentional and well thought out. Because if anyone is going to serve up style, and an amazing look, it's her.