Here's The *Truth* About Ryan Thomas' Sudden Illness In The 'CBB' House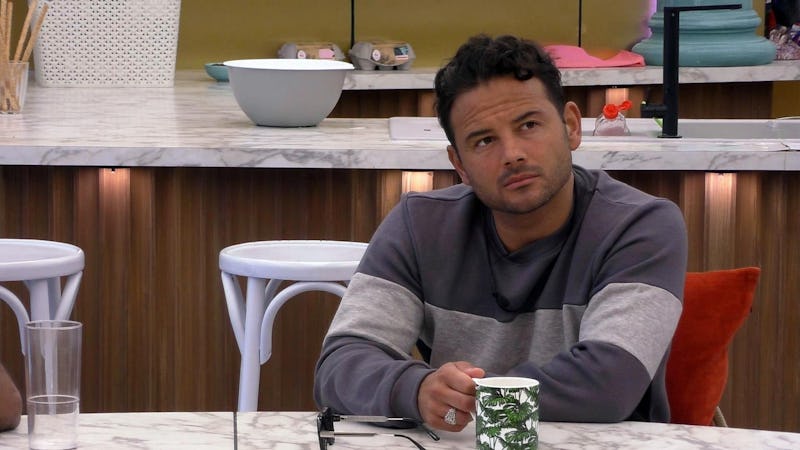 Channel 5
Celebrity Big Brother fans have been so worried about Ryan Thomas. Last week, viewers raised concerns about his wellbeing after Roxanne Pallett falsely accused him of assaulting her. Then, on Thursday, alarm bells were ringing again after producers revealed that the former Coronation Street actor has been put into isolation due to poor health. So, what is going on exactly? Is Ryan Thomas ill?
During Thursday night's episode, Big Brother told viewers: "Ryan is feeling unwell and on medical advice will be spending the day in the spare bedroom."
It's unclear exactly what illness Thomas is suffering from or what caused him to feel so poorly, but the sick bucket by his bed and numerous bottles of water suggest that doctors have ordered him to stay hydrated. I've reached out to a CBB spokesperson for comment but am yet to hear back.
The 34-year-old soap star appeared to fall ill during Tuesday night's episode. Complaining of aches and feeling cold, he asked to see a doctor. A spokesperson for the show told Digital Spy: "Ryan was feeling unwell and had a bit of a temperature. He's resting up and taking it easy." On Wednesday night, Kirstie Alley was seen trying (and failing) to get Thomas up and out of bed.
However, it seems as if the bug may have only lasted for a couple of days as a preview of Friday's episode shows Thomas back in the main house, laughing with the rest of the housemates in the living room.
Naturally, there's speculation that Thomas is suffering from stress after being falsely accused of maliciously punching Pallett. After complaining to CBB, Pallett said she felt uncomfortable being with the other housemates and spent the night in the spare room. (If you're wondering where this magic room is located, it's on the opposite side of the house just across the garden.)
Thomas was given a formal warning over the incident; an event which caused him to break down in tears in the diary room, apologising if he had caused offence. "I didn't have any idea," he was heard saying.
After further animosity, Pallett eventually decided to leave the house on Saturday. A later interview with the show's presenter, Emma Willis, saw the former Emmerdale star admit that she'd got things wrong. "I needed to come and tell everyone that I got it wrong. I'm human, I made a massive, massive, horrible mistake," she said.
According to Digital Spy, Ofcom has now received more than 25,000 complaints about the incendiary episode. The negative publicity has forced Pallett off of social media and temporarily out of the showbiz life. Metro reports that a representative for the actress said she would be "taking some time away." She has also stepped down from her presenting job at Minster FM and her pantomime role as Cinderella in Chesterfield.
Now Pallett has apologised, perhaps the furore will die down. While everyone is rightfully feeling sorry for Thomas, it's not nice to see a woman forced to give up her life.
Celebrity Big Brother is on Channel 5, daily at 9 p.m.