Serena Williams Is One Step Closer To Launching A Cosmetics Line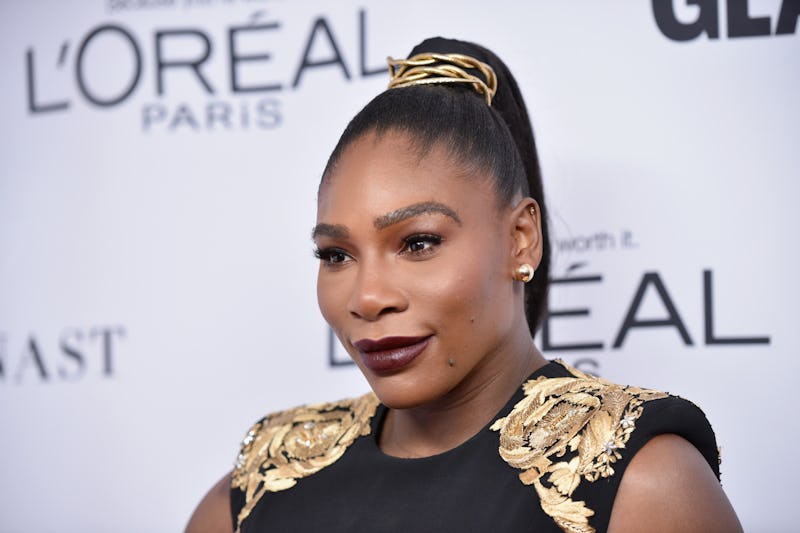 Bryan Bedder/Getty Images Entertainment/Getty Images
There's more than meets the eye when it comes to Serena Williams. When she isn't on mommy duty or off being one of the greatest athletes of all time, she just may be in the beauty labs. It looks like the tennis star is a jack of all trades because word on the street is Serena Williams is launching a cosmetics line.
Industry bigwigs like MAC and Maybelline have had some serious competition lately. Celebrities have been cooking up their own makeup products left and right, giving tried-and-true brands a good run for their money. Take Fenty Beauty and Kylie Cosmetics, for example. Fenty is practically the new standard for all makeup brands and Kylie Cosmetics flies off of shelves every time new products are released. So it's safe to say that celebrity-backed makeup brands are putting up big numbers.
Rih Rih and Jenner may have some stiff competition entering the market soon when Serena Williams tries her hand at being a beauty mogul. The tennis champ is reportedly launching a beauty brand complete with makeup, skincare, and bath essentials. It may be hard to envision this badass athlete as a beauty spokesperson, but when you hear the deets, it might make you a believer.
As uncovered by TMZ, Williams has filed legal documentation to trademark the name of her beauty brand. According to the report, "Aneres", Serena spelled backwards in case you were wondering, had previously been filed for the star's own line of clothing. But now, Serena's name in reverse may be stamped onto lipstick tubes, eyeshadows, and eyeliner pencils in the near future.
Aneres won't just stop at the essentials for a flawless beauty beat. The line will allegedly include perfumes, soaps, lotions, skin essentials, and more, so Williams isn't holding out with her newest business venture.
If it actually aligns with all of the chatter about the brand, Aneres is going to be a one stop shop for all things beauty. That's enough to get fans of the star excited about the possible brand.
Somehow, the super athlete is able to defy the beauty odds by maintaining fleeky brows and winged liner while working up a sweat. That, alone, has some interested in what Aneres might have to offer.
On the other hand, word of the brand has a few beauty fanatics on the fence. Although Williams slays on the tennis court, some fans can't imagine her doing the same in the beauty sphere.
Still, the potential brand is worth remaining on standby. When she's without her racket, Williams has been known to get glam, so her own line of products could be just what fans of the star need.
It's worth noting that the industry could always use more minority-owned cosmetics lines, too. If nothing else, fans will be holding onto the edges of their seats to see if Arenes will cater to women of all shades. With brands like Fenty Beauty showing how it's done, many would sure hope so.
Speculations on Arenes could go all over the place. Considering Williams still hasn't spoken out, there's no telling whether she's really going to take her prowess on the court into the beauty labs.
Fingers crossed that Arenes does become a reality, though. Williams seems to have all of the answers for fade-resistant makeup that lasts through even the toughest workout, so girlfriend really needs to let the public in on her secret.
Plus, it would be nice to see Williams in a setting other than a tennis court. You never know— she could have the next internet sensation on her hands. Until then, the wait for the official confirmation is on.