Why Sleeping Separately Could Be The Best Thing For Your Relationship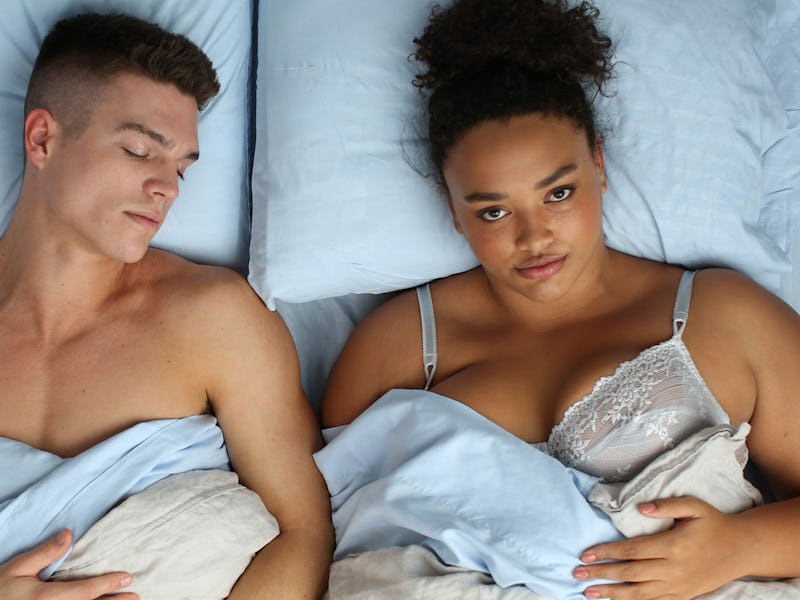 Ashley Batz/Bustle
When I was married, my husband and I slept apart. It wasn't for lack of love or lack of intimacy, but simply that he snored. When I say snore, I don't mean the slight cutesy snore that, when you're in love, seems like the most adorable thing in the world, but a snore so loud that it sounded like hundreds of fighter jets were descending upon the city. Granted, I don't know what hundreds of fighter jets descending upon New York would sound like, but you get my point.
According to 2013 research by Toronto's Ryerson University, as many as 30 to 40 percent of couples sleep apart at night. While your first thought might be that that's something only couples who have been together forever do, the reality is that younger couples do it as well.
As Bustle's Pamela J. Hobart wrote for Bustle:
"Do I sleep in [my own bedroom] because I'm mad at my boyfriend? Not in the slightest. In fact, all this higher-quality sleep could only make us more pleasant and agreeable people. Do separate beds and separate rooms keep us from spending quality time (of whatever kind...) together? Nope. Walking across the apartment isn't exactly some huge, burdensome barrier to seeing each other."
Pamela's last sentence is blowing minds left and right, I just know it! But, seriously, if it works for you, to sleep separately, then it works for you. End of story. And, for some couples, it's a relationship saver.
"Research shows that adults need at least seven hours of sleep," Sarah Watson, licensed professional counselor and sex therapist, tells Bustle. "When we don't get enough sleep we tend to be short tempered, have increased anxiety or mood swings and this can impact your connection with your partner."
If you can handle these disruptions, then good for you! If you can't, there's no shame in sleeping separately. It's all about figuring out what's best for your relationship. Here are the five most common things that drive couples to sleep apart.