Here's Exactly How 'The Handmaid's Tale' Season 2 Will Reference What Happens In The Book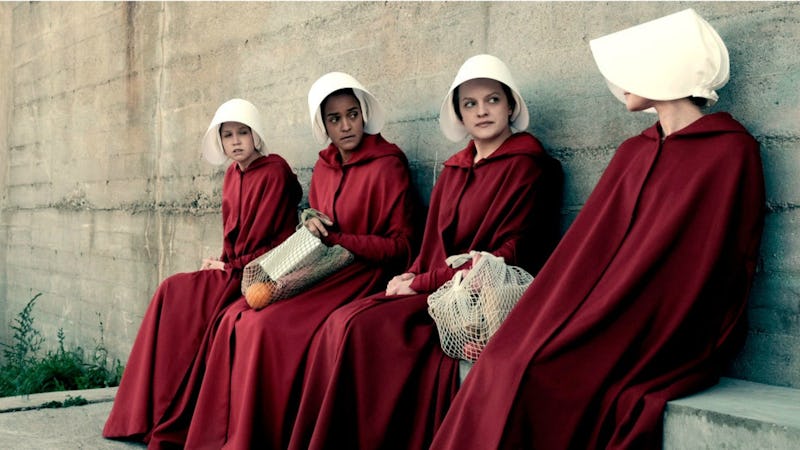 Hulu
Books and television are entirely different artistic mediums, and adapting one into the other comes with a variety of challenges, not the least of which is: What do you do when you run out of source material? Is The Handmaid's Tale Season 2 still based on the book? After all, Margaret Atwood's seminal 1985 dystopian novel is only about 300 pages long in most editions, and Season 1 of the HBO series already ran for nearly 10 hours of total screen time. Surely there can't be that much of Atwood's source material left to adapt.
Indeed, the Season 1 finale, "Night," ended in pretty much exactly the same place as Atwood's novel ended: with Offred being carted away into a black van by Gilead's secret police, the Eyes. Although Nick tells her to trust them and that it's really the resistance, Mayday, that has come for her. The question of whether Offred is really going to her death or her salvation lingers as the van drives away and the novel (and Season 1) ends.
So Season 2 must be going totally off-script then, right? Well, yes and no. While most of the content in the new episodes will be original by necessity, that doesn't mean it won't have a basis in the source material. "Everybody says, 'You got to the end of the book!'" showrunner Bruce Miller told the New York Times after the Season 1 finale aired. "And I'm like, 'No, there's still a whole bunch of stuff we didn't even touch.' I read the book a lot. I pick out clues here and there, not so much to alter it, but to say, 'OK, let's logically extrapolate it.' And that's where Margaret Atwood has come in so essentially to our conversation."
Atwood, who has been a "consulting producer" on the series since the beginning, reportedly had an increased creative presence behind-the-scenes when it came to crafting the second season. "There's more collaboration [with Atwood] for a couple of reasons," Miller told The Hollywood Reporter, also after the Season 1 finale. "One is that we don't have a text that was written stating specifically what happens next — although we have a sense of some of the things that might happen next because of the 'historical notes' section that takes place after the conclusion of the Offred story. So through that you get a little bit of a sense. But absolutely; we had a working relationship, so we've been working much more closely and having those discussions for longer."
The question of what happens to Offred after that van pulls away is apparently one that Atwood has been mulling ever since her book was published. "We had lots of discussions about what would happen to the characters after Season 1 in small and big ways," Miller told THR. "We've been talking about it ever since the middle of Season 1. There are things Margaret thought about a lot over the years, and that's one of the biggest questions she's been asked, is what happens next to these characters. So it wasn't a question that I was bringing up to her for the first time."
Speaking of the "historical notes" Miller mentioned, that epilogue is part of the "whole bunch of stuff" that didn't get adapted in Season 1. And while those final pages, which take place many (more) years in the future, after the fall of Gilead, probably won't be adapted until at least the final season of the show, there are other details from the novel that readers might be excited to see translated to the screen in Season 2: the Colonies, the origins of Gilead, and Offred's mother, among others.
In short, fans shouldn't be worried just because The Handmaid's Tale is entering uncharted territory this year. After all, Game Of Thrones largely ran out of source material after its fifth season, and it continues to break ratings and Emmys records right and left. And The Leftovers, which also finished adapting its novel in Season 1, didn't really hit its stride until it started crafting original content in Season 2 with the help of author Tom Perrotta. And judging by advance reviews, The Handmaid's Tale is only getting better in Season 2, even without a detailed novel road map to help guide it.