Zendaya Rocked A Platinum Blonde Pixie & She Looks Completely Different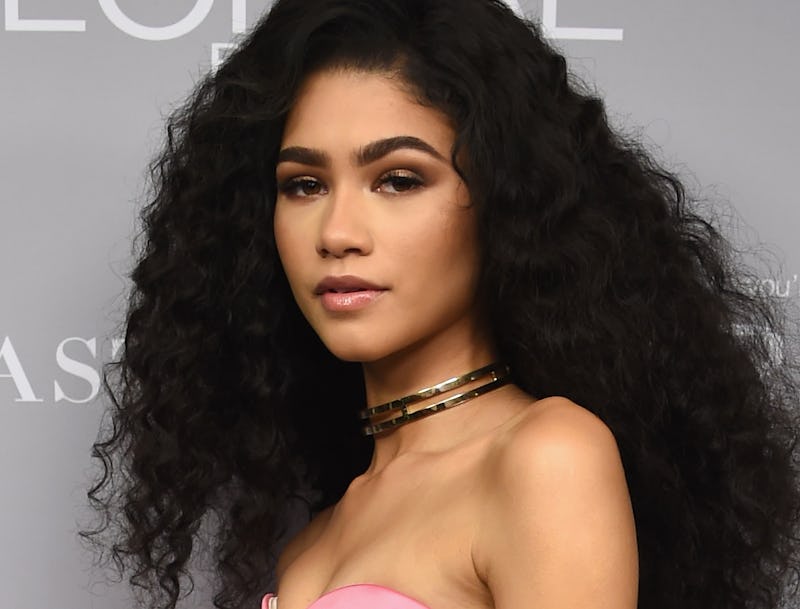 Dimitrios Kambouris/Getty Images Entertainment/Getty Images
Celebrities love a good hair change. From Selena Gomez debuting Nirvana-blonde locks on the red carpet to Ariana Grande going grey, there's a lot of new looks to be served. But Zendaya's new platinum pixie may just top them all. While the inevitable question will be raised regarding whether or not the look is real, it doesn't matter. Her pixie for the 2017 Fashion Awards was chic, cool, and everything fans wanted.
Zendaya is no stranger to hair changes or controversies — caused by others, not herself. Who can forget when Giuliana Rancic said that Zendaya looked, "like she smells smells like patchouli oil… or maybe weed," after she wore gorgeous locs to the 2015 Oscars? The racist commentary sparked a massive firestorm. But being the poised woman she is, Zendaya responded thoughtfully, educating people on why Rancic's comments were so highly inappropriate. Then, Zendaya kept on slaying the masses like a queen.
On Monday, she gave the world yet another casual slay when she appeared at the 2017 Fashion Awards looking like a platinum goddess. In a gorgeous velvet dress with silver stars along the arms, she was almost literally shining — and her hair may have just been the best part.
Fans immediately fell in love with the actress and singer's new hair. While it is more than likely temporary, it's also a stand out red carpet moment for her.
Some pointed out the similarities between Zendaya's platinum pixie and Michelle William's signature look. While Zendaya's look is far from a copy, it is a fun coincidence considering that the pair star together in the upcoming film The Greatest Showman.
Others noted the Tinkerbell vibes, so who is going to start the petition for Zendaya to star in a Disney Tinkerbell movie?
Plus, the pixie just further cements that the star can wear absolutely anything.
The look is basically faint-worthy.
Like, truly iconic.
Clearly, fans think Zendaya can do no wrong, and they'd be right.
This isn't the star's first time debuting a hair style that has been nothing short of jaw-dropping. At the 2016 Grammy Awards, she stunned on the red carpet when she donned a bronde bowl cut with a mini mullet in the back. While that may not sound like an A+ in the world of hair, the style appears to have been an homage to the legendary David Bowie. Zendaya totally crushed it by pairing the hair with a gorgeous black suit.
Back in 2015, following the comments by Rancic, Zendaya went mod at the Kid's Choice Awards by rocking a style with a heavy bang and bowl-like shape that looked gorgeous on her. However, some didn't love the look. The star kept a sense of humor about those who weren't so in love with the new style explaining on her Instagram account that it was just a wig — a sign that her Fashion Awards platinum pixie is probably as well.
Some would say that Zendaya's signature look is her dark hair — and she does appear to choose to rock the color the most. However, she plays with the style quite a bit.
She looked gorgeous at the Glamour Women of the Year Awards.
And yet again crushed it when she wore an Afro to the 2017 InStyle Awards, where she accepted the award for Style Star.
No matter what the look, seeing Zendaya appear on any red carpet is a treat. From her incredible sense of fashion to her poise to her willingness to try out new looks, she should probably just appear at everything, right? Here's hoping to even more platinum pixie moments from Zendaya — and more opportunities for fans to load on the well-deserved praise.