The Deets Of Jack & Danny Dyer's First Meeting Will Give You All The In-Law Vibes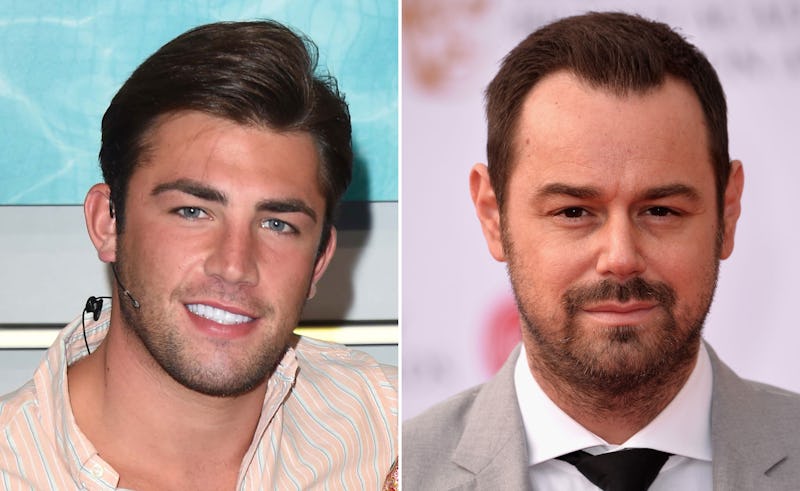 Stuart C. Wilson/Getty Images Entertainment/Getty Images/Jeff Spicer/Getty Images Entertainment/Getty Images
Love Island fans were desperate for Jack Fincham to meet Danny Dyer on the show. Sadly though, that moment never happened. It's now been several weeks since he and girlfriend Dani Dyer won the series, and their relationship has come a long way since then. In fact, after months of waiting, Jack has finally met Danny Dyer. Although the moment wasn't caught on camera, he's revealed what went down.
Speaking on This Morning to Eamonn Holmes and Ruth Langsford, Jack spilled the beans, and it sounds like he had an epic time meeting his possible future father-in-law. He said: "I met him, he's lovely. We had a nice take away together."
Wait. Hold up. A takeout combined with the banter coming from Jack and the Dyer clan? Now that sounds like an absolutely ideal not-so-quiet night in to me. I am just sad I wasn't a fly on the wall.
Jack hasn't been quiet over the last couple of weeks about how he has been feeling a little bit nervous to meet Danny — and to be fair, who can blame him? "Any man who says he is not nervous to meet his girlfriend's mum and dad is lying, but I was no more nervous had it been anyone else," he said.
However, despite his fears about whether or not he would make a positive first impression on the EastEnders actor, it sounds as thoughthey got on like a house on fire, with Jack even comparing the Dyers to his own family. "They were lovely," he said, "They were kind of similar to my family, really nice and welcoming and we had a right life." How sweet.
Jack certainly looked at home at the Dyers, when he posed for an Instagram shot with his girlfriend on her birthday last week. The caption read, "Lovely evening round Dan's for her bday , happy birthday beautiful I hope you have had a lovely day love you loads xxx @danidyerxx."
Personally, I am overjoyed that Jack and Dani still seem to be going so strong after leaving Love Island — not that there was any doubt there anyway. These two are so made for each other. I don't think it has come as a surprise to anyone that they are already planning to move in together and potentially even get married.
"We're getting married next year," Jack told The Sun. "We're getting married next year, 100 per cent. Like my mum said to me so many times, 'When you know about someone, you just know.'"
Exciting times!
I can't deny it; I am a teeny bit disappointed that we didn't get to see that first meeting between Jack and Danny Senior. But still, Jack and Dani Junior have every right to keep their personal life private, and we should all respect that. It's their relationship, their choice.
I can't help but wonder what will Christmas be like at Jack and Dani's this year though, and what does Danny really think about THAT canvas? So. Many. Questions. Hopefully some day, we'll get some answers.